July 2nd is World UFO Day and what better way to celebrate than with some out-of-this-world cakes?
Rocket ships boldly go where no cake has gone before in search of aliens — some cute, some a bit scary — but all delicious, in this roundup of UFO goodies!
An intrepid astronaut blasts off into space in his shiny silver rocket ship in search of alien life forms! What will he find?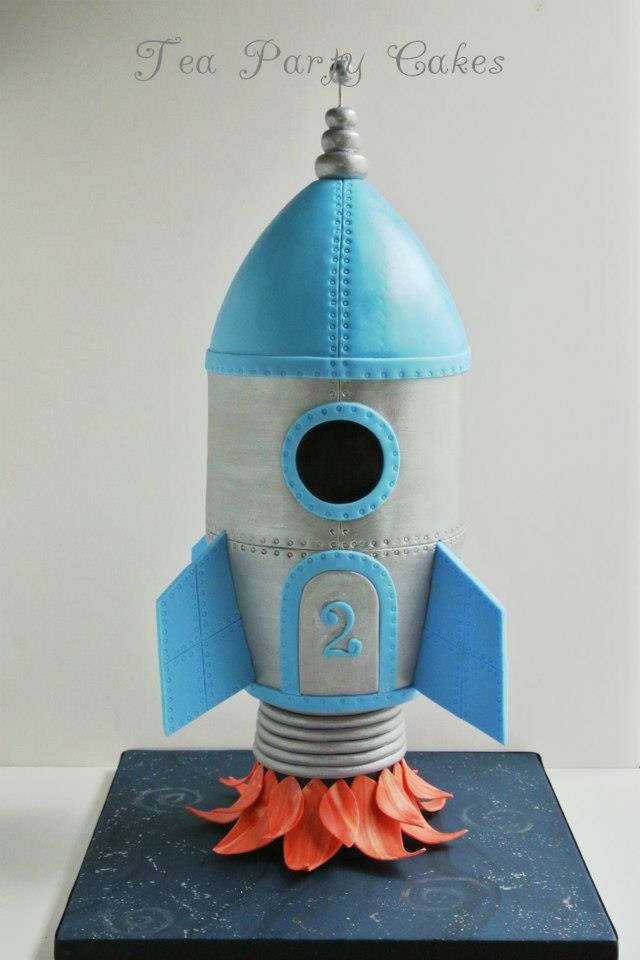 Photo via Tea Party Cakes
This carved cake was made using 6" rounds and the Wilton Wonder Mold. It stood over 18" high and was supported by a single central dowel. The silver sheen was painted on using a mixture of luster dust and vodka.
As our astronaut blasts through the stars and heads for the moon, he thinks he catches a glimpse of something through the starboard porthole. Or was it just his imagination?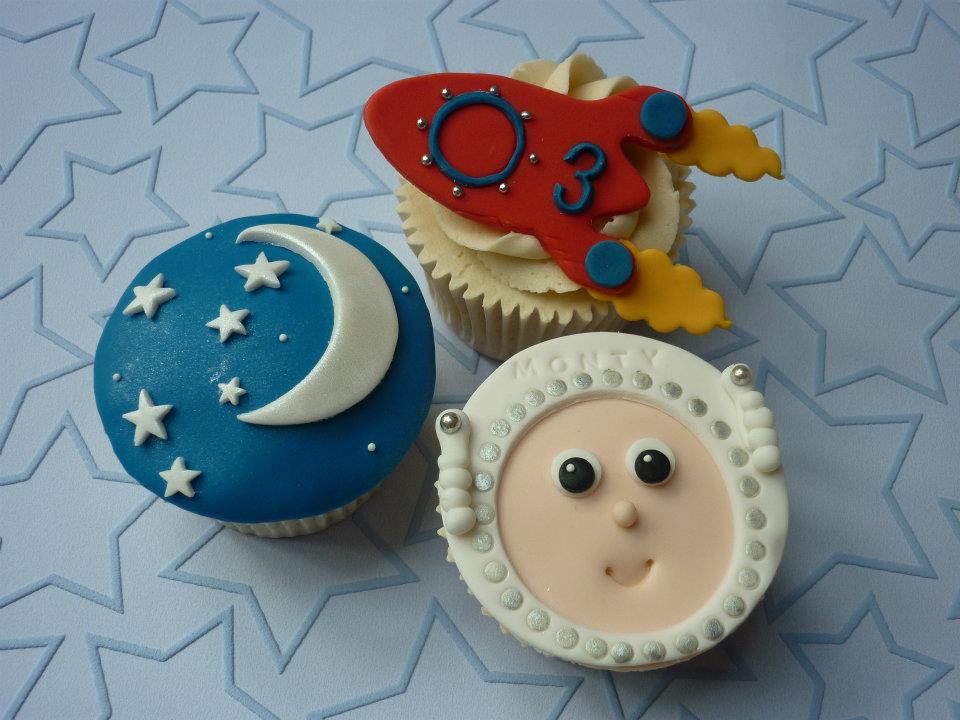 Photos via Jolly Scrumptious Cupcakes
Cupcakes iced with delicious buttercream and finished with colorful fondant toppers are a great way to pull a party theme together. A simple primary color palette makes these cupcakes so appealing to children.
The astronaut continues deeper into space, keeping his eyes peeled. He leaves the crescent moon far behind and heads through the stars toward a distant planet.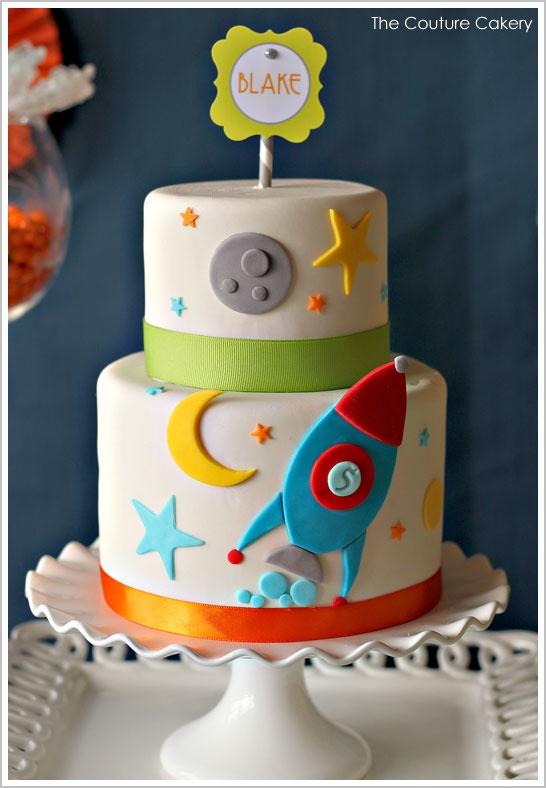 Photo via The Couture Cakery
This two-tier fondant-covered cake features simple cutouts to create a space-travel scene. Colorful fabric ribbon and a topper of a printable label mounted on a striped paper straw finish the cake off perfectly.
The astronaut picks up his camera and waits by the window of his rocket ship. After many hours with no sightings, he decides to turn in for the night. Just as he falls asleep, a bright red alien craft speeds by!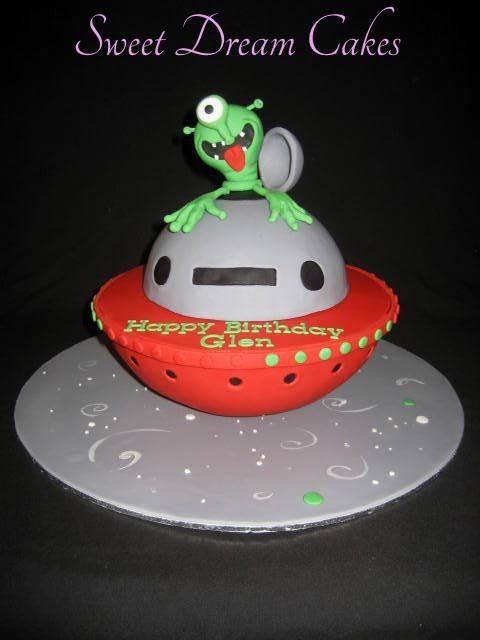 Photo via Sweet Dreams Cakes

The face of this cheeky alien adds real humor to this cake and the two hemispheres of fondant-covered cake create such a classic spaceship shape. The hand-painted board gives a sense of movement to the scene.
When he awakes, the astronaut sees a blip on his radar screen. Rushing to the porthole, he finally sees what he has traveled so far for: alien beings! But they seem to be giving him directions back to Earth!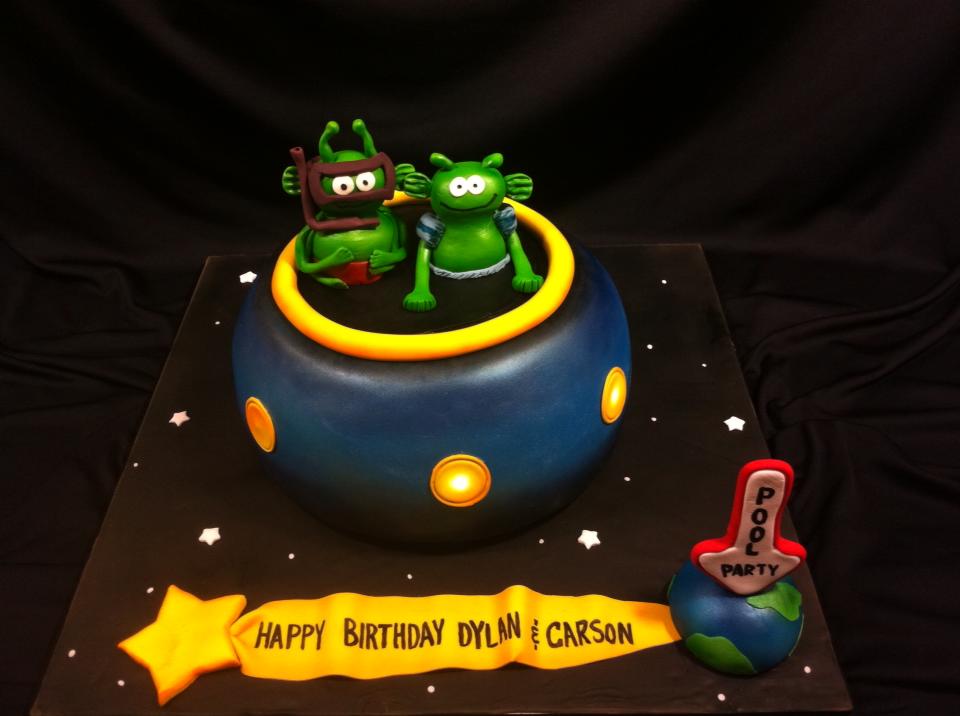 Photo via Sweet Dreams Cakes
This cute cake cleverly combines the celebrant's love of space and aliens with a pool-party theme. Tiny battery-operated lights behind thin yellow panels of fondant in the body of the spaceship add drama to the cake, and the birthday message written in edible ink on a passing comet is the perfect finishing touch.


Heeding the aliens' instructions, the astronaut turns his ship around and heads back to planet Earth. When he arrives at home: SURPRISE! The aliens are throwing him a birthday party!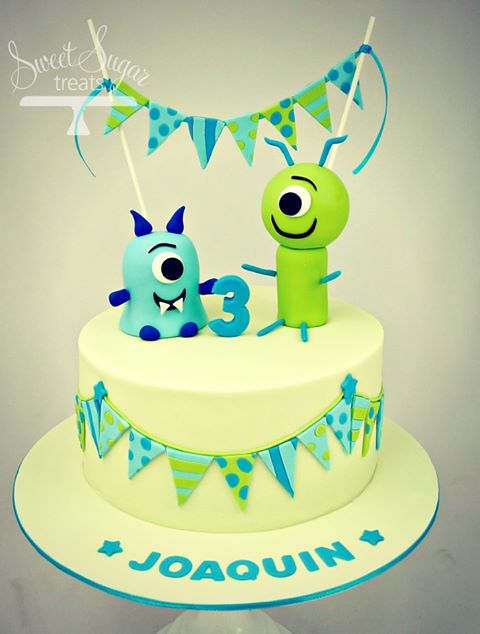 Photo via Sweet Sugar Treats
With a refreshing color palette of lime green and shades of turquoise on an ivory background, these aliens are definitely friendly rather than ferocious! Contemporary bunting strung between bamboo skewers and also adorning the sides of the cake gives it a totally up-to-the-minute look.
Ann Heap's Cake Topper Techniques Crafty class is the perfect introduction to making figurines like these two cheeky aliens, and to build your cake sculpting skills, Cake-osaurus Rex with Catherine Ruehle is just the class you need.
Looking for more creative cake inspiration? Check out this roundup of marvelous movie-themed cakes. And come back to the blog on Friday for a look at some fun science-themed cakes, including a planet cake and solar-system cupcakes.
Can you think of any other treats that would be perfect for a World UFO Day party? Moon pies? Mac and green cheese? Milky Ways?