Get to know your ABC's – on cakes! Design has always played a key role in beautiful cakes, and part and parcel with design is typography. I'm loving the typographic trend that's typing its way across today's modern cakes, from birthday cakes to wedding cakes. Initials cut from fondant, initials inside cake layers, hand lettering and even stamps; there are so many clever ideas for trying out this awesome typography cakes trend.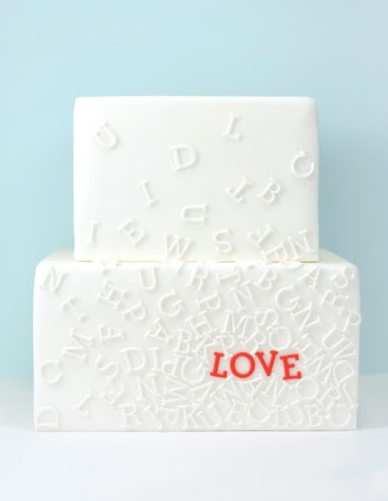 Photo via Eat Cake Be Merry
Scrambled letters love wedding cake:
Eat Cake Be Merry's brilliant take on typography and cakes features a monochrome explosion of white fondant letters splashing out in a playful burst, with red letters spelling love. Beautiful, modern and oh-so effective!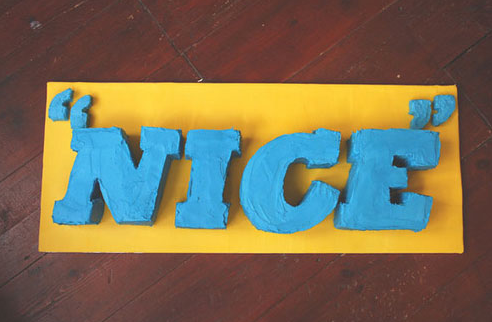 Photo via Love To Cake
Nice giant letters cake:
This awesome cake is by Love To Cake, hand carved cake layers and iced in blue buttercream. I love the parentheses, too. I could see "Love" created in a similar style working well for a wedding cake.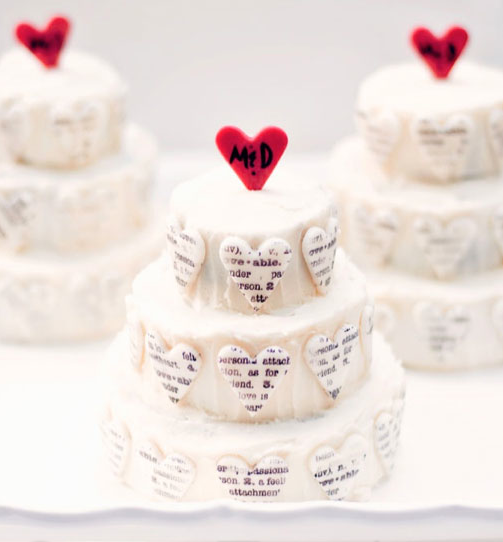 Photo via Bakingdom
Typography hearts mini cakes:
These brilliant little mini tiered cakes are iced in buttercream and adorned with edible food color stamped fondant hearts. Such a clever and effective method, created to celebrate a wedding anniversary. Read all about them here on Bakingdom's blog.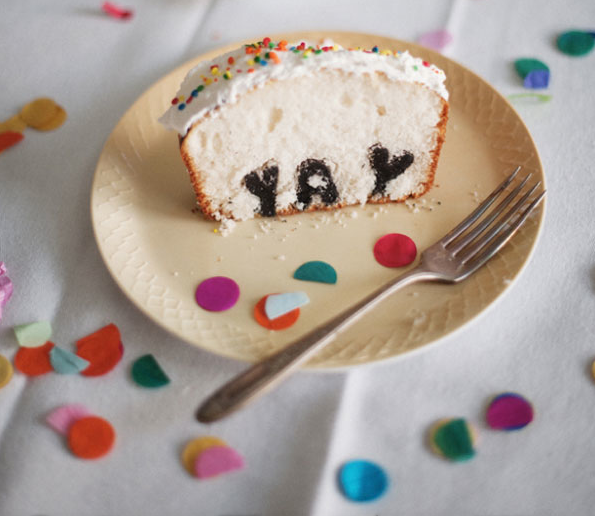 Photo via A Subtle Revelry
Typography on the inside cake:
This genius idea comes courtesy of Athena and Victoria over at A Subtle Revelry. So clever and so much fun. Everyone loves a surprise inside cake, and I've never seen one like this before! The letters are made with edible dough creating a cake that talks at you when you cut into it! The full tutorial and details can be found here.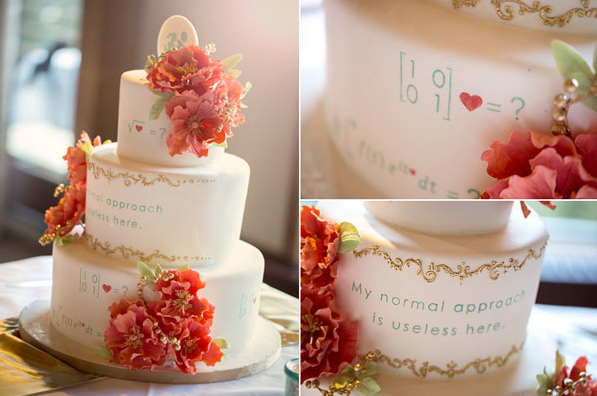 Cake by Anna Elizabeth Cakes. Photo by Maru Photography.
Hand-painted lettering wedding cake:
This beautiful three tiered wonder is by the amazing Anna Elizabeth Cakes. She hand-painted the lettering and numbers on the cake using petal dust mixed with alcohol. Other details include those gorgeous gum paste blooms and gold royal icing scroll work: simply splendid!

Cake by Superfine Bakery. Photo by One Love Photo.
Monogram letter wedding cake:
A simple white cake is given new meaning with a bold lowercase green fondant "A" and a citrusy spray of gum paste flowers. This cake is part of a fleet of cakes with various monograms – more photos can be found here.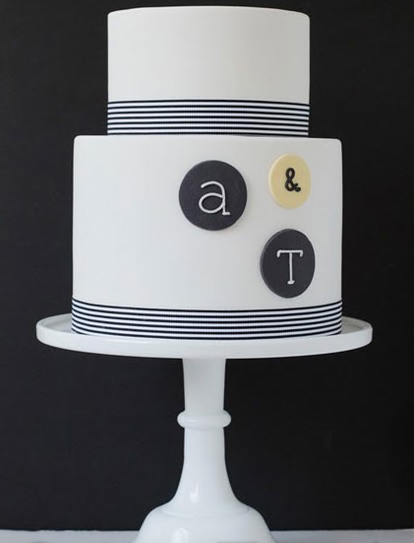 Photo via Hello Naomi
Chalkboard monogram wedding cake:
Hello Naomi is the master at creating simple, modern and beautifully designed cakes, and this one is no exception. Its two white fondant tiers with French navy blue and white ribbon and fondant circle initials make the typography really pop. I like how the pale yellow ampersand fondant circle gives this cake a subtle touch of another color.
There are so many great ways to use typographic techniques in your cakes! Craftsy has a great, free class called The Hand-painted Cake, perfect for learning how to apply food coloring to fondant cakes. Give the class a try and then apply the techniques in trying out hand lettering of your own!