Even though I've been knitting for years, sometimes the knitting supply section of my local yarn store still makes my head swim. The number of cable needles, yarn needles, row counters, and other supplies is overwhelming. How are we supposed to know which one we need?
This is especially true for stitch markers. But like most supplies, I find that I eventually end up owning every type of stitch marker just because each of them works for different situations. I also know some knitters who swear by one specific type of stitch marker for all their needs.
Feeling confused about all the stitch marker options?
Whether you plan on using all different types or just find one that works for all your projects, use this guide to help you navigate the world of stitch markers.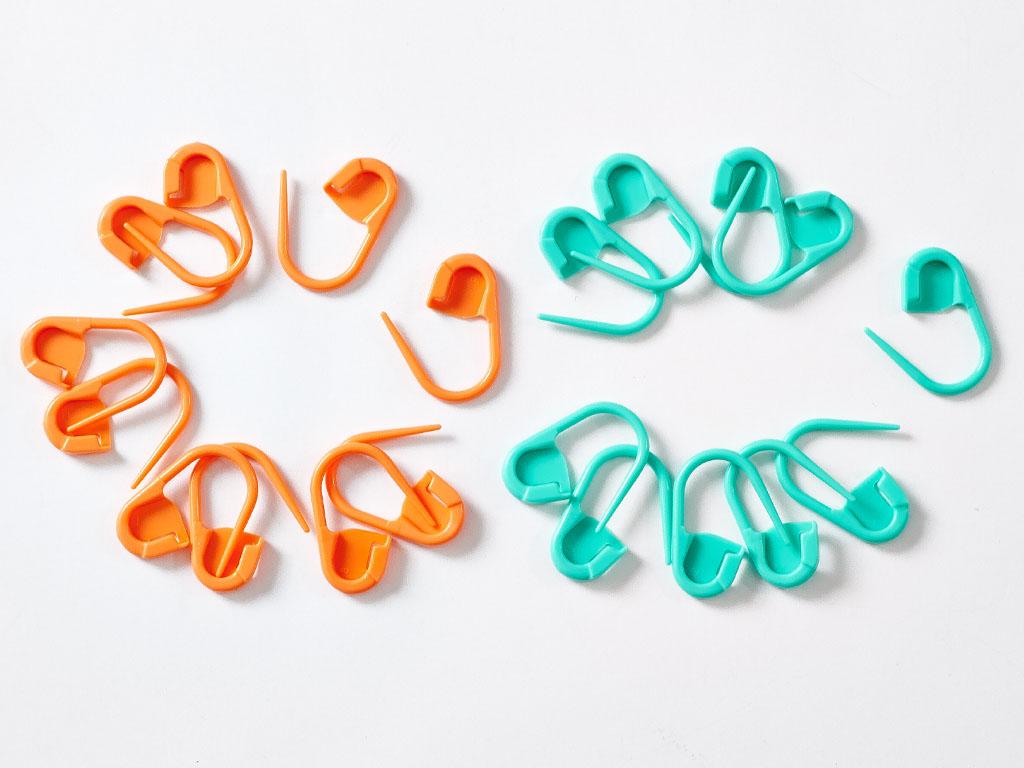 Clover Locking Stitch Markers
Locking Stitch Markers
What they are: Locking stitch markers look kind of like safety pins, except that they won't snag your yarn like a safety pin would. They're available in regular size or jumbo size; use the jumbo size when you're working with bulkier yarns so the marker won't get swallowed into the stitches.
What they're best for: If you've ever tried Japanese short rows, you've probably seen some knitters using a safety pin. Use locking stitch markers in place of that safety pin to avoid snagging your yarn. Because they can be easily removed, you can also use locking stitch markers to stop a dropped stitch from dropping even more. You can even use them to mark specific places in your project that you need to measure from, like where you started increasing or decreasing.
Try: Clover Locking Stitch Markers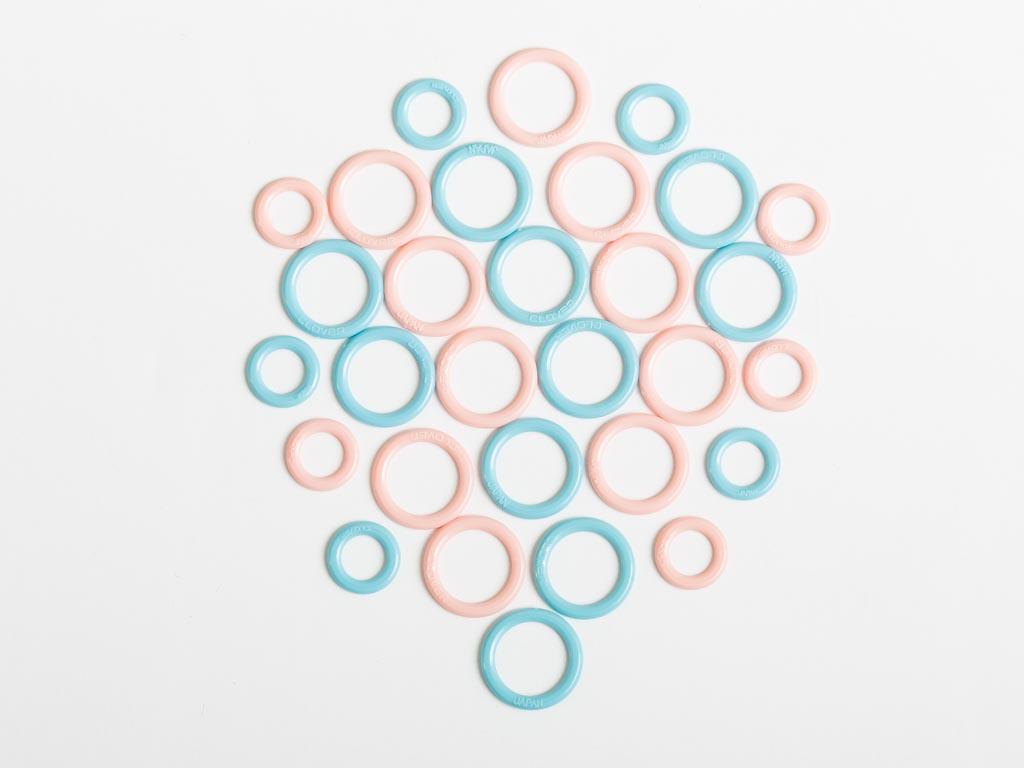 Clover Stitch Ring Markers
Ring markers
What they are: These markers are simple, no-fuss rings that slide easily on and off your needles. They sit on your needle, unlike locking and split stitch markers that can be locked into the actual stitches. They're also available as Soft Stitch Markers that are flexible.
What they're best for: Be warned that this type of stitch marker can't be locked and unlocked. Once they're on your needle, you'll only be able to move them by working to that stitch and removing the ring from the needle. For that reason, they're best for things like marking pattern repeats or the beginning of a round. Don't forget to remove them when you bind off!
Try: Clover Stitch Ring Markers, Clover Jumbo Ring Markers for needle sizes 11-15 and 17-35, or Clover Soft Stitch Ring Markers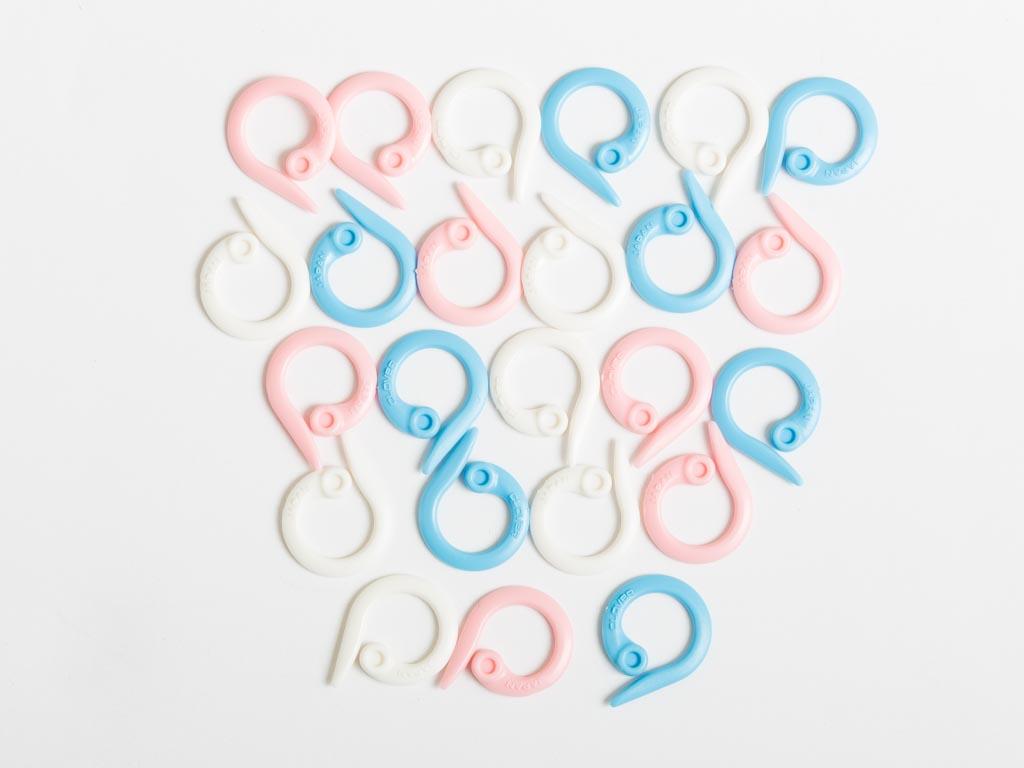 Clover Split Ring Markers
Split Ring Markers
What they are: These markers have versatility. They can be slipped in and out of stitches like locking stitch markers, and they can also sit on the needle like plain ring markers. However, keep in mind that because they cannot be locked, they're no quite as secure as the other two types of markers.
What they're best for: These markers can be used for anything that the other two types of markers are used for. They're especially nice if you want to knit a little faster. Just slip it on and off without fiddling with locking and unlocking.
Try: Clover Split Ring Markers
If you find yourself in a pinch without a stitch marker, check out these ideas for homemade stitch markers using supplies that are easy to find around the house.
Which type of stitch markers do you use the most often?