Weavers love their tools. We're always looking for that special combination of beauty and function. After a loom, the weaver's shuttle is probably the most used and loved tool a weaver uses. There are different types of shuttles for different types of weaving and yarns. Start simple and make your own or get a shuttle that makes your weaving flow. As the shuttle carries the yarn, which forms the woven web, I think it is important to have ones that are a delight to use and really get your weave rhythm going.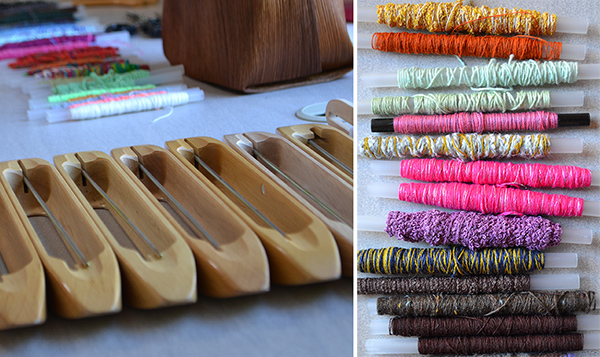 Starting simple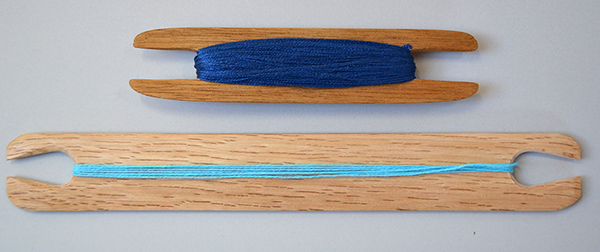 The most basic shuttle for most weaving is the stick shuttle. Most new weavers start with this shuttle. It is very accessible because you can easily make your own with few tools or skills. You can even cut one from strong cardboard or a piece of sturdy plastic. Stick shuttles can be made in any lengths to suit your weaving widths.
The weft yarn is wound around the shuttle or in a figure 8 fashion. The yarn just needs to be unwound from the shuttle as you weave. A variation is a belt shuttle used for warp-faced weaving. Its beveled edge also functions as a beater to get the weft very firmly in place.
Get rhythm in your weaves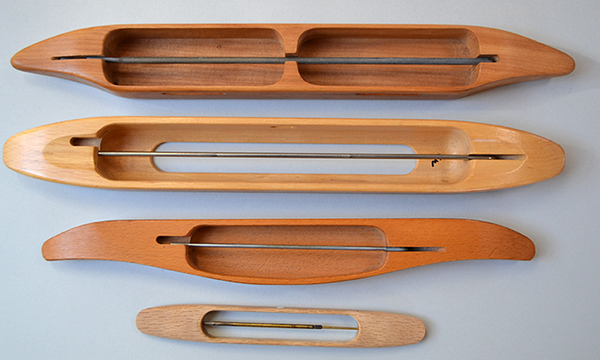 To create a more meditative and flowing weaving experience, a boat shuttle can be used. These are available in a very wide range of lengths, shapes, weights and sizes. The different shapes allow better responses, depending on what and how you are weaving.
They can be "thrown" gently through the warp unwinding the yarn "automatically" as you go and are essential when weaving in wider widths or long lengths of fabric. These shuttles need bobbins to hold the yarn and a way of winding the bobbins, so require more equipment and pre-setup than the stick shuttle.
Tips for choosing a boat shuttle
If you are using a loom with a narrow shed opening, like a rigid heddle, make sure the height of the shuttle can be easily accommodated in the shed opening so it glides through the warp.

Getting arty and non-yarny

Using thick and uneven art yarn or cloth strips (rag) in weaving benefit from a special shuttle approach. Although a stick shuttle can be used effectively, a better choice is the ski or rag shuttle. These types of shuttles are especially made for rug and rag weaving. They are different to a stick shuttle because they keep the yarn from abrading itself as it goes through the weaving shed because it is wound on top of the shuttle rather than around it. Shaped like a snow ski, it glides more like the boat shuttle but requires manual unwinding as you go.
FREE Guide: 7 Simple Scarf Tips Every Weaver Should Know
Download this free PDF guide and get 7 great tips for weaving success in every scarf project! Get my FREE guide »