When you're just getting into the world of sewing, you might feel stuck when choosing your first sewing machine. With so many types of sewing machines suited for beginners, you may feel like there are too much options. I often receive emails from beginner sewers asking which sewing machine is the best one to start with. Well, the truth is that there's no one best choice. As always, it all depends on your needs, budget, location and what you plan to sew. Let's get rid of this confusion and talk about the different types of sewing machines and the features you should look in a machine that will work for you for years.
Types of sewing machines
Leaving out the embroidery machines (which belong to a totally different category), there are three groups that all sewing machines fall in:
Manual
Mechanical
Computerized
Manual sewing machines
Manual sewing machines are the vintage sewing machines your grandma and great-grandma used. Sometimes you can find them in hand-me-down shops, thrift stores or yard sales. They don't need to be plugged in to sew because they have a foot pedal that makes the presser foot move. While they are super nice to have, I wouldn't suggest one of these as a first sewing machine. Antique, manual machines come with fewer stitches (just the straight stitch and sometimes the zigzag) and they're really hard to coordinate your foot and your hands.
Mechanical sewing machines
Most modern machines for beginner are mechanical machines. In my personal experience, as a lifetime owner of a few mechanical sewing machines, I think they're best for beginners for a few reasons:
They won't cost you an arm and a leg (so you can spend more on fabric!)
They are easy to care for yourself. While you may not be able to fix a broken sewing machine, you can definitely do regular cleaning maintenance and put some oil on the metallic joints, saving money in the long run.
If you choose your machine wisely, it will last a very long time, without needing too much extra maintenance.
Computerized sewing machines
At the other end of the spectrum, you will find the computerized sewing machines. These high-tech machines have a lot of functions (most of them you will never use — and I mean never!) that are likely overwhelming for a beginner.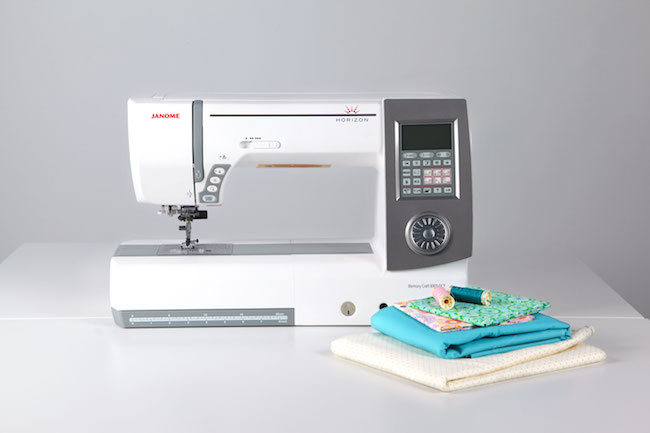 Computerized sewing machines takes care of a lot of things, like adjusting tension, remembering settings and producing consistent stitches from start to end. While you may want a computerized machine in the future, I'd suggest starting with a mechanical machine first. This way you'll be able to judge if you really need all those bells and whistles. Plus, these machines are usually higher in price than the average mechanical machine.
7 sewing machine features you can't do without
No matter your skill level, there are a few basic features you'll need right off the bat. Plus, there are a few features you will certainly appreciate having as you become more skilled. Here are those must-have features, in no particular order, so you can check them off while choosing your first mechanical sewing machine.
1. Presser feet
A basic sewing machine should come with at least a buttonhole foot and the regular zipper foot. Many modern entry-level sewing machines come with more presser feet, and it's a good thing. You'll find yourself playing with them in no time!
2. Accessory compatibility
While your first sewing machine should come with the few accessories named above, you may want to purchase additional accessories and presser feet. Make sure your machine is compatible with universal feet (you will find them labeled as the low shank or the slanted shank feet). This way you'll be able to add variety to your sewing projects.
3. Stretch stitches
Although you can sew knit fabrics with just a zigzag stitch, a triple zigzag, a three-step zigzag and a triple straight stitch will make your machine even more versatile. If you plan to sew knits, this will save you a lot of headaches! While you're at it, check that you get a decent variety of other stitches — at least 10 to 15 — to play with.
4. Stitches adjustable in length and width
You want to be able to adjust both the length and the width of your stitches, separately. This is important to fine-tune each seam — you may want different lengths and widths for baste stitching, buttonholes, stretch stitches (just to name a few).
5. Backstitch functionality
The vast majority of the seams you'll sew will be backstitched on each end, meaning you sew a stitch in the opposite direction to seal the seam. You can't just turn the hand knob backward (it won't sew!), so the only way to backstitch with a button/leverage to push. It's a must have, no matter what.
6. Adjustable needle position
This is a missing feature, on my sewing machine. I have to admit that, when I chose it (more than 15 years ago), I hadn't seen a lot of machines with that functionality. But this can make a whole world of difference when topstitching, using an edge stitch presser foot to get consistent results.
7. Free arm
Sewing hems on pants or sleeves is way easier if you can free your sewing machine arm. This is usually achieved by pulling away the base/case out toward the left so you can slip the sleeve on and sew it in the round!
A few more considerations for choosing your sewing machine
Go for a heavy-duty metal frame
If you plan to sew a lot, I suggest choosing a sewing machine that has a metal frame inside. You can't see this from the outside, but you can try lifting it — if it's heavier than you expected, it probably has a metal frame. Or, you can always ask the dealer. Here's another trick: Search for spare parts for the machine make and model you're interested in, and look if the parts are plastic or metal. If they're plastic, you may want to consider a different machine.
Brand matters
Choose a sewing machine from a well-known brand, no matter which one it is. This is because you will be able to find spare parts and accessories, and you will have an easier time finding someone to service your machine if needed.