There is a lot to love about summer, but high on the list are the big and dramatic blooms that decorate gardens this time of year. The last few years have seen a dramatic rise in the popularity of vegetable gardening, and environmental concerns have lead to an increase in native plant gardening. But ornamental gardening is just as valid and you should add plants to your garden simply for the spectacle they create.
Here are some of my favorite romantic summer blooms that always look beautiful in the garden.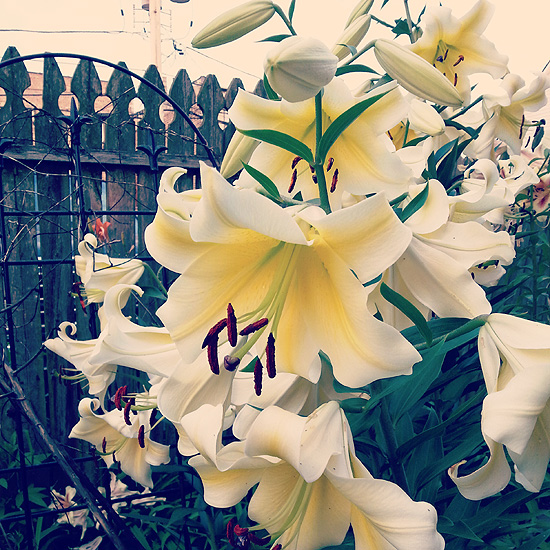 Lilium 'Conca D'Or' via my garden 
Lilies
Lily is perhaps the most overused common name in all of horticulture. There are calla lilies, canna lilies, daylilies, and of course lilies. The only plants I recognize as lilies are plants in the Lilium genus. And what a genus this is. Take a look at the Wikipedia page for the genus some day and marvel at the beauty and diversity of flowers. The best thing about lilies is just how easy they are to grow. Can you dig a hole a few inches deep and drop a bulb and wait for it to emerge next spring? Then you can grow lilies in your garden.
Lilium 'Conca D'Or' is a stunner in my garden. Not only do these beautiful flowers emerge from the bulb to grace the garden, but they smell amazing. On a warm, humid summer day their scent wafts into the house from an open window. My favorite lilies are derived from the crosses of trumpet and Oriental lilies because their flowers are larger, dramatic and–most important–fragrant.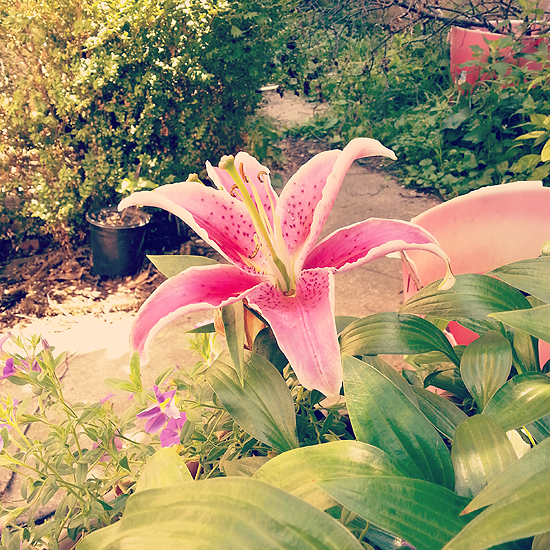 Stargazer lily in my friend's garden.
Stargazer lilies
Next on my list of favorites are the stargazer lilies. Stargazer lilies, and others derived from Asiatic lilies, are usually shorter but just as beautiful. And if you love color, these hybrids come in so many colors that they would surely match your tastes and any garden style.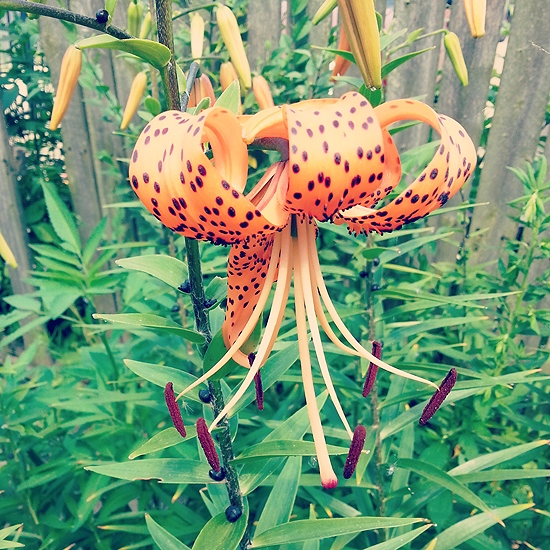 Tiger lily via my garden
Tiger lilies
Lilium lancifolium is a species of lily that commonly goes by the name tiger lily. Actually, it is one of many that goes by that common name, but probably the most recognizable of all. These bulbs are native to Asia, but have long since become naturalized in North America due to their popularity as a ornamental plant in gardens.
Just about any of these lilies would do well in a large container garden if you don't have room in a garden bed or can't plant directly in the ground. And did I mention how easy it is to grow plants from bulbs?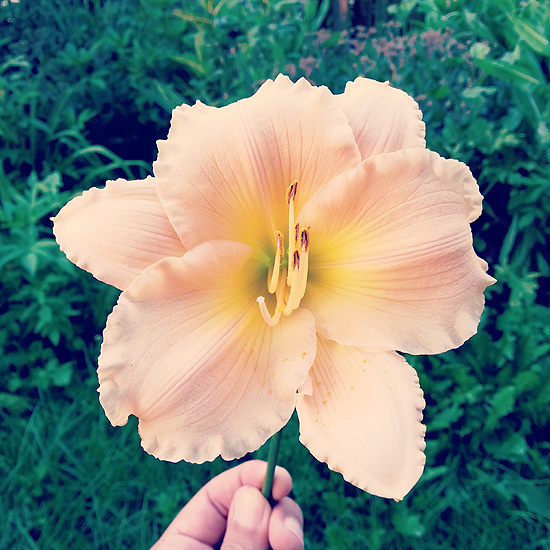 Daylily via my garden
Daylilies
We can't talk about romantic summer garden blooms without talking about daylilies. Contrary to what the common name would have you believe, these are not lilies. Daylilies are in the genus Hemerocallis and have no relation to the lilies pictured and mentioned above. Daylilies may be the perfect perennial plant for an ornamental garden. These are really popular plants and as such there are many cultivars available. Hobbyists and professionals have cultivated blooms in just about every color and size you could possibly want. They are also remarkably good at surviving dry conditions in the garden, which is a good plant trait if you're gardening with drought conditions in mind.
Add a little summer lovin' to your garden by planting some of these romantic summer blooms. They're easy to source, buy and plant in your garden. Unlike a lot of other garden plants, these are easy-to-grow plants that only need planting once and then maybe some thinning as they mature. And they come back year after year in the garden. And you can use them to make summer flower arrangements.
What is your favorite summer bloom?