When it comes to glitter for card making and other crafts, people either seem to love it or hate it! I think nearly all crafters own at least one form of glitter in their stash — whether they use it or not is debatable, I'm sure.
Some just don't like glitter, some are unsure of how to use it, and then there are ones (like me!) that love glitter in all of its forms and tend to feel projects are unfinished if there isn't some type of glitter added in!
Now even though I'm a self-confessed lover of all things glitter, I do have specific favorite types of glitter and methods I use to add sparkle to my projects. Today, I'm going to share those with you, along with a few tips to keep that glitter on your project and not all over yourself or the floor!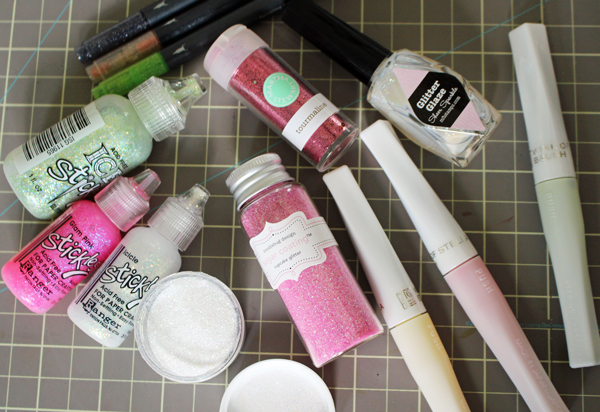 Types of glitter for paper crafts
There are so many different types of glitter on the market, from loose glitter (which comes in a rainbow of shades and many different finishes) to glitter glue to shimmer pens. I've built up quite a collection over the years and have several personal favorites that I reach for on a regular basis.
Stickles Glitter Glue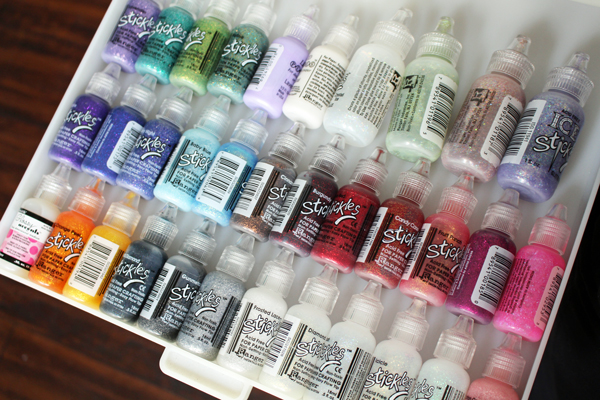 Stickles Glitter Glue is one of my absolute favorite types of glitter. It comes in many different shades and finishes, from fine to chunky, and once dry there is no flaking off of the glitter and it dries (mostly) flat as well.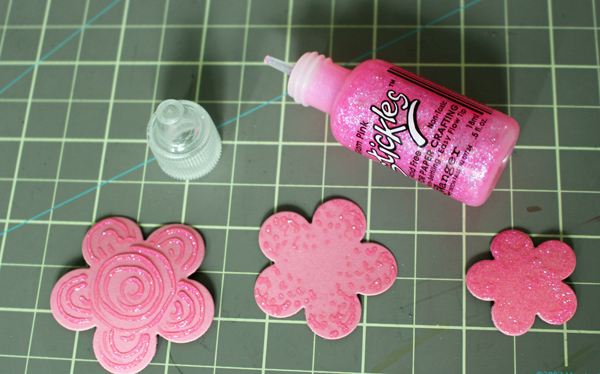 One thing I love about Stickles is you can apply it in many different ways — it just depends on your mood! I personally prefer the example in the middle above — I just add little clusters of small dots of the glitter glue to my image or die cut. It gives a nice bit of sparkle and dries quickly. If applied too thick it can take a long time to dry and can curl the paper it's applied to.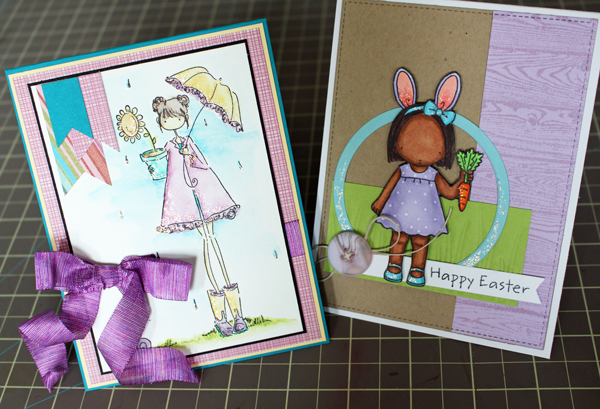 I added Stickles to both of these handmade greeting cards by just dabbing on small amounts. It gives it that extra sparkle but doesn't take away from all the detail.
Glitter Glaze Sheer Sparkle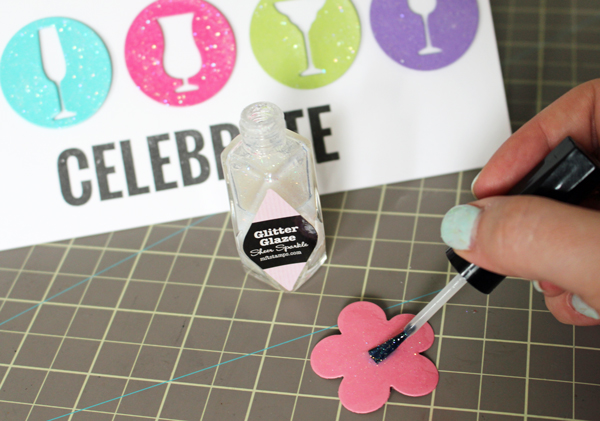 When I want to apply glitter to a larger area, I love Glitter Glaze from My Favorite Things. It looks and applies just like a clear glitter nail polish (but this product is acid-free, fade-resistant and archival, therefore safe for all your paper crafting projects) and it dries quite quickly. If I want my project to sparkle even more, I'll add a second (or even third) coat.
Wink of Stella Glitter Markers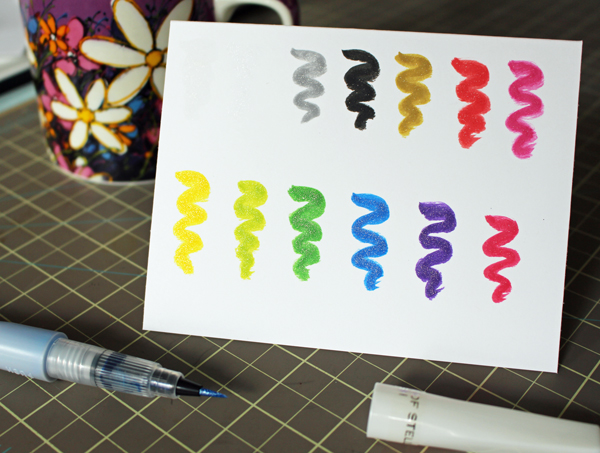 A rather new item to the market, the Wink of Stella glitter markers are quickly becoming my most-reached-for item on my craft desk. They come in a variety of colors, from clear to pink to black, and have a beautiful gold shimmer that you just can't capture on camera. You simply paint on the shimmer where you want it and that's it — there's no mess and no glitter falling off your project.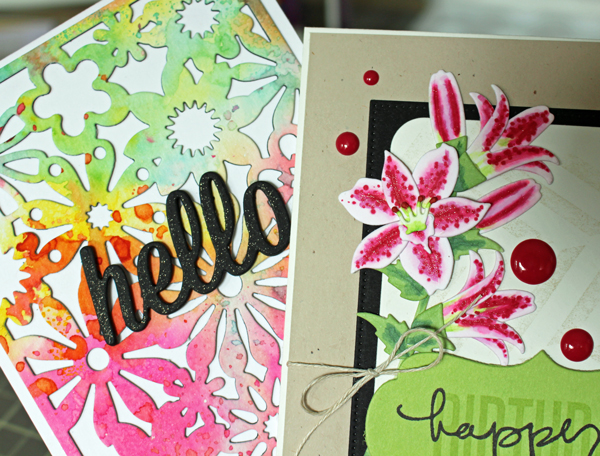 I used my black Wink of Stella on the die cut "hello," and my dark pink Wink of Stella along the inner part of the lily petals that were die cut and colored with Copic markers.
Glitter card stock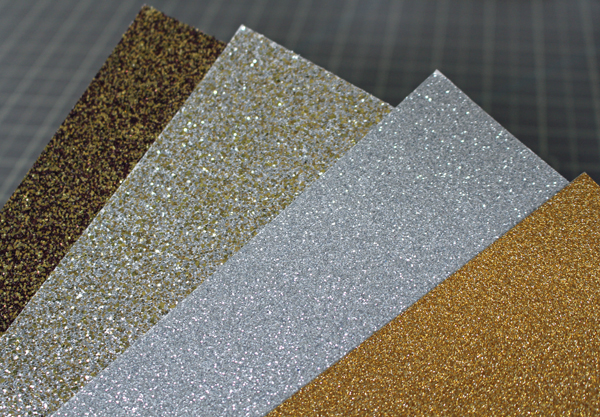 Another way I like to incorporate glitter into my projects is by using glitter card stock. I've picked up several different kinds at Michaels, available in single sheets or in packs. It's contained to one side of the card stock so you can easily adhere it like you would any paper and there's no mess!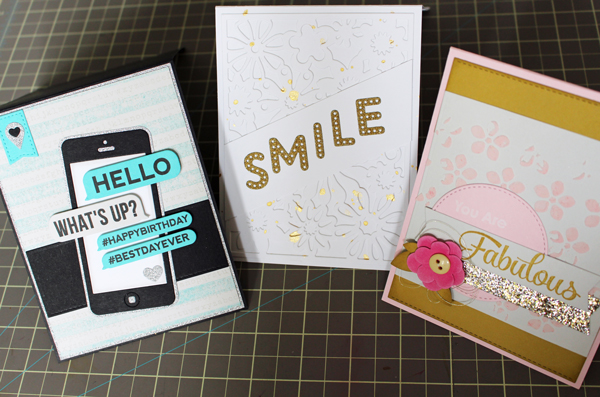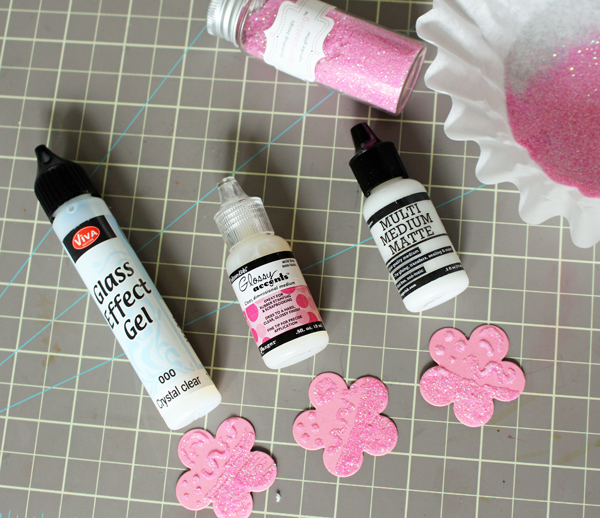 When it comes to loose glitter, I will admit it's my least favorite type of glitter to work with. It's messy and if you don't use a strong adhesive, it will just come right off. Above are three good liquid glues that work well with loose glitter, and using a coffee filter to catch and funnel glitter helps tremendously!
I hope this gave you some ideas for incorporating glitter into your paper crafting projects!
Are you a glitter lover or a glitter hater?