We don't dye because we have to. We dye because we can.
Dyeing or tinting batter, buttercream and dough is a fantastic way to show personality and style in a baked good. Food coloring is what makes a rainbow cake have an "ooh" factor, what makes red velvet cake so sultry, what makes ombré cakes so amazing. But do you know what type of dye is best suited to which project?
Here's a brief explanation of the different types of dye, including inspiration for how to use them properly. It just may revolutionize your cake decorating and baking techniques.
Here's to living life in color!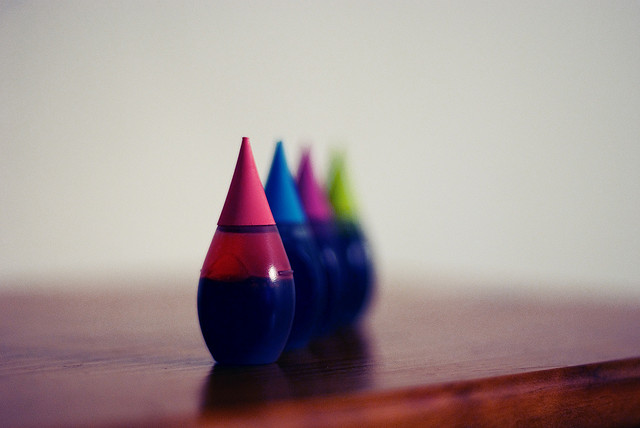 Photo via gentlepurespace/Creative Commons
Liquid dye
What it is:
You know this type of food coloring. These water-based dyes are readily available in the baking aisle of most grocery stores. They come in little squeeze bottles, which allow you to drip the dye drop by drop into batters and icings. Often, the bottles are topped with little caps that look like gnome hats.
Advantages:
Because the dye is less intense, it's an easy way to wet your feet in the world of food coloring, allowing you to add the dye drop by drop until you've reached a desired tone. Liquid dye is also wonderful for attaining pastel hues. They're also inexpensive and easily available, and suitable for a variety of different projects.
Disadvantages:
Because this dye is water-based, the liquid added to a recipe can throw off baking times and ingredient ratios. While typically the amount of liquid isn't very high, the amount of dye required to attain vivid, deep colors (red velvet cake, for instance) might be significant, and could affect the outcome of a recipe.
Popular uses:
Since it's so readily available, liquid dye is popular for tinting icings, batters and dough. Mixed with vinegar, it's perfect for dyeing Easter eggs, too.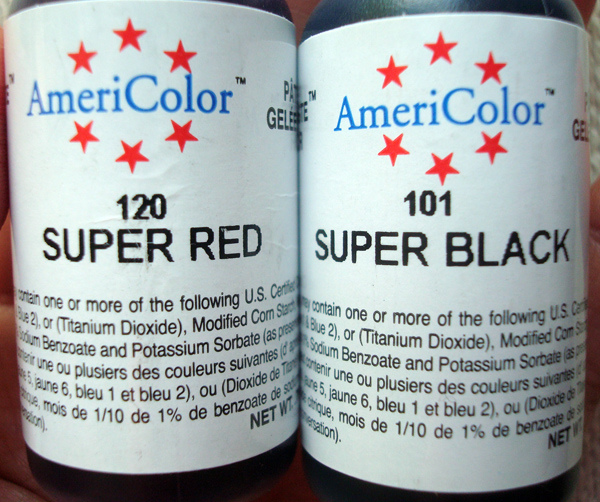 Photo via CakeSpy
Liquid gel dye
What it is:
Liquid gel food colorings typically come in small bottles that contain a viscous, thick gel-type liquid. The texture is due to its glycerine and/or corn syrup base, and the color is also more concentrated than liquid food dyes.
Advantages:
Because the color is more concentrated in liquid gel colorings, a smaller amount will impart a much more vivid color. This means that you will use less dye per project, which can make liquid gel dyes last longer. Liquid gel dyes also add less liquid to recipes, making them better suited to cakes that call for a large amount of dye. The lower amount of liquid also makes these dyes better suited for candies, confections and icings, where even a little liquid can make a big difference in the final result.
Disadvantages:
Fewer stores are likely to carry these dyes. This makes them less obtainable for spur-of-the-moment baking. Also, liquid gel dyes can be tough to incorporate into some types of stiff cookie dough. Minimal mixing will leave a marbled effect, and the amount of mixing required to incorporate the color can lead to a tougher texture in the finished baked goods.
Popular uses:
Cakes that require significant amounts of coloring, such as red velvet cake or ombré cakes; candies or icings where minimal liquid is desired.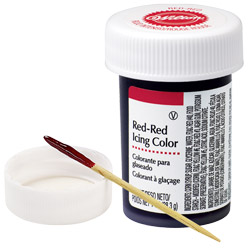 Photo via Wilton
Gel paste dye
What it is:
A very thick, super-concentrated version of liquid gel color. Where liquid gel can be dotted through a squeeze bottle, this is an extremely thick mixture (not unlike the texture of glue versus paste, but with a very different purpose). A teeny-tiny amount is needed — you'll tip a toothpick in this to tint icings. Gel paste dyes typically come in small containers with a screw top.
Advantages:
Since a teeny-tiny amount is all that is needed to have a large coloring effect, these dyes last practically forever.
Disadvantages:
It's highly unlikely that you're going to find gel paste dye at a grocery store, so it requires a trip to a specialty store or online ordering. Also, it's extremely easy to add too much of this type of dye, leaving you with an awkwardly vivid cake layer or, say, a green so dark it's black. Finally, some red tones impart a flavor on baked goods (although some manufacturers make a "no-taste" red option). Some users say that colors change after a few hours.
Popular uses:
Basically the same as liquid gel dyes, but often favored when baking or confection-making is on a larger scale, as the color is more powerful.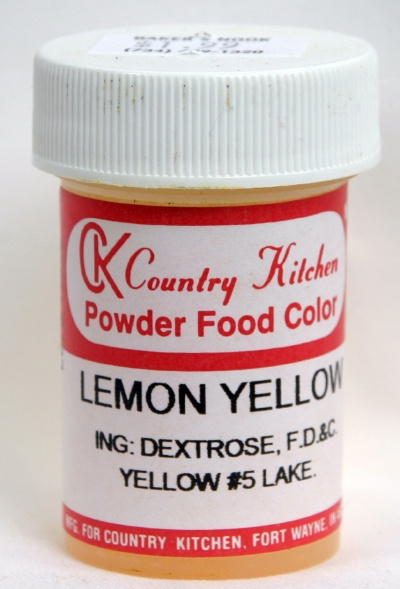 Photo via Slice of Heaven
Powdered dye
What it is:
A dye delivered in powder form. It's completely dry, with no liquid added.
Advantages:
This dry mix is ideal for tinting when no moisture is allowed. Also, since it's dry, there's no need to worry about it drying out, as with liquid, liquid gel or gel paste dyes.
Disadvantages:
Once again, this dye must be purchased at a specialty shop. Also, the dry dye isn't as easy to infuse in very thick doughs or batters as its liquid counterparts.
Popular uses:
Tinting crystal sugar, coloring chocolates and preparing dry mixes. Also fantastic for tinting macarons and meringues, which are very sensitive to added liquid.
Natural food colorings
What it is:
Instead of synthetic dyes, these food colorings are derived from natural and plant sources. For example: saffron or turmeric are used to make yellow, carrot juice makes orange, and beets make red tones.
Advantages:
Healthier than food colorings, and better to those who may suffer allergies. These dyes are typically devoid of glycerine and corn syrup.
Disadvantages:
These are probably the hardest to obtain in stores; your best bet is to buy online. They tend to be a little more expensive than their non-naturally derived counterparts. Also, the colors are sometimes more muted and earth-toned than regular food dyes, which can make attaining vibrant tones difficult. So, for instance, making a vibrant rainbow cake using natural food colorings might prove difficult.
Popular uses:
Use in baked goods that are allergen-free, and breads, cookies and cakes where an earth tone is desired.