Needles are just needles, right? Not really. Whether it is sewing, quilting or embroidery, the type of needle you use makes a tremendous difference in the outcome.
Read on to learn about the different types of embroidery needles available, plus tips on how to choose the right one for your projects.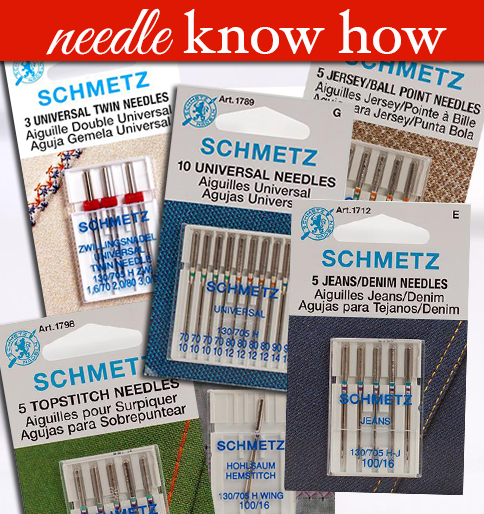 Using the right needle helps assure a professional finished product.
Size matters
A general rule of thumb is to use the smallest needle possible for the job. The larger the needle, the bigger the hole it makes. In sizing, the larger the number (90/14, 80/12), the bigger the needle.
Some fabrics are forgiving and return to their original form after stitching, like knits. Others, like leather, do not. Leather needles actually cut through the tough hide, so you will want the needle to be as small as it can be and still penetrate without shredding thread or breaking.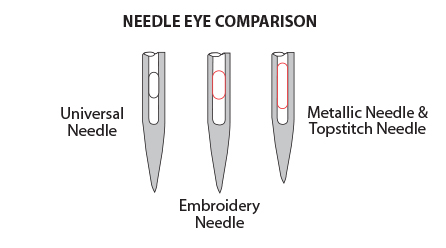 Photo via SchmetzNeedles.com
In comparison, universal needles have a much smaller eye than either embroidery or metallic needles, whose elongated eyes help prevent thread shred. The eye of a topstitch needle is even larger, which is why many machine embroiderers use them instead of metallic needles and some use them exclusively for machine embroidery.
One needle does not fit all
Needles come in a variety of shapes and sizes for a reason. Universal needles are fine for general, all-purpose sewing, and embroidery needles are the same for embroidery, but if you want professional-looking results, use needles specific to the project.

img src="https://d2culxnxbccemt.cloudfront.net/craft/content/uploads/a/general/wp-content/uploads/2015/09/Bionic-Needle-Organizer-Wallet.jpg" alt="Bionic Needle Organizer Wallet" class="alignnone size-full wp-image-185864″ height="auto" width="800″ />

Bionic Needle Organizer Wallet pattern via RipStitcher

Sharps are great for woven fabrics and work beautifully when piecing. Many embroiderers also use them for crisp appliqué. Quilting needles are also wonderful for piecing. Their tapered shape works particularly well when quilting through several layers of fabrics, batting and stabilizers.

When embroidering on knits, a ballpoint needle gently pushes the fibers apart rather than cutting through them. Stretch needles are necessary when stitching on items like swimsuits and active wear. For something like denim, a jeans needle is specially designed to stitch on thicker fabrics.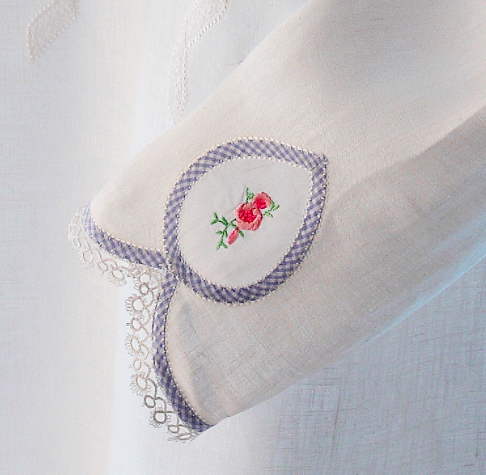 Madeira appliqué via Hope Yoder
Specialty needles
Some needles are particularly useful when creating heirloom embroidery. A hemstitch or wing needle creates open areas of beautiful decorative stitching on light- or medium-weight woven fabrics. Twin needles are used for stitching with multiple threads as well as creating pin tucks and top stitching.
Why titanium?
Titanium coated needles are gaining popularity in machine embroidery and quilting. The titanium nitride coating helps reduce friction and keep the needle sharper longer, making threads and fabrics stitch better with less thread breaks.
Needle lifespan
The frequency of changing out needles is as varied as the types. One recommendation is to change the needle after every eight hours of use, while another is to stitch until you notice a problem. Either way, needles are relatively inexpensive when compared to damaging the item you are stitching.
Like many art forms, there is nothing set in stone. Often, it is trial and error. See what works for you and keep an embroidery diary so you can get the same results the next time.