You can knit brioche in either one color or two colors, but there are certainly good reasons to try two-color brioche. Some knitters find the stitches are easier to decipher in two-color, for example. For me, though, one of the most exciting things is experimenting with different color combinations.
Color can totally change the look of the project, whether you're going for something classic or something a bit bolder.
When you're planning your project, you don't have to stick to super safe or traditional color combos. In fact, unexpected color combos are totally trendy right now.
Try a couple of these both classic and unexpected ideas next time you're planning for two-color brioche. As you're planning, just remember: There's no right or wrong way to choose color. Just make sure your choices make you feel inspired and happy!
1. Hand-dyed, self-striping or variegated + solid
Watch as the hand-dyed or variegated yarn plays against the solid in different ways as the colors change. I love how self-striping yarns change as the pattern moves. Craftsy member mssrainbows paired a rainbow yarn with a solid blue that complements all the colors in her brioche shawl project.
This Alex Scarf by Craftsy member Dina Devon used a solid orange that pulls a bit from the orange in the Madelinetosh Twisted Lite Spectrum yarn that she used. If you're not sure what solid color might work best, pull one that's similar to one of the colors in the hand-dyed or variegated yarn.
2. Neutral + neutral
Neutrals are always a classic choice. Mix and match beige, gray, black, white — and you'll be surprised at the result. Craftsy member Schmata-hari created this Willow Baby Blanket using a navy charcoal and light gray yarn after being inspired by Nancy Marchant's Explorations in Brioche Knitting class. Nancy called this blanket "regal," and we couldn't agree more!
You can even pair two shades of the same neutral together using this idea. This Gray Reversible Brioche Cabled Cape uses two different shades of gray (one light, one dark) as the color combo.
3. Neutral + bright solid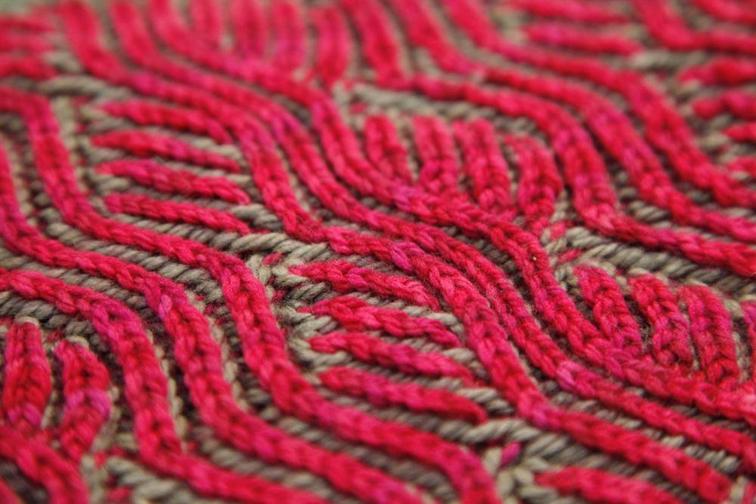 Brights look even brighter when they're paired with a neutral that takes a backseat. The Two-Color Brioche Vine Cowl from Mercedes Tarasovich's Brioche Knitting Made Easy class uses this color combo.
Plus, if you're not feeling super bold on any given day, you can reverse the project to the other side where the neutral is featured more prominently.
4. Neutral + dark solid
This Brioche Vine Cowl by Craftsy member Thread Head is a beautiful example of a neutral working with a dark solid color. Just because both colors are darker hues doesn't mean they will blend together and hide the twists of your brioche work, as you can see.
5. Two solids from the same color family
Check out how Craftsy member KatherineBG used two hues of green to make this two-color Alex Scarf from Nancy Marchant's Explorations in Brioche Knitting class.
Here, Craftsy member QuiltMoxie created a similar color palette using two shades of purple for this Alex Infinity Scarf.
This pairing works with other colors, too. Think red and pink; lilac and dark purple; dark blue and light blue. If it's in the same color family, you know it will be complementary. It just takes a little guesswork out of choosing the color.
Testing your color choices
If you're not sure about the color palette, you can always swatch to see how the two colors look together. There are definitely no strict rules here. As long as you're happy with the color combo, that's all that matters!
Sometimes I even swatch and pin it to a cork board so I can glance at it as I pass by. I also frequently ask my knitting friends for  help. They're a great resource when you're not feeling confident about your color picks.
Do you have any favorite color combos that you seem to use a lot? Why do you think you're drawn to them?