Are you a victim of SSS (Second Sock Syndrome), when you knit the first sock and never quite finish the second one? Or maybe you knit the sleeves to a sweater, but when you tried it on the sleeves didn't match.
If you're struggling with any of these two-piece problems, then you might want to try knitting things in pairs using Magic Loop.
This technique works for anything that's stitched in pairs, like:
Socks
Legwarmers
Mittens and gloves
Sweater sleeves
Many knitters swear by this technique because it not only lets you complete pairs that are totally identical, but it also helps knit the pairs faster.
Think of it this way: When you're knitting in the round using a chart, you cast on, knit Rounds 1-16 of a chart, bind off, then repeat. Instead, you can skip the repeat.
That also means you only have to read each round one time, repeating that same pattern again for the second piece. This saves you time in the end, since you're not switching gears to start over. Your brain can keep repeating Round 1 over and over, then when you complete the chart, you're totally finished!
Plus, it feels amazing to be completely finished with something instead of thinking, OK, here we go again! when it's time to cast on #2.
This tutorial uses Magic Loop and assumes you know how that works. If you don't, check out our Magic Loop tutorial and be sure you're familiar with that technique before you tackle it with two at a time.
Magic Loop two-at-time
What you'll need:
Yarn separated into two equal balls (see our post on using a postal scale to make sure the balls are equal in weight)
Long circular needle
To make the tutorial clearer, I'm using two different yarn colors — Pink (A) and Green (B) — but you'd likely use only one color. The tutorial assumes you're making socks, but of course you can work anything you'd like in pairs!
Step 1: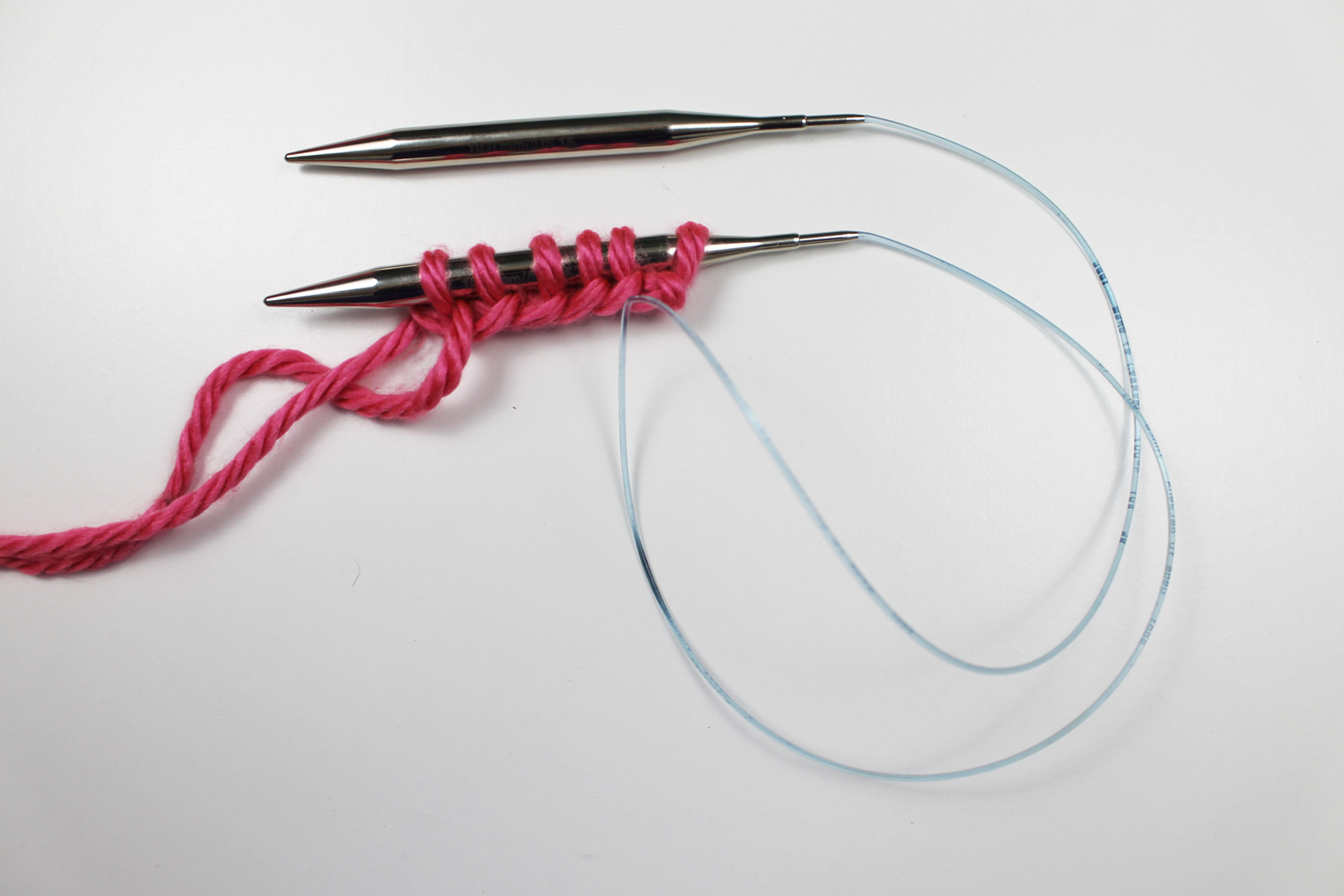 Using yarn A, cast on HALF the stitches you need for the first sock. For example, my pattern asks me to cast on 12 stitches total, so I cast on 6 stitches.
If your pattern asks you to cast on an odd number of stitches, you'll just have an extra stitch on one side, and that's no big deal. So if your pattern asks you to cast on 21 stitches, you can cast on 10 stitches to one side and 11 to the other side.
If you're using a long-tail cast on, make sure you leave a tail that's long enough to cast on the other half of the stitches later.
Step 2: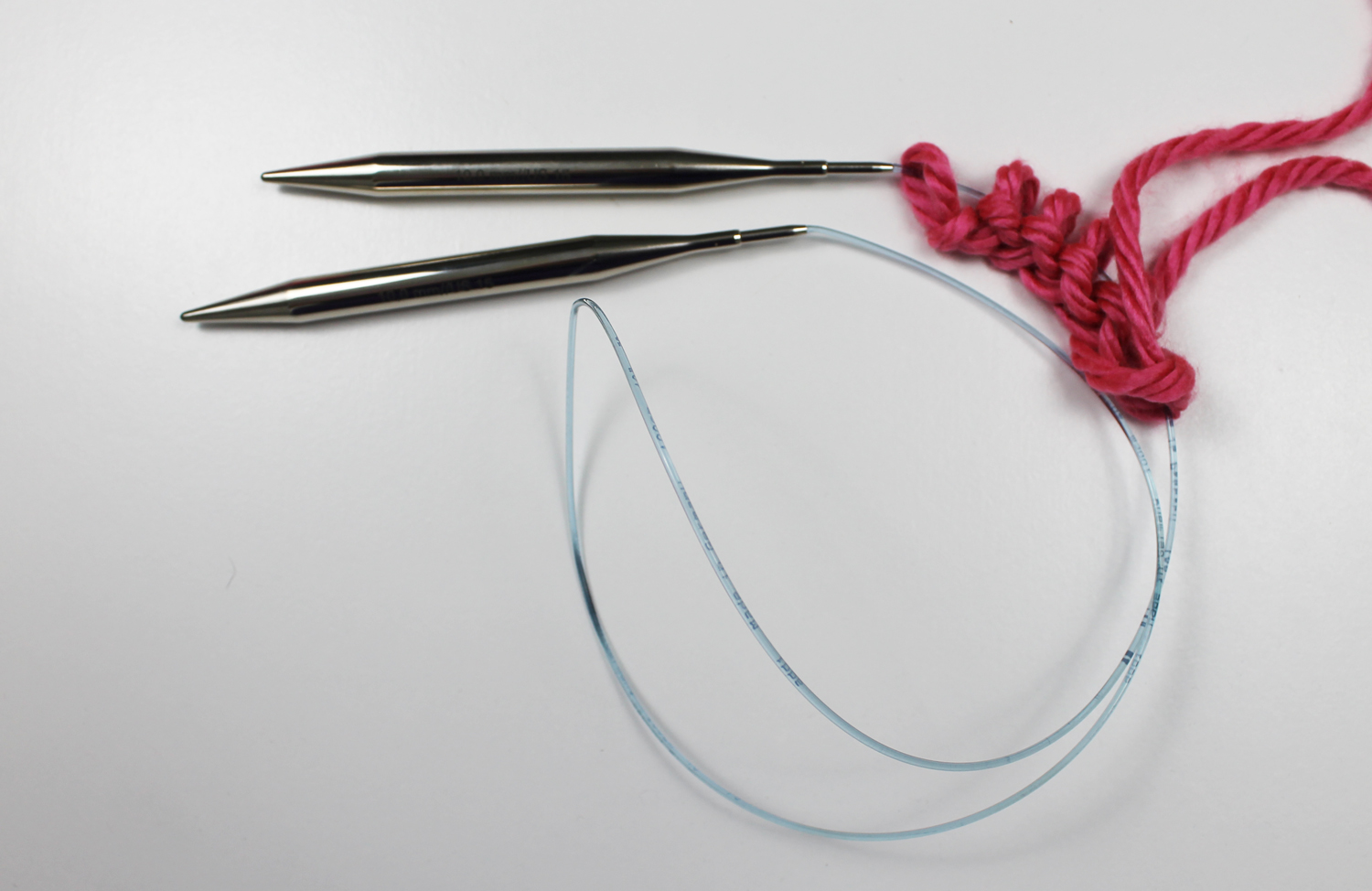 Slide the yarn A stitches (the ones you just cast on) away from the needle tip, sliding it over to the other side of the needle.
Step 3: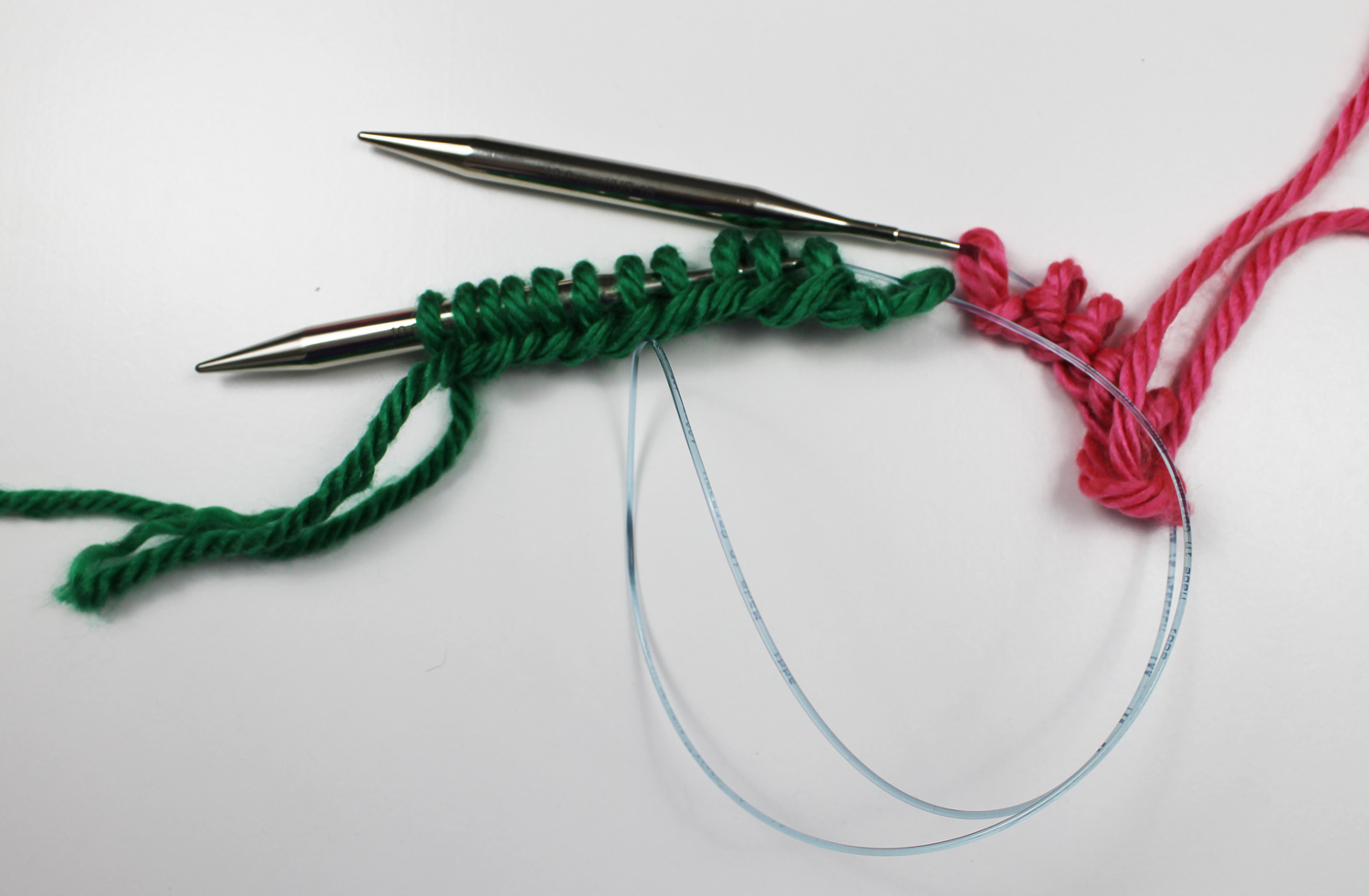 Using yarn B, cast on ALL the stitches you need for the second sock. So here I cast on 12 stitches.
I now have 12 green stitches and 6 pink stitches.
Step 4: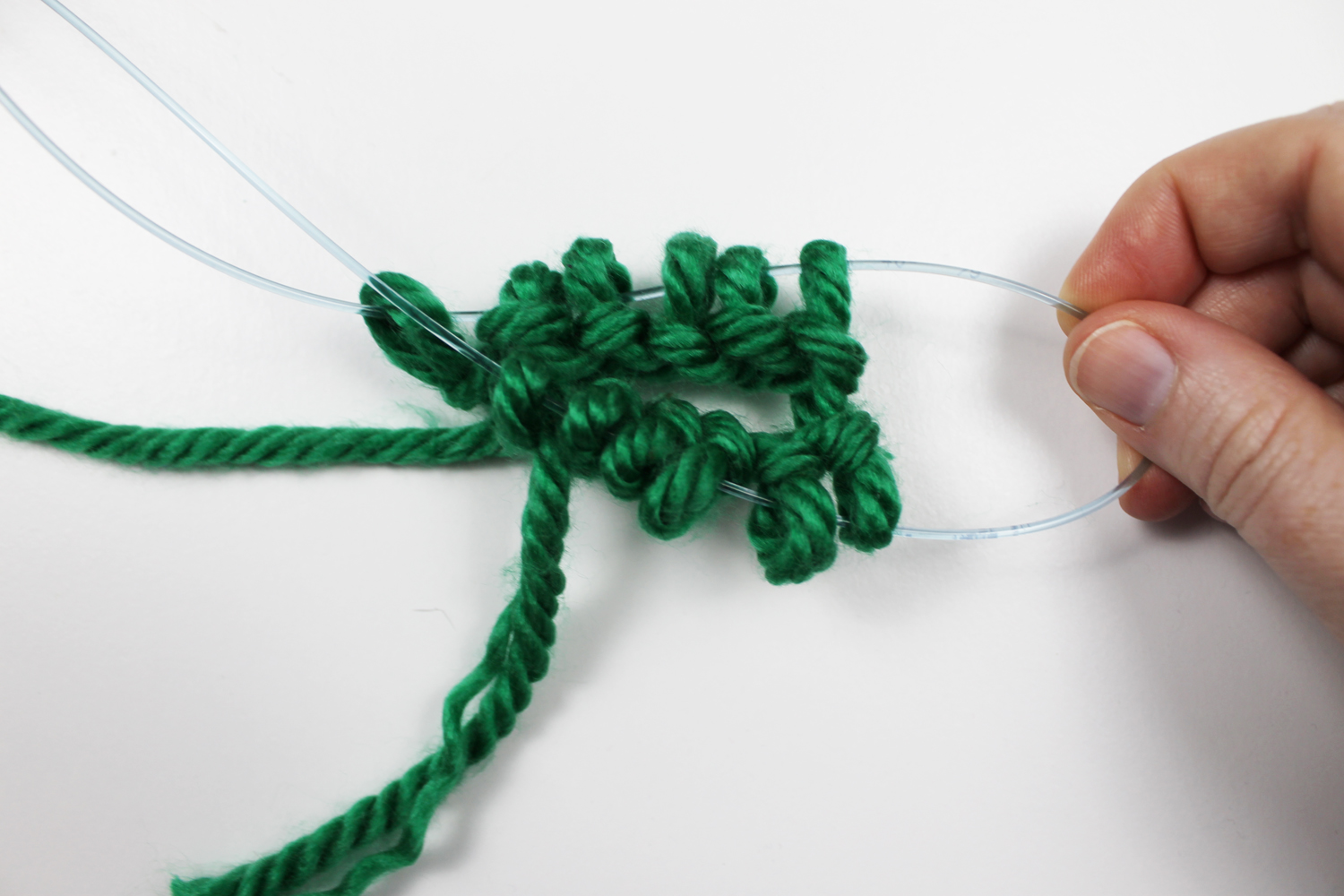 Slide the yarn B stitches to the center of the circular needle. Grab the needle's cable at the center of the yarn B stitches and pull, creating one end of your magic loop.
Step 5: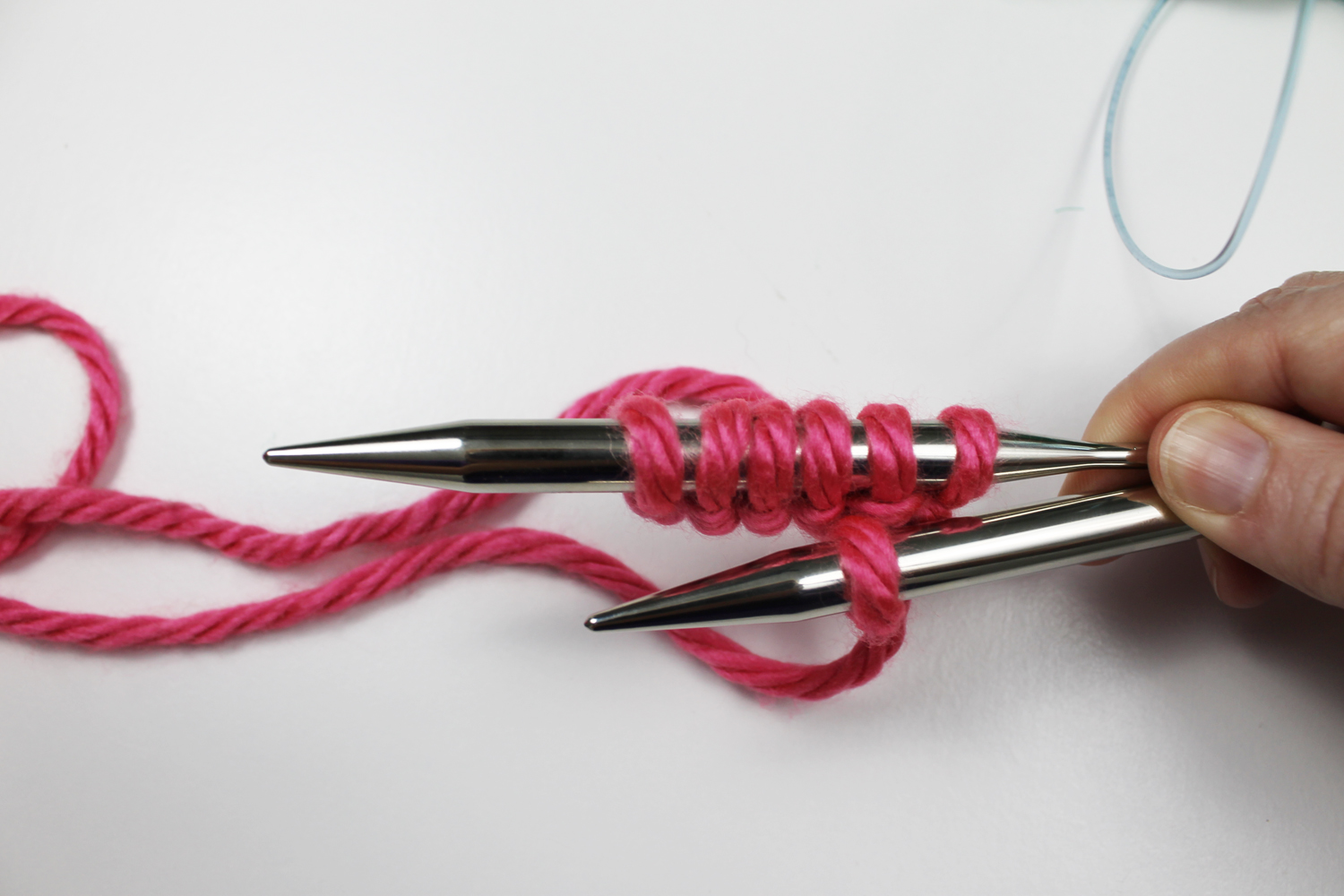 Scoot yarn B out of the way for now. Slide yarn A toward the needle tips. Holding the needles together as closely as possible, cast on the rest of the stitches for yarn A. 
This movement can feel a bit awkward, since the yarn tail doesn't line up with the needle tip. If you're having problems, sometimes it helps to move the tip of the needle you're casting onto down a bit to meet the yarn tail. This can also avoid a big gap between the cast-on stitches.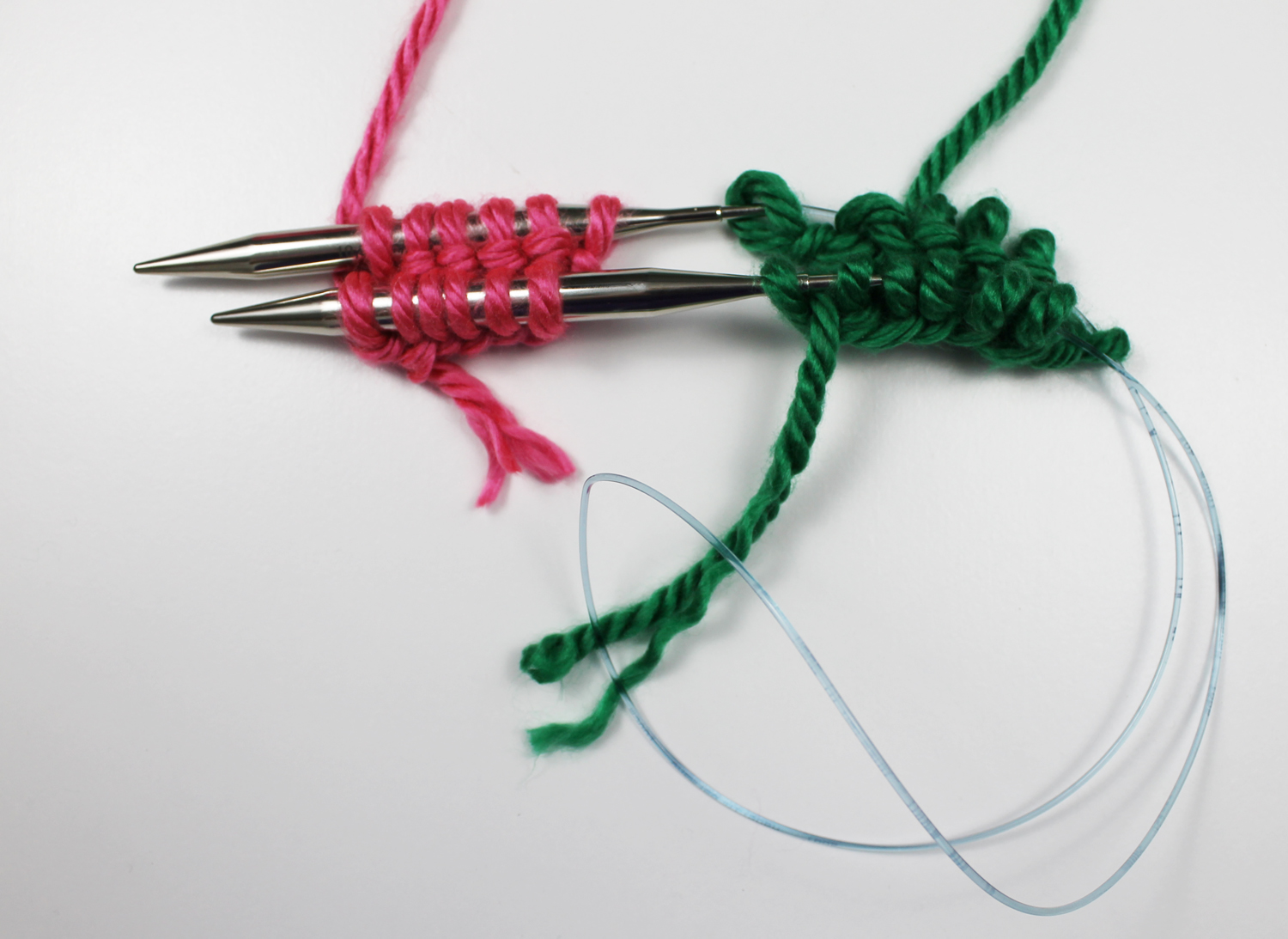 Once the stitches are all cast on, you're ready to start knitting with the magic loop! Notice that you'll knit all the stitches for one sock from one ball, and all the stitches from the other sock from a different ball.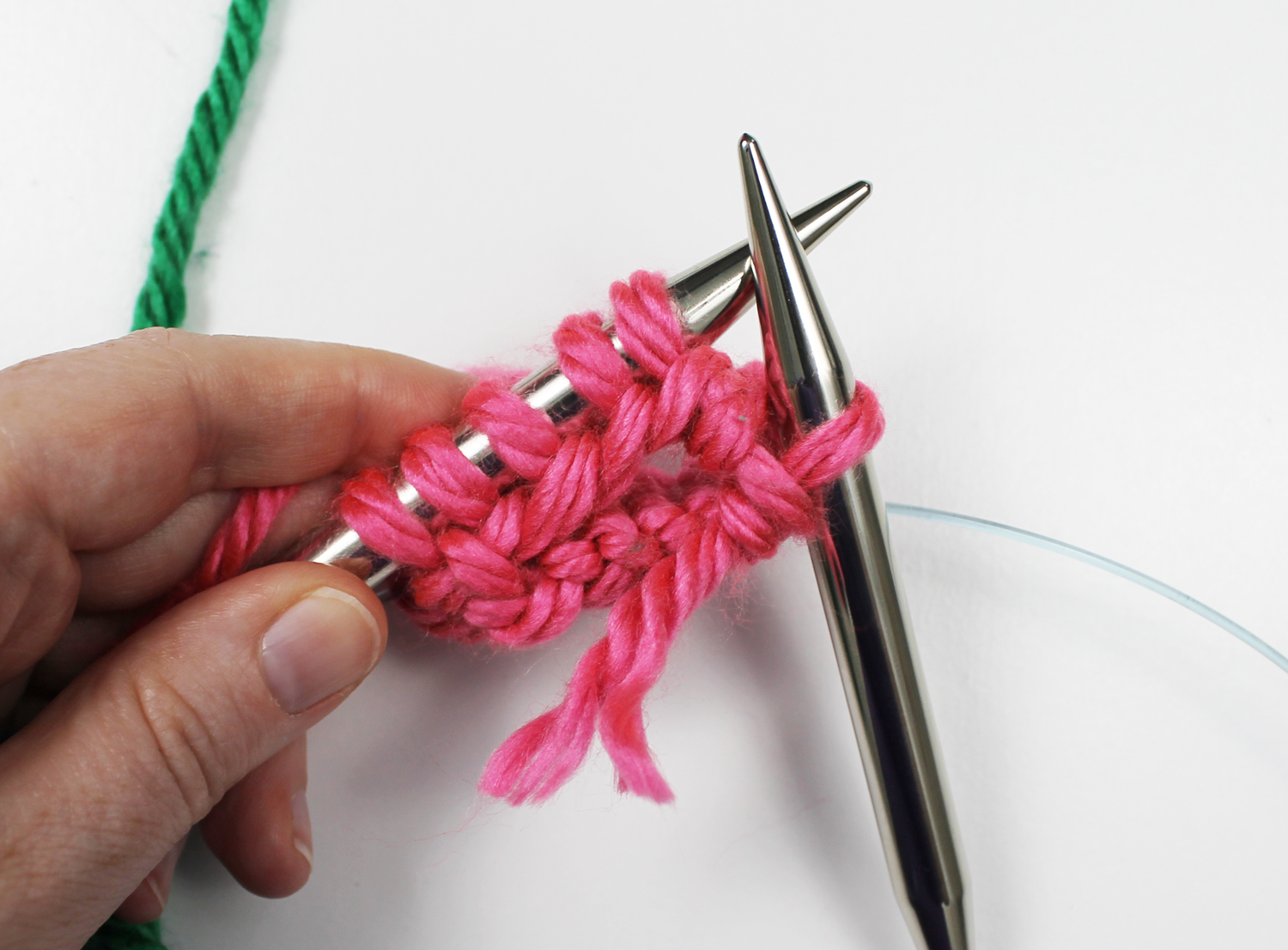 Just start knitting using Magic Loop and changing yarn balls when you move to the second sock.
Have you ever tried to knit two socks (or sleeves or mittens or anything else!) at a time? Do you prefer this method over knitting one at a time? Let us know your preference in the comments!