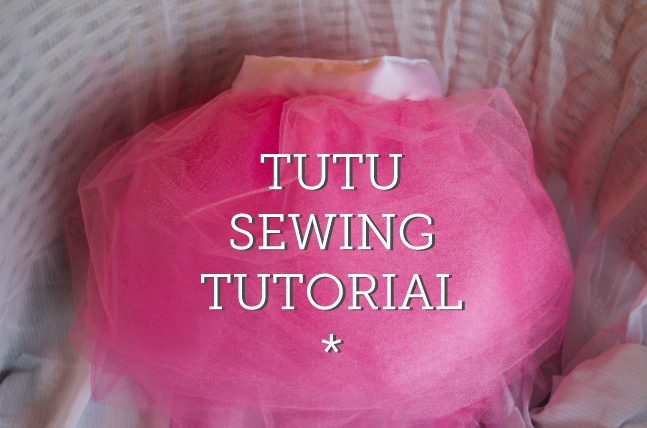 Tutus aren't just for ballerinas– they make an excellent base for nearly any costume you could dream up and are just plain fun to wear. Here's a quick and easy tutu sewing tutorial for whipping one up!
I made my tutu in a 3T size, but you can easily adapt this tutorial to fit an older child or even an adult.
Materials:
4 yards tulle (You'll want to add or subtract yardage based on the desired fullness of the tutu and the size you are making.)
3" wide satin ribbon (The length should be equal to the waist measurement plus 3".)
Thread to match
A closure (I used Velcro, but you could also use snaps or make a ribbon tie.)
To begin, prep your fabric. First cut it to your desired width (mine were 36" wide and about 18" long) and stack (you'll want several layers of tulle; I had 14).
Set your sewing machine to the longest stitch length. Without back tacking at the beginning or end, baste a 5/8" seam. Repeat with a 1/4" seam allowance.
Gently pull on the thread tails to gather the tulle. Be careful not to break the thread. If you are having a hard time getting the tulle to gather, you can separate the tulle into two or more stacks and only gather a few layers at a time.
With your ribbon right side down, center the skirt on the lower half of the ribbon. You'll want to leave about 1 1/2" of ribbon on either side free for the closure. Adjust the gathers to fit the waistband. Fold the top half of the ribbon over and pin in place.
Sew as close as possible to the bottom edge of the ribbon, through all thicknesses. Topstitch along the top edge of the ribbon to give it a nice finish.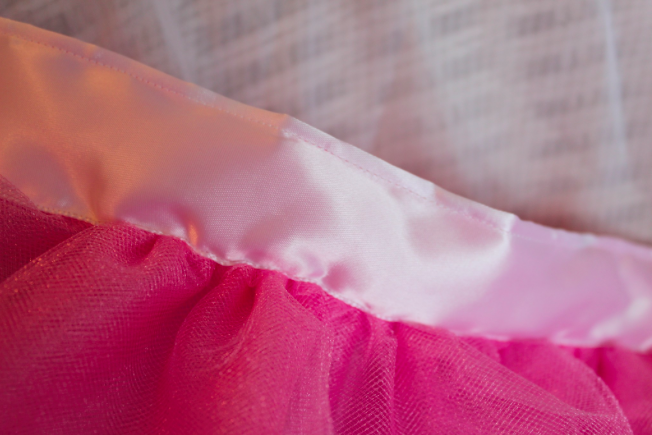 Finish the raw edges of the ribbon by tucking the edges inside and sewing closed.
Finally, attach the closure. Again, I used a small velcro square so that the tutu would be easy for a little one to take on and off, but snaps or a ribbon tie might be more appropriate for an adult tutu or one for an older child.
Fluff the tulle and you're ready to go.
Although tulle can be a bit tricky to work with, especially when you have multiple layers, it is very easy to trim and even out after you've completed your tutu. Plus, there's no need for pre-washing or hemming, and tulle is quite cheap, so there's no reason for you not to try this tutu sewing tutorial!
Looking for ways to take your tutu a step further? You can get creative by using two (or more) colors of tulle, sewing small flowers onto the skirt, or using glitter tulle (fair warning: the glitter will get everywhere, but it might be worth it!).
If you have a little one in love with imaginative play, be sure to check out The Costume Box for more costume fun.
Did you enjoy this tutu sewing tutorial? Be sure to let me know if you make one! You might also like sewing sequins. Come back to the Craftsy blog tomorrow to learn how to sew ruching.