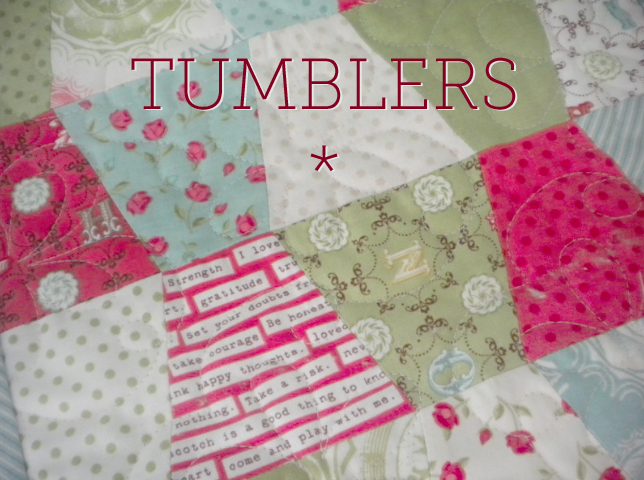 Tumblers are one-patch quilt blocks with four sides; the top of the block is narrower than the base. The blocks can be sewn together in straight rows with the tops and bottoms reversed every other block.
When using tumblers, a variety of patterns can be created. Tumbler patches can be scrappy, or the light and dark placement can be varied. The outer edges can be cut to have a straight finished edge, or the edges can have a bias binding to retain the angled edges.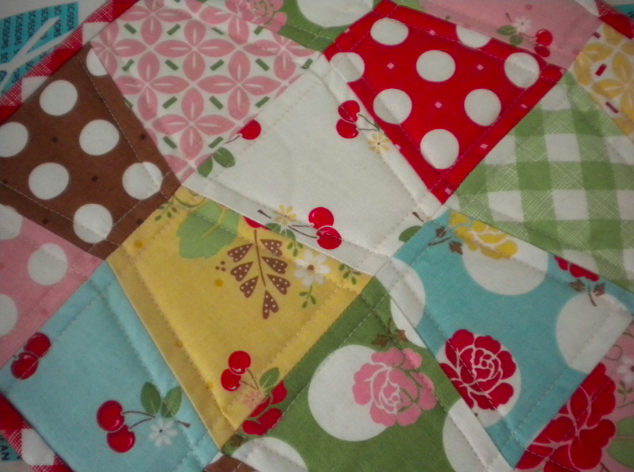 There are several ways to cut tumblers. The Accuquilt Go! Die cut system has two different tumbler sizes. The large version cuts tumblers that are 6" tall, while their small tumbler template measures 3" tall. One benefit for using this tumbler cutting system is that the corners are cut off for easy piecing.
Specialty tumbler rulers are also available for cutting tumblers. "The Crumbler" tumbler template by Miss Rosie's Quilt Company is a terrific tumbler template ruler. This ruler offers a variety of cutting sizes ranging from 3" tall to 5 1/2" tall. Her "Lil' Crumbler" ruler allows cutting of tumblers measuring 1 1/2" to 4" tall. Both rulers contain instructions for making narrower tumblers and for cutting side tumbler pieces used to finish the tumbler quilt with straight edges. The rulers have a variety of lines for keeping things straight. Plus, they come with instructions for lining up the templates for piecing, "fussy cutting" directions, pressing recommendations, and yardage information on how many tumblers can be cut per strip for each of the possible sizes. Finished quilt size information based on the number of tumblers in each row is also included.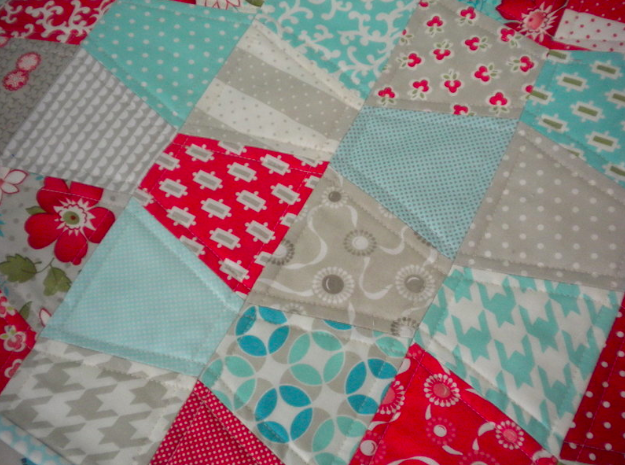 Another tumbler ruler, "The Thimble Ruler," by Lori Holt of Bee in My Bonnet comes in two sizes with the smaller size perfect for utilizing charm squares (5" x 5") and the larger size perfect for cutting Layer Cake squares (10" x 10" ).
Another option for creating tumbler blocks is to simply cut them yourself. Begin with a rectangle and then make equal angled cuts from the top to the bottom on both sides.
Tumblers are easy to cut and sew; however, when using most tumbler templates be careful when sewing your tumblers together. The corners at the top and bottom of two tumblers should not be matched when sewing. They should be off-set by a scant 1/4" overlap so the 1/4" seam allowance creates perfectly aligned tumblers.
Whether you choose a large tumbler template or a small one, you are sure to enjoy sewing a tumbler quilt! What type of tumblers project will you create first? Get started with some beautiful tumbler patterns available on Craftsy, including this lovely round table topper and an adorable baby quilt. Then come back to the Craftsy blog tomorrow to get involved in the discussion around modern quilting fabrics.