For me, packing for a trip always involves a balance between wanting to bring every piece of photography equipment I own (just in case!) and wanting to travel light. I typically bring more than I need, but am gradually learning how to pack less and less and still get the photos I want.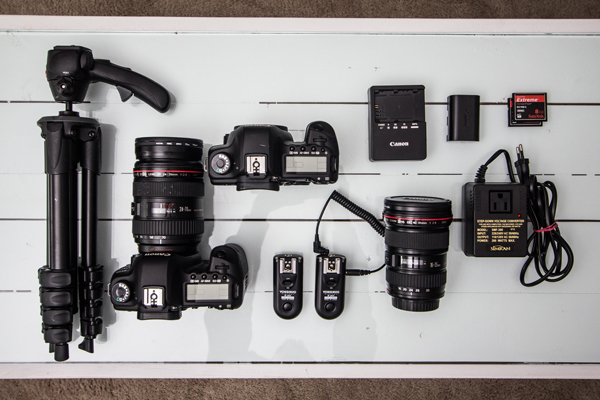 Some of my essentials
Here's a list of things to consider bringing on your trip:
1. Two cameras
If I'm going somewhere for more than a couple days and in a situation where I'll be really bummed out if my camera breaks, I bring a backup. If it's a work trip, I really have to bring a backup so I'm not stuck in a really bad situation without a working camera.
2. Lenses
Be realistic about how many lenses you need. If you take mostly landscape shots, it's probably not worth bringing a telephoto lens with you. For a long time, I was hauling around a heavy 70-200mm on vacation and hardly ever using it. I decided that it wasn't worth the strain on my back for the one or two shots I'd get with it. My travel kit now has just a 16-35mm zoom, 24-70mm zoom and a 1.4x extender.
3. Tripod
Having something to keep your camera stable can really make or break a great landscape. It can also allow you to take a great photo of you and the people you are traveling with. I have a small Manfrotto tripod that only goes up to about chest high but it folds up to about 14 inches small. It's very easy to put into a suitcase. Even something really small, like a Gorillpod or a tabletop tripod, is better than having nothing when you need some stability.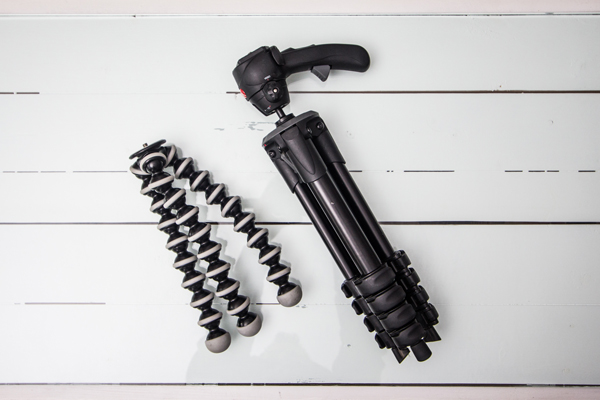 A good compact tripod is worth packing for night shots
4. Flash
Most of the time, I leave a flash at home. The only time I would bring it if there was a chance I needed to photograph people in the evening, indoors. Otherwise, to get the kind of lighting that I want, I'd need another few items that are rarely worth hauling around.
5. Remote trigger
A trigger to click your camera's shutter is helpful to have. I like to do long exposures in the evening where any camera movement can ruin the shot. The trigger keeps you from having to touch the camera, and potentially jostle it. A remote trigger, especially a wireless one, is also great for self-portraits in cool places.
6. Batteries, chargers, adapters/converters
Definitely bring an extra battery with you. If you're shooting a lot during the day, it's nice to know you won't run out of juice halfway through. Also, bring a charger so that you can recharge your batteries overnight or have one charging while you are shooting. If you are in a foreign country and the power supply is different than where you are coming from, make sure to bring an converter to change the voltage to something your charger can handle.
7. Memory cards
Bring plenty or memory cards for your camera. Or bring a laptop (or other storage device) and card reader and download your cards each day so you can make room on the card for the next day. If you are concerned about losing your photos, find a way to backup your files, either to a thumb drive or some other external drive, and place them in a different location from your computer or camera to prevent someone from stealing both.
8. Other stuff
I like to bring lens cleaning wipes, the kind that are already moist and ready to wipe dirt and dust off my lenses. I also like to have an additional small camera bag or backpack so I don't have to bring my big camera bag if I'm taking a hike or going somewhere where I don't need a lot of gear. TSA-approved locks are also helpful to have for locking up your bags and keeping your gear safe when you aren't able to be with them.
Brush up on your technical and artistic skills with expert guidance from travel photographer Rick Sammon in his online class Landscape Photography: Shooting From Dawn to Dusk.
What does your travel photography gear checklist look like?