The Transformers franchise originated in the 1980s with the introduction of a toy line, then coming to life in animated television shows and movies. Like many classic cartoons that have resurged in the recent years, these robots have transformed into a live-action film series, with the newest motion picture, Transformers: Age of Extinction, coming out in theaters today.
Transform your confections into more than meets the eye with inspiration from these amazing Transformers cakes and cupcakes!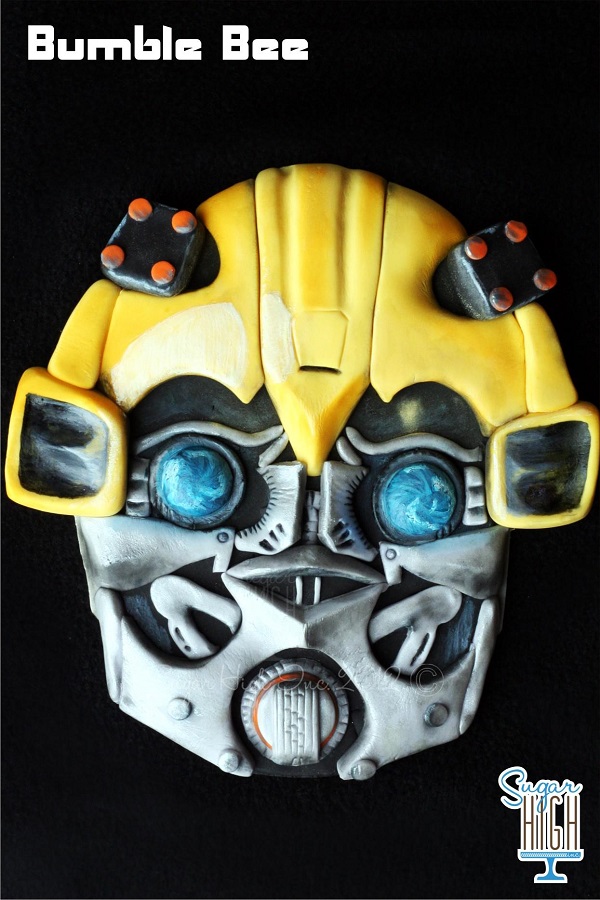 Photo via Sugar High, Inc.
Transformers Bumblebee cake topper
Sugar High, Inc. created this exceptionally detailed fondant cake topper of a Transformers' main character, Bumblebee. The pieces to create the robot's head were modeled, cut and glued together from fondant. The additional elements that truly bring this work of art to life are achieved with the use of shading and hand-painting techniques.
Learn new approaches to adding color to your cakes in the Bluprint course The Art of Painted Cakes with Kate Sullivan, while taking your shading skills to the next level in The Art of Airbrushing with Lisa Berczel.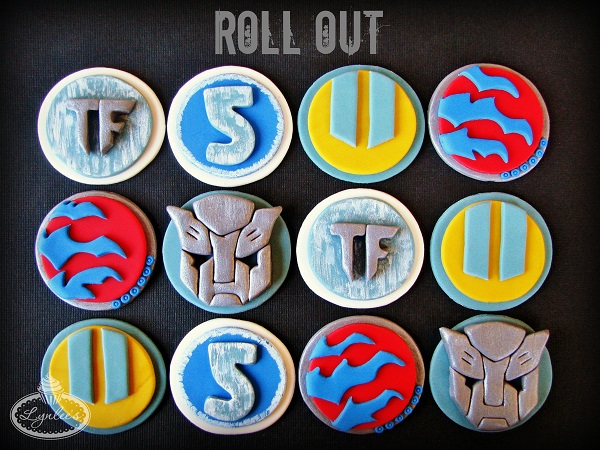 Photo via Lynlee's 
Transformers fondant cupcake toppers
Inspired by graphic designs from Hello My Sweet, these Transformers fondant cupcake toppers extract different elements and logos from the Transformers series. The patterns and images were transformed into fondant with the use of a precision knife cut to the desired shapes. Both metallic and opaque shades are painted on with combinations of shimmer dusts and soft gel pastes with water or vodka.
Get creative with your cupcake toppers in Sheryl Bito's Global Cupcake Design, learning how to layer and decorate fondant to create people… or robots!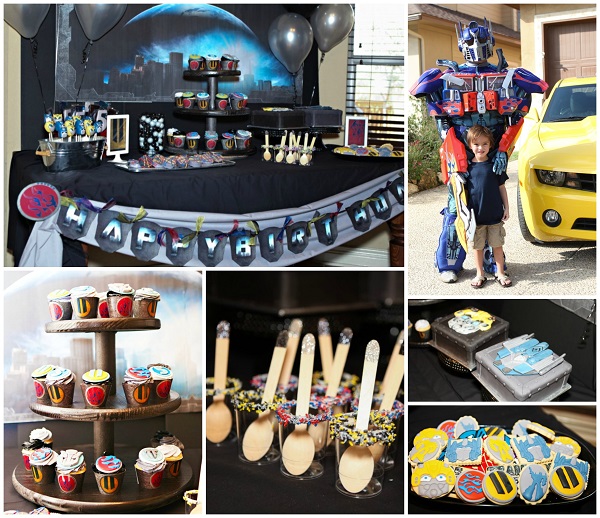 Photos via S.L. Smith Photography
Transformers party
Whimsically Detailed styled an out-of-this-world Transformers party for her twin sons'  birthday party, complete with the cake and cupcake toppers featured above, along with beautiful cookies by Dandy Delights and Artfully Delicious and cake pops by Bluprint blogger Kris Galicia Brown. Fun details included coordinating cupcake wrappers by Hello My Sweet, sprinkle-rimmed cups and a visit from actual Transformers! See more elements of the Transformers party for additional ideas.
Perfect your cookie embellishing skills in the Bluprint course Decorating Essentials: Designer Cookies with Autumn Carpenter to put the newly-gained techniques to work in your own Transformers cookies.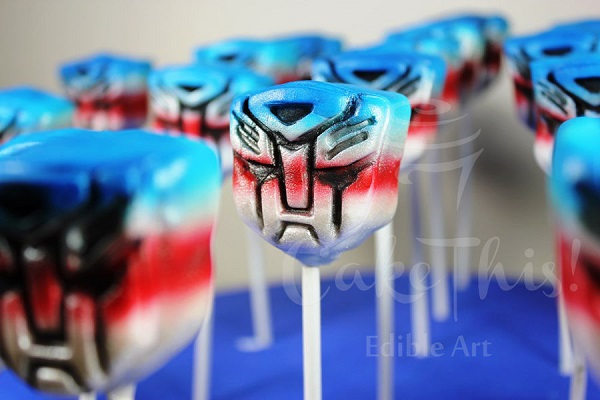 Photo via Cake This!
Transformers cake pops
These amazingly-decorated cake pops were created by Cake This! for a Transformers-themed birthday party. Prior to dipping the pops, indentations can be made on the shaped cake that will facilitate the embellishing process once the chocolate has dried. Though dipping the cake pops in various colors can achieve a similar look, edible markers and airbrushing can achieve the various outlines and multi-colored stripes without making the treat exceptionally heavy and preserving the smooth fondant surface.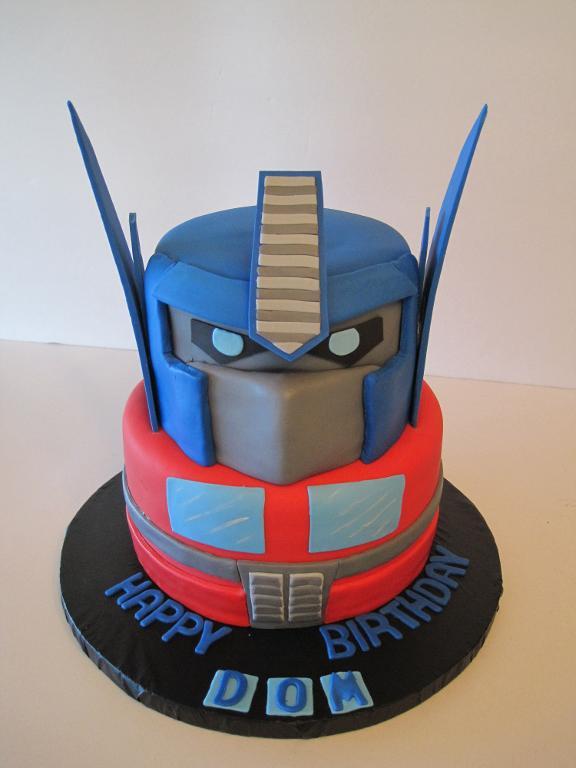 Photo via Bluprint member reanie51
Transformers birthday cake
This awesome Transformers birthday cake from Crafty member and cake artist reanie51 incorporates aspects of the Optimus Prime character into two tiers. The bottom tier is covered in red fondant and decorated to include elements of the robot's metal body, while the top is modeled to resemble the head. This design demonstrates the ability to interpret the theme's look without replicating it exactly.
Get tips to create similar sleek shapes and designs in the Bluprint course Cake Design Made Simple: Art Deco with Lindy Smith, along with techniques to scale your elements properly.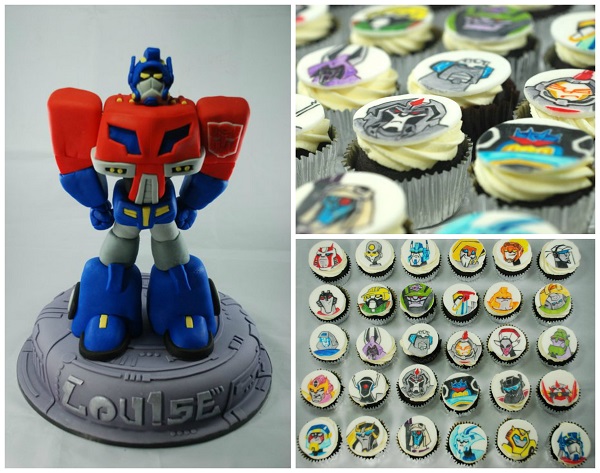 Photos via The Bunny Baker
Transformers cake and cupcakes
This Transformers cake and set of coordinating cupcakes by The Bunny Baker is just fantastic! Again, the Optimus Prime character is represented, but in this case, in a full 3-D figure. The cupcake set incorporates the many characters featured in the Transformers series — each and every one astonishingly hand drawn with the use of edible markers.
Learn the basics of cake sculpting in the course Cake-osaurus Rex with Catherine Ruehle and utilize the same techniques in creating your own Transformer cake.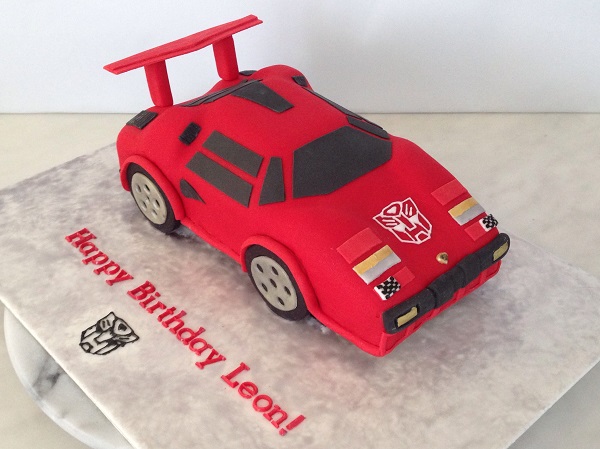 Photo via Bluprint member Stackycakes
Transformer car cake
Bluprint member and cake artist Stackycakes built this marvelous Transformer car cake in the Bluprint course Classic Car, Timeless Techniques with Mike McCarey. However, instead of representing one of the robots, the cake was sculpted into the car into which it transformed. This "robot in disguise" was assembled with detailed fondant decorations using tips and techniques from the class.
Into what car would you transform if you had the choice?