It has been said that love makes the world go 'round. This sentiment is rarely more evident than when you explore the many traditional wedding cakes from around the world. We're not just talking about different cake flavors or questions of buttercream versus fondant: we're talking a world of wedding cakes celebrated in different cultures. From majestic towers of piped pastry to steamed rice cakes to beautiful feats of cake decorating featuring gold and silver leaf, there are a myriad of delicious ways to celebrate matrimony throughout the world.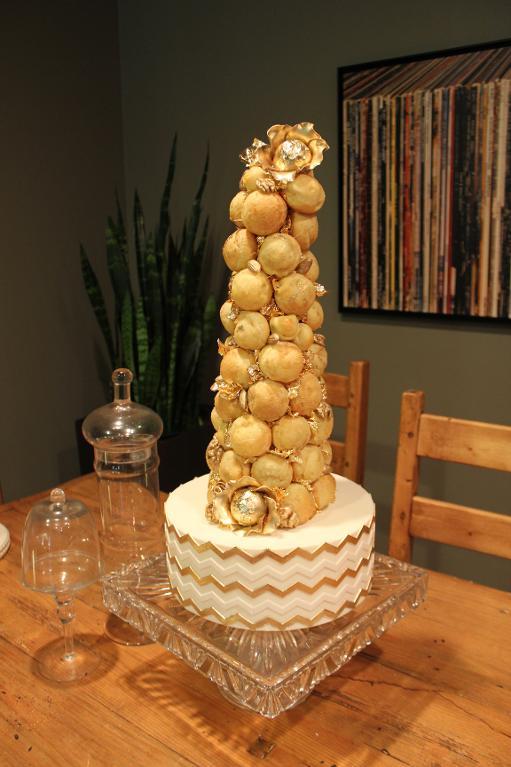 Photo via Bluprint instructor Joshua John Russell
Here's a tour of seven interesting wedding cakes from around the world, as well as a look at the traditions that accompany them.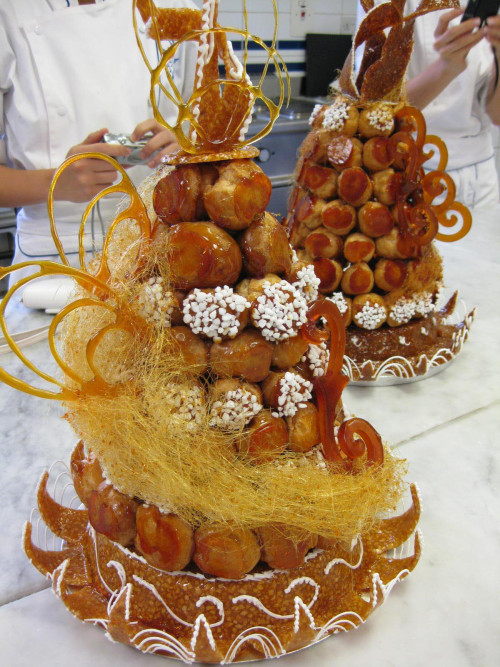 Photo via Le Petit Pâtissier
France
In la belle France, the traditional French wedding cake is actually a pretty pastry pyramid attaining dramatic heights called croquembouche. To make this treat, classic French choux pastries are stacked into a dramatically tall cone shape, and adorned with spun sugar. In the version pictured at the top of this post, Bluprint instructor Joshua John Russell combines a classic croquembouche with a modern chevron cake.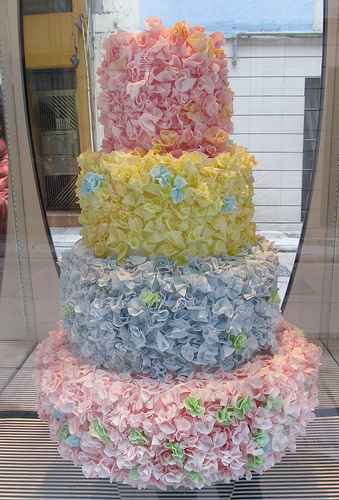 Photo licensed via Creative Commons by Flickr member Tracy Hunter
Japan
Does that cake look too beautiful to eat? Well, it just might be, if you're in Japan, where it is not uncommon to display an ornately decorated artificial cake for the wedding centerpiece. Even though they are sometimes rigged with a slot so that the wedding couple can simulate cutting the cake, the real stuff is waiting in un-glamorous sheet cake form in the kitchen and comes out after the cutting ceremony for guests to enjoy.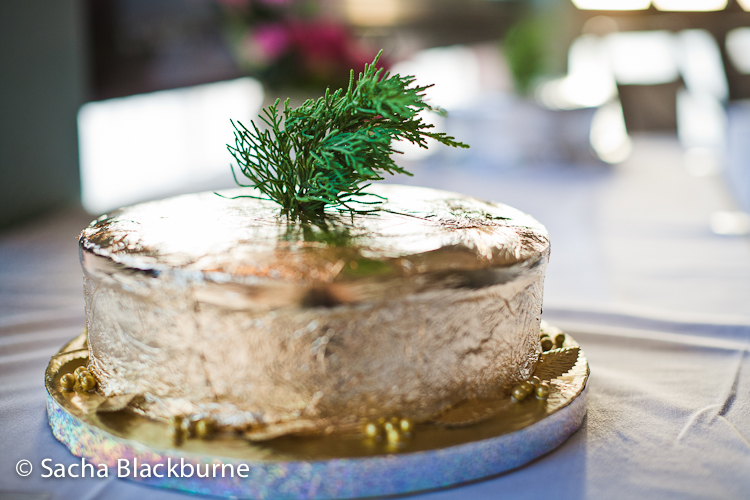 Photo via Sacha Blackburne Photography
Bermuda
Weddings are twice as nice in Bermuda, because there are two cakes. The larger cake, sometimes referred to as the "bride's cake," is a multi-tiered fruitcake-like confection covered with silver leaf. A smaller cake, the groom's cake, is a pound cake that is often covered in gold leaf. A traditional cake topper is a real sapling, which is then planted by the couple  as a symbol of their growing love and life together.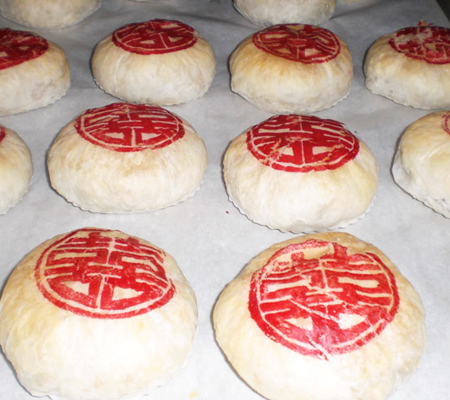 Photo via Tung Hing Bakery
China
In China, it's not so much a cake as a collection of pastries called bridal cakes. The number of pastries may vary depending on the size of the wedding, but they're always served in an even number to highlight the importance of pairs. There are a number of different types, including egg pastry, lotus seed pastry and mung been pastry.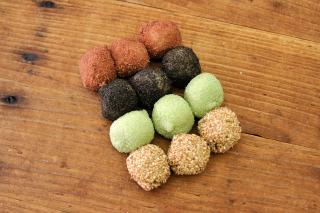 Rice cakes image licensed via stockvault by member Lans Choi
Korea
Tteok, the traditional wedding treat of Korea, may be the only one that has a cultural establishment in its honor: in Seoul, there is a Tteok Museum. There are many different types of tteok, which is said to date back at least 2,000 years. Variations on the recipe will range from casual eating to ceremonial foodstuff. The recipe served at weddings includes a unique steamed rice flour cake filled with fruit, nuts, or red or mung bean paste.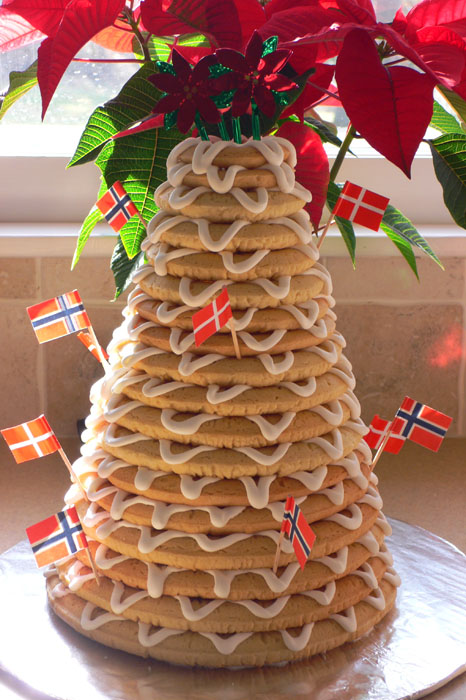 Photo licensed via Creative Commons by Flickr member Elaine Ashton
Scandinavian countries
Kransakaka (or kransekage, or kransekake) is the name of the game at many Scandinavian weddings. From a distance it might look like a cake composed of jumbo doughnuts, but it's actually ring-shaped, almond-flavored pastries that form this pyramid. Sometimes, the center is filled with chocolate or other treats.
Of course, in Norway, the cake may be skipped, instead serving traditional brudlaupskling, a fancy bread topped with cream cheese and fruit syrup, folded, and cut into squares.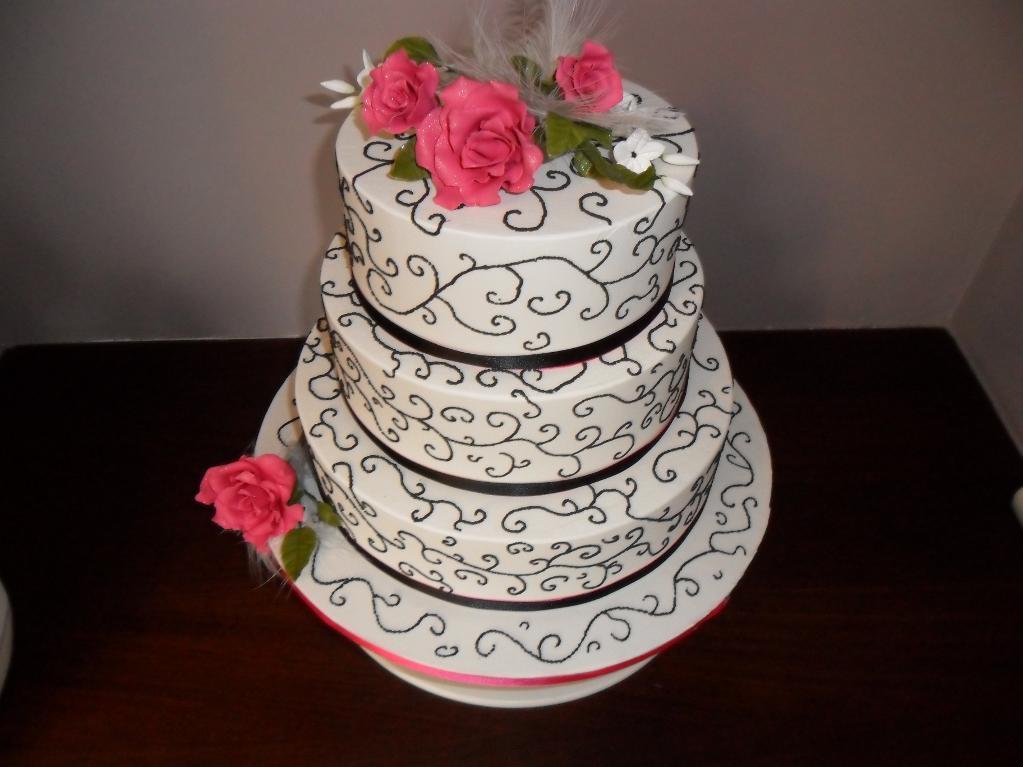 Classic Black wedding cake via Bluprint member lell1844797
Great Britain
Fruitcake isn't just a holiday treat in Great Britain, it's also the traditional wedding cake. Why? In times past, celebration cakes would include all of the rare and prized ingredients: liqueurs, nuts and fruits. This cake certainly maintains that tradition, using all of those once rare ingredients in one cake. It's a very rich cake, made richer by a topping of fondant or marzipan.
Oh, and if you find the idea of storing a piece of wedding cake for a year to be a little…stale, consider this: in Britain, it's not unheard-of to hold on to the entire top tier until the birth of the first child.
[box type="shadow"]Interested in learning more about how to incorporate global traditions into your cake decorating? Sheryl Bito of Global Cupcake Design will show you how to create culturally-inspired treats to accompany weddings of various traditions.[/box]
Have you ever tried a traditional wedding cake from another culture?