Traditionally styled wedding cakes are always a popular choice with couples as they evoke a sense of classic opulence. Typical traditional wedding cake designs range from beautiful brush embroidery, full rose sprays, lace appliqué and impressive Lambeth piping.
Here's a rundown of some wonderfully detailed traditional wedding cake designs we adore — prepare to be inspired!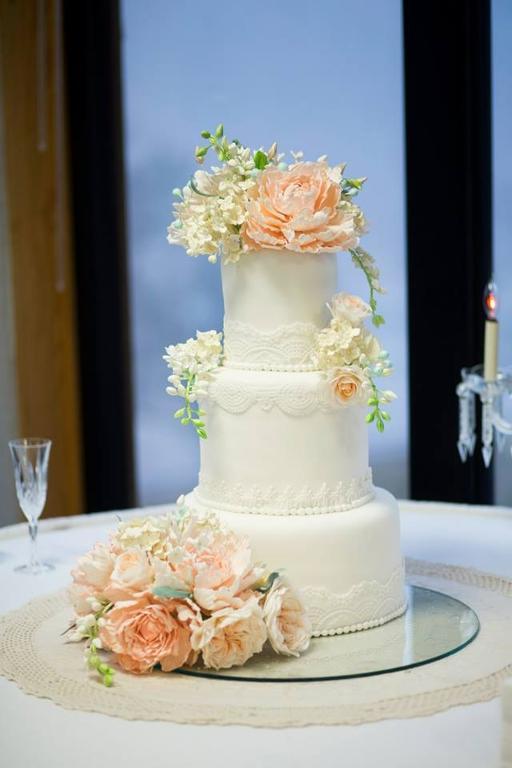 Photo via Bluprint member Alex Narramore
Sugar flower and lace wedding cake
This tall and slender three-tier cake is embellished with beautifully crafted classic sugar roses. Each tier is bordered with a trim of delicate lace detail and edible pearls. The simple white, cream and peach palette with hints of sage helps focus the attention on the gorgeous gum paste flower arrangements!
Create your own beautiful lace covered cake with the help of Zoe Clark's Elegant Lace Cakes Class!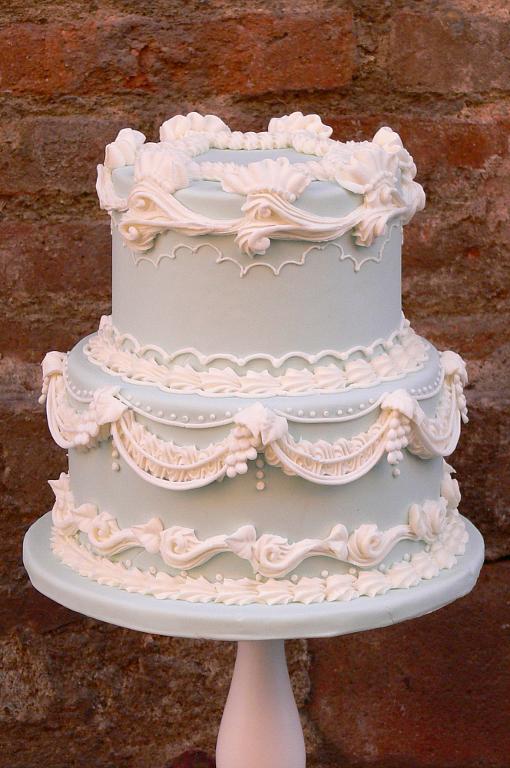 Photo via Bluprint member StravaganzaCake
Lambeth cake
There's a definite Wedgwood feel to this impressive Lambeth piped cake. The dusky duck egg blue adorned with off-white scrolls, swags, dots and scallops really mimics luxurious Wedgwood Jasperware items. This would make a wonderful cake for a traditional ceremony.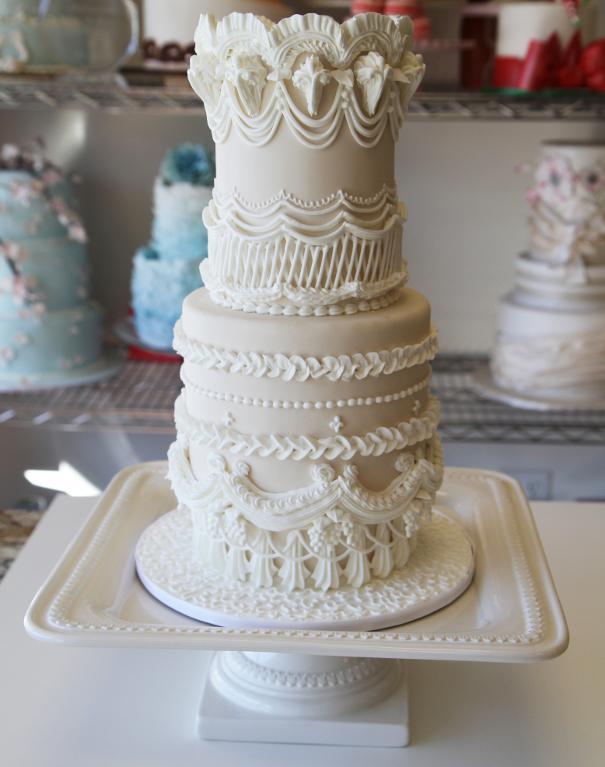 Photo via Bluprint instructor Anne Heap
The Lambeth method cake
We love the simple beige/taupe and off-white color palette of this decadent design! The combination of the tall sleek tiers, elaborate Lambeth piping and swags bordering the top tier really give this cake a wonderful architectural feel. We're sure this cake would fit in perfectly at a grand Downton Abbey wedding!
Why not try Wendy Kromer's Learning the Lambeth Method class to discover a new world of piping techniques?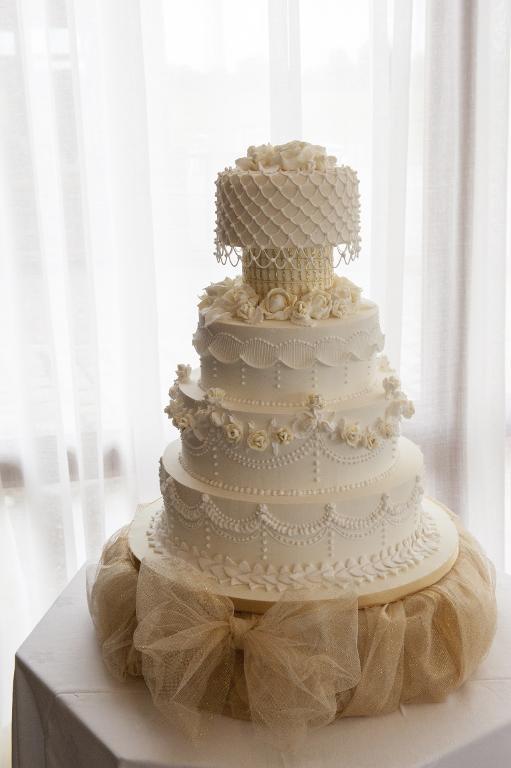 Photo via Bluprint member info1436321
Ivory wedding cake
This cake may just be the absolute tour de force of traditional wedding cakes! We adore the precise and detailed piping, great balance of space and design, nestled ivory roses, classic color palette and impressive stringwork!
Mark Seaman's Mastering Australian Stringwork class is perfect for learning how to pipe wonderfully impressive designs!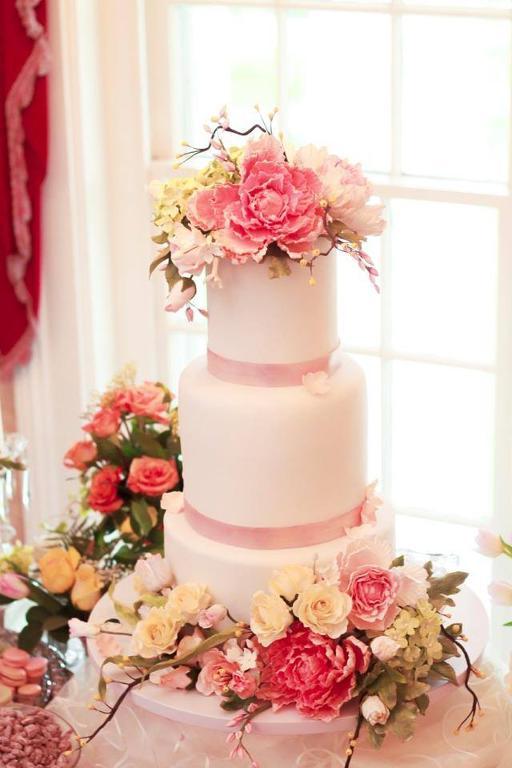 Photo via Bluprint member Alex Narramore

Pink sugar flower wedding cake
We adore the romantic blush color scheme of this cake, but the real eye-catcher is all of the wonderfully realistic sugar gum paste blooms of peonies and roses!
Want to create gorgeous sugar peonies yourself? Nicholas Lodge's Classic Sugar Flower class shows you how to master sugar peonies, anemones and tulips!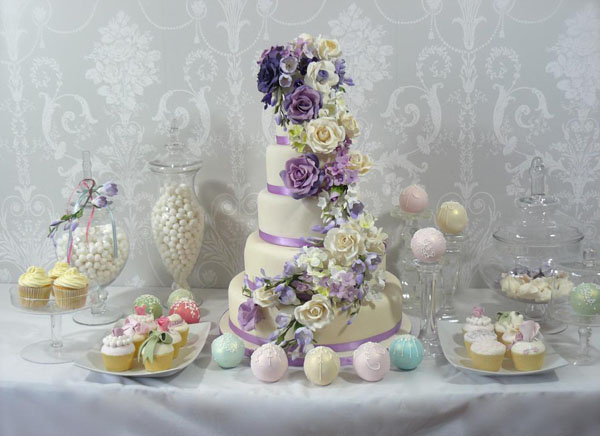 Photo via Jacquitoo1150696
Purple rose wedding cake
This five-tier ivory cake trimmed with lilac ribbon is transformed into a gorgeous show-stopping centerpiece with the addition of handmade sugar flowers. The floral spray is both realistic and eye-catching. We love how the spray darkens as it ascends the tiers, creating a lovely ombré look!
Learn how to create impressive sugar gum paste roses with Nicholas Lodge's The Ultimate Sugar Rose class!
With a myriad of wedding options, from modern designs to novelty creations, traditional cakes still dominate many a decorator's portfolio. Ivory tiers adorned with beautifully made blooms, lace and royal icing designs create a typical wedding cake.
Do you like traditional wedding cake design? Or do you prefer a more modern look?