Classic recipes stand the test of time. They are the ones that get repeated and passed down from one generation of home cooks to the next. These recipes are the ones that get made again and again and they mark moments in our memory. They are our standbys, our favorites, so it is imperative to have a good stash of classic recipes in your cooking arsenal.
A classic and traditional beef stew recipe is definitely one to know.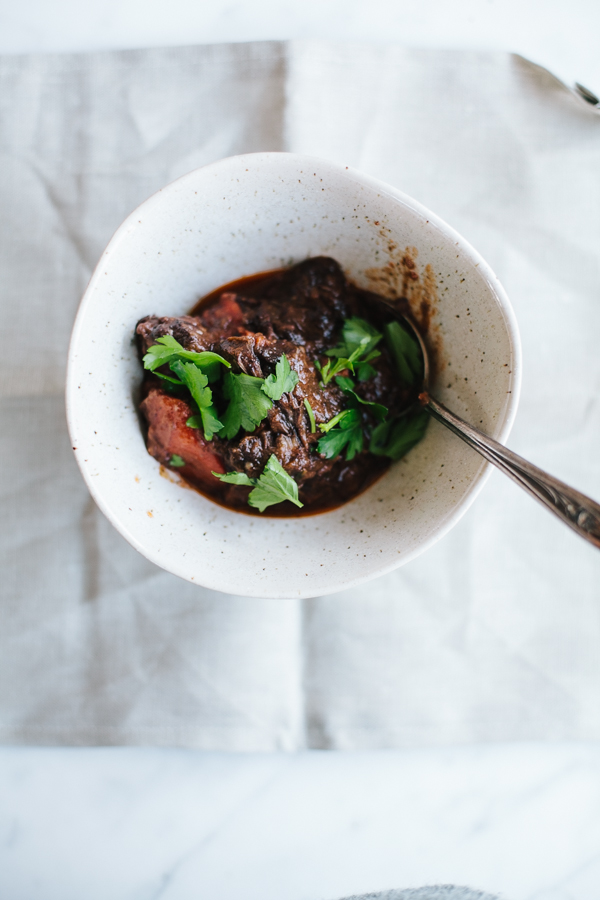 Like all great classic recipes, this beef stew is perfectly basic and can easily be adapted to suit the needs of your family. This recipe suits me nicely. There aren't too many ingredients and often they are the ones I have lying around anyway. It does require a good bit of time to simmer, but once the lid is on the pot I can walk away and forget it.
If you are leery about using an entire bottle of wine, feel free to adjust that to suit your tastes. In it's place you can use some wine, some beef broth or all beef broth with a bit of vinegar or mustard added for a nice brightness. Or replace the wine with beer (nothing too hoppy) and you have the Flemish version of a beef stew.
This is my idea of a perfect Sunday dinner. It feels worthy of that precious time while not calling me into the kitchen to stand over the stove all day.
Serve the stew with crusty bread, simple pasta, gnocchi or creamy mashed potatoes.
The flavor improves over time, so make a big batch and enjoy the leftovers for days to come.
Classic Beef Stew Recipe
Serves 6-8
adapted from Ina Garten
Ingredients:
1 tablespoon good olive oil
8 ounces smoked bacon, diced
2 1/2 pounds chuck beef cut into 1-inch cubes
Kosher salt
Freshly ground black pepper
1 pound carrots, sliced diagonally into 1-inch chunks
1 yellow onion, roughly chopped
1 large leek, white and light green parts thinly sliced
2 garlic cloves, roughly chopped
1/3 cup dry sherry
1 (750 ml.) bottle good dry red wine such as Cote du Rhone or Pinot Noir
1 tablespoon tomato paste
1 teaspoon fresh thyme leaves (1/2 teaspoon dried)
1/2 cup chopped fresh parsley, optional
Directions
Step 1:
Preheat the oven to 250 F.
Step 2:
Heat the olive oil in a large Dutch oven. Add the bacon and cook over medium heat for 10 minutes, stirring occasionally, until the bacon is lightly browned. Remove the bacon with a slotted spoon to a large plate.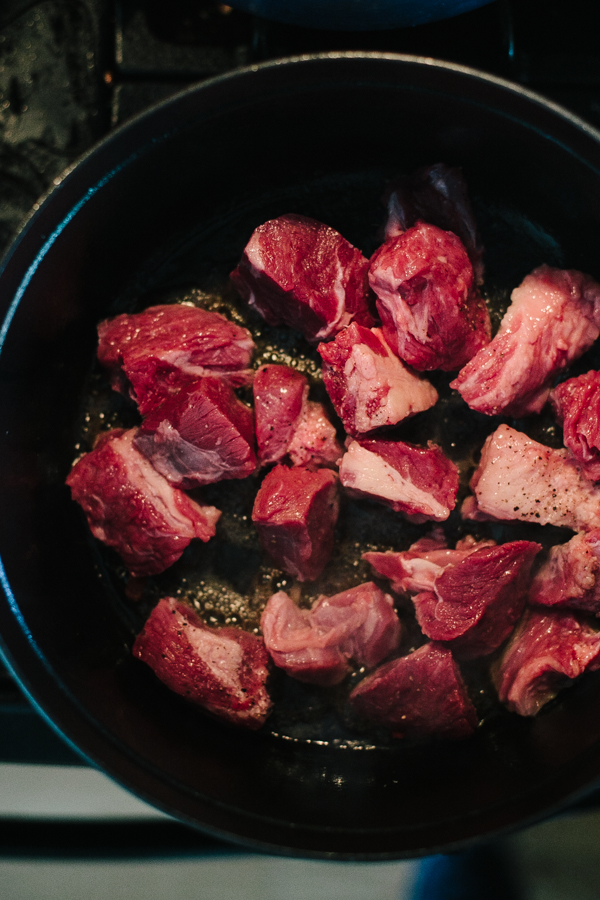 Step 3:
Sprinkle the beef cubes with salt and pepper. In batches in single layers, sear the beef in the hot oil for 3 to 5 minutes, turning to brown on all sides. Remove the seared cubes to the plate with the bacon and continue searing until all the beef is browned. Set aside.
Step 4:
Toss the carrots, onion, and leeks 2 teaspoons of salt and 2 teaspoons of pepper in the fat in the pan and cook for 10 to 15 minutes, stirring occasionally, until the onions are lightly browned. Add the garlic and cook for 1 more minute. Carefully add the Sherry then cook until the pot looks nearly dry again.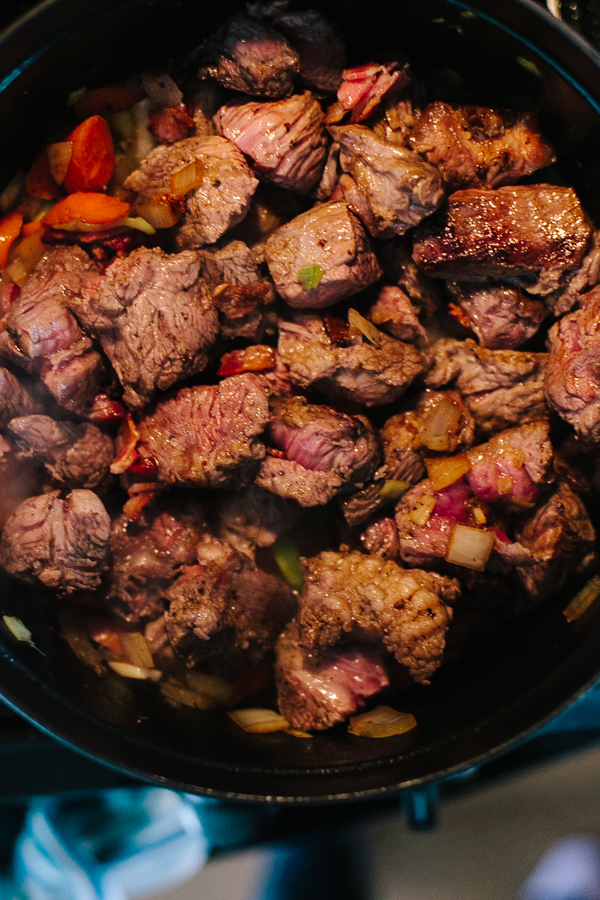 Step 5:
Put the meat and bacon back into the pot with the juices. Add the bottle of wine, it should to almost cover the meat. If it doesn't feel free to add a bit of water. Add the tomato paste and thyme. Bring to a simmer, cover the pot with a tight-fitting lid and place it in the oven for about 1 1/4 hours or until the meat and vegetables are very tender when pierced with a fork.
Taste and adjust seasoning to your liking.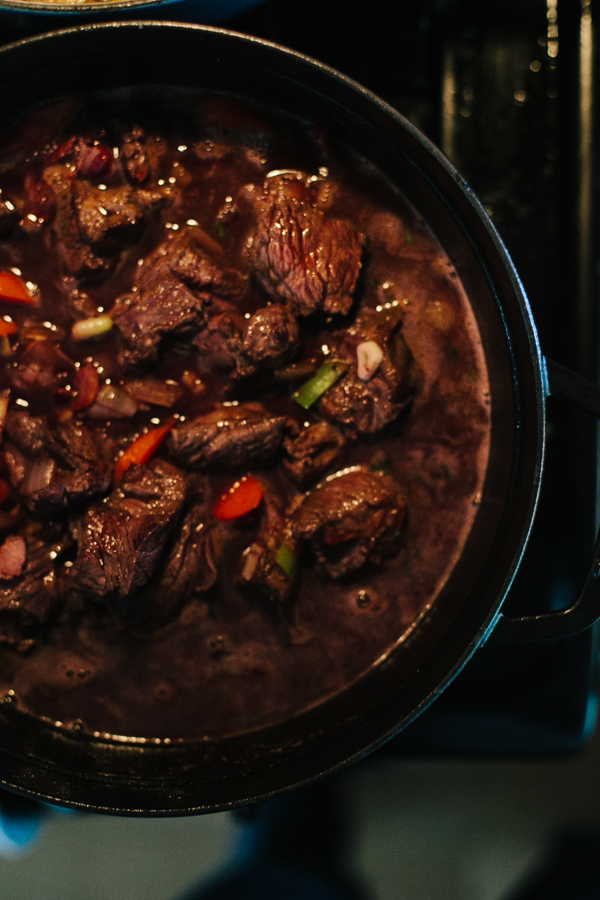 Step 6:
Finish each serving with a sprinkle of freshly chopped Italian parsley.
Serve with crusty bread, gnocchi, pasta or potatoes.