Sewing notions are all those little extras that make sewing easier, better and give you a more professional finish. If you've been sewing for awhile, you probably already have some things on your list of items that you can't sew without!
Here are the top 10 sewing notions you might want to keep on hand: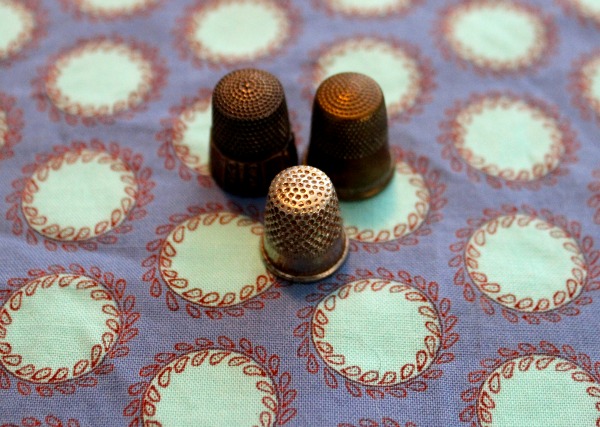 1. Thimble
Is there anything that symbolizes sewing better than a thimble? This small piece of metal will protect your tender fingertips while hand sewing, especially when you are pushing a sharp needle through thick fabric.
2. Interfacing
Interfacing, both fusible and non-fusible, is used to add stiffness and body to fabric. It makes frequent appearances in collars, shirt cuffs and accessories like handbags and wallets. It's available in a few different weights, depending on the type of fabric you are applying it to. Learn more about using interfacing.
3. Stabilizer
Stabilizer can be a life saver when sewing with slippery, delicate fabrics. Spray stabilizer is similar to a spray starch you would use when ironing clothes. When dry, it makes the fabric stiff, papery and much easier to work with. After you're done sewing, it washes right out. Although you might want to test it first on especially delicate or expensive fabric!
4. Safety pins
The humble safety pin is your friend when threading elastic through casings. Just attach the safety pin to one end of your elastic and work it through the casing. I keep a few different sized safety pins in the drawer of my cutting table.
5. Pressing tools
Pressing tools can mean the difference between a wonky seam and a beautiful seam. At minimum, you'll want a tailor's ham and seam roll. The good news is that you can make your own tailor's ham and seam roll with materials you probably already have.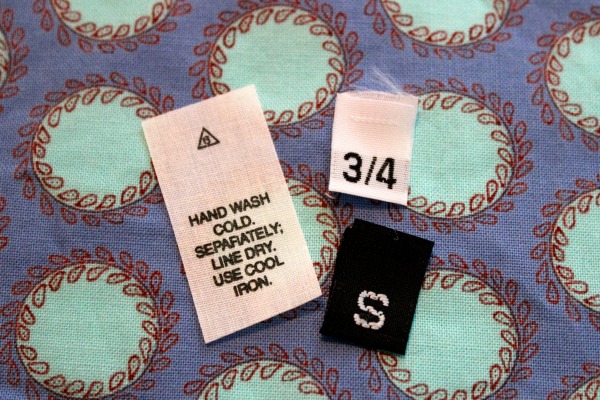 6. Care and size labels
I've recently fallen in love with adding care and size labels to my garments. They are particularly useful when sewing for children (if you're planning to pack up and pass on garments that still have a lot of wear left) and when giving gifts (no one wants to ruin a beautiful handmade gift by tossing it into the dryer!).
7. Hem tape
Hem tape is useful for creating hems, of course, but can also be used as a quick and easy drawstring casing.
8. Drawstring threader
A drawstring threader is something you could probably live without, but does make the process of adding a drawstring quite a bit easier. I've found that the safety pin trick doesn't work as well on drawstrings as it does on elastic.
9. Collar stays
These small pieces of plastic (you can also sometimes find metal collar stays) make the collars of tailored shirts look extra sharp.  They also invariably get lost, so it's worth it to have a bunch on hand if you enjoy sewing tailored shirts.

10. Snap pliers
Plastic snaps are essential for sewing your own cloth diapers, but you'll need special pliers for applying them. Even if you aren't sewing for children, snap pliers can also be used for applying eyelets.
Curious what else you need to stash in your sewing room? Read about 15 essential sewing tools to get you started.

Learn how to make the most of your sewing notions and sewing tools in Sew Better, Sew Faster with Janet Pray.
What sewing notions make your top ten list?