While choosing the right loom for your needs is clearly a weaver's priority, it is also important to think about how you will make your warps. In this article I will consider the three main options you are likely to choose from: pegs, boards and mills.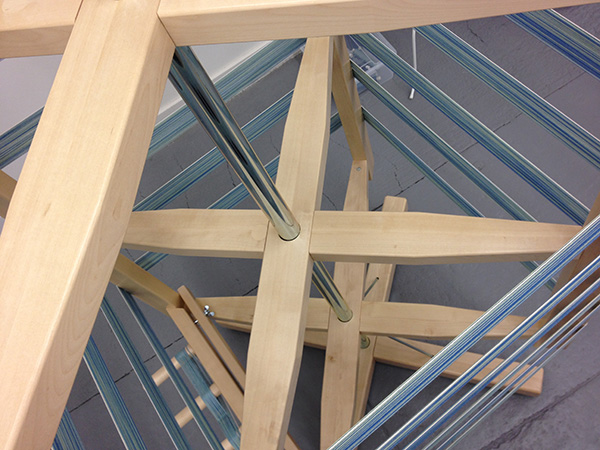 When you wind a warp for a table or floor loom you are aiming to achieve two things: measuring out a number of warp ends which are all the same length and keeping those ends in order so that you can transfer them smoothly and easily to the loom.
Pegs
The most flexible and, usually, affordable option for getting the job done is a set of freestanding pegs. A peg in this context is a piece of wooden dowel inserted into a base. You may be able to make these yourself or find a friend to make them for you, but they are also available from weaving suppliers and independent woodworkers.
If you have one "triplet," a set of three pegs set into one base, and one single peg, then you have the means for measuring out a warp and making a cross. Clamp the triplet securely to one end of a long table or shelf and the single to the other end and you are ready to go.
For more flexibility, however, you will probably want two or three single pegs: this will allow you to wind a longer warp in a more compact space. I have a set like this which I have mounted permanently on a storage unit giving me a quick and easy way to make a three metre warp in a Z-shape.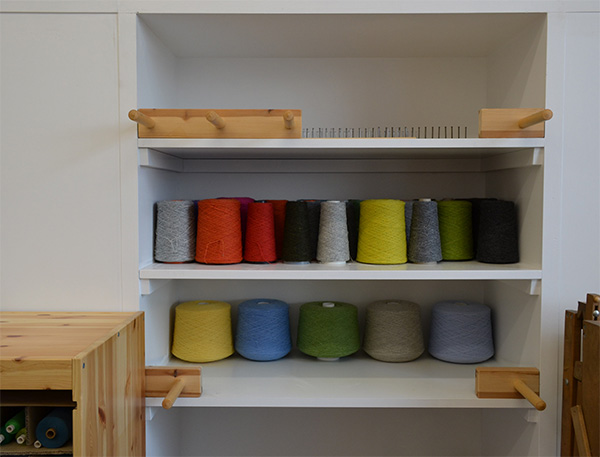 Boards
A warping board is essentially a very compact set of pegs. They come in a variety of sizes, but are usually constructed so that the weaver can stand directly in front of the board and comfortably reach both sides without needing to over-stretch, step sideways or bend down. The most common makes typically give you a warp of up to 10-12 metres.
If you can, get a board with a set of three pegs at both the top and the bottom. This will allow you to make a raddle cross as well as an end-on-end cross when you are winding the warp.
It is possible to clamp a board to a table or easel when it is needed, but I find that a board is much easier to use if it is fixed to a wall at the height which is right for me. It is worthwhile identifying a place which will serve as your permanent warping station and mounting the board to suit you.
Mills
For warps longer than 10-12 metres you can get a larger board, but a more comfortable alternative is a warping mill. These come in several styles.
For most homes a tabletop mill is the realistic option. These may be either vertical or horizontal and can be used to make warps up to 15 metres long. If you need to sit down when you are winding a warp then a horizontal tabletop mill would probably be the most comfortable as you do not need to stretch up and bend down as you use it.
Large floor-standing mills are great for making very long warps (up to 30 metres or more) but, even if you get one which folds up for storage, you will need a lot of floor space to be able to use it comfortably.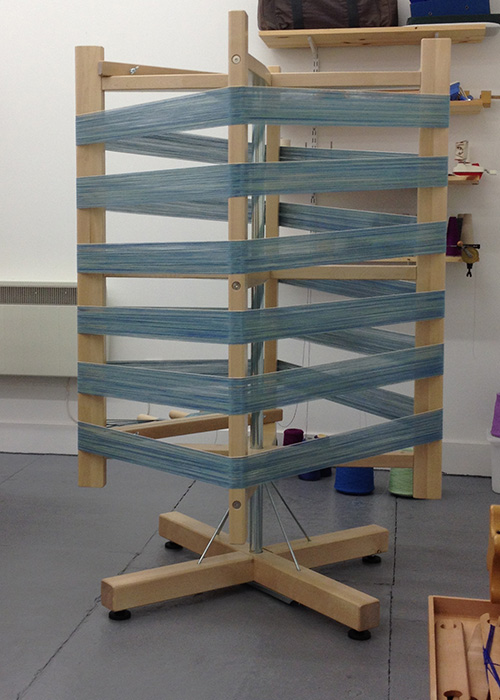 You will also need to be able to bend down to use its full height. I keep a small stool beside my warping mill so that I can sit down when I get to the bottom of the cycle – and easily stand up again!
To summarise, the main things you need to consider are
Your own body, particularly your height and flexibility
The space you have available
The length of warp you are most likely to make
The facility to make longer warps is useful, but only if you are likely to use it! If you are a weaver who prefers to weave lots of different items in different fibres, then a comfortable way to wind many short warps will probably suit you better.
FREE Guide: 7 Simple Scarf Tips Every Weaver Should Know
Download this free PDF guide and get 7 great tips for weaving success in every scarf project! Get my FREE guide »