While fresh-cut flowers bring beauty to any room or special occasion, they may not always be available or within our budget. Why not try your own handcrafted DIYtissue paper blossoms? With just a few inexpensive supplies, you can create your own beautiful blooms to enjoy all year long at a fraction of the cost.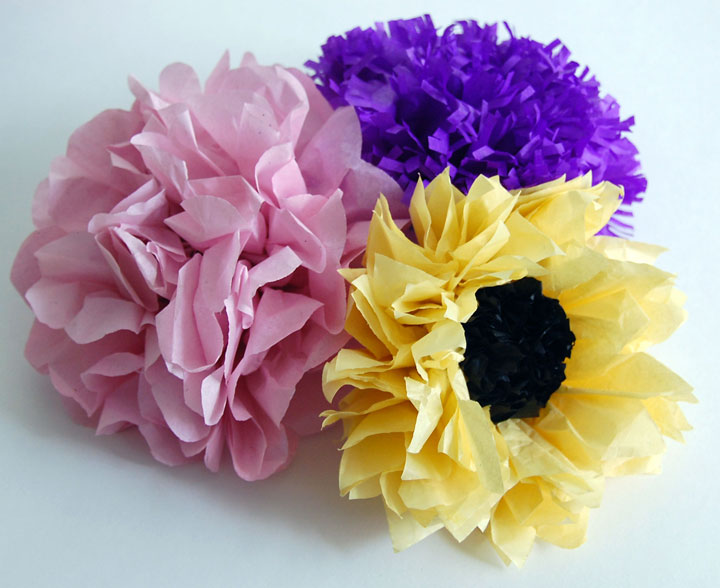 With just a few inexpensive supplies, you can enjoy beautiful blooms all year long with DIY tissue paper flowers.
Tissue paper flowers are quick and easy to create. Mix and match colors, try different paper sizes, or vary the petal shapes. The possibilities are endless! Follow this tissue paper flower tutorial to get started, then experiment with all kinds of variations.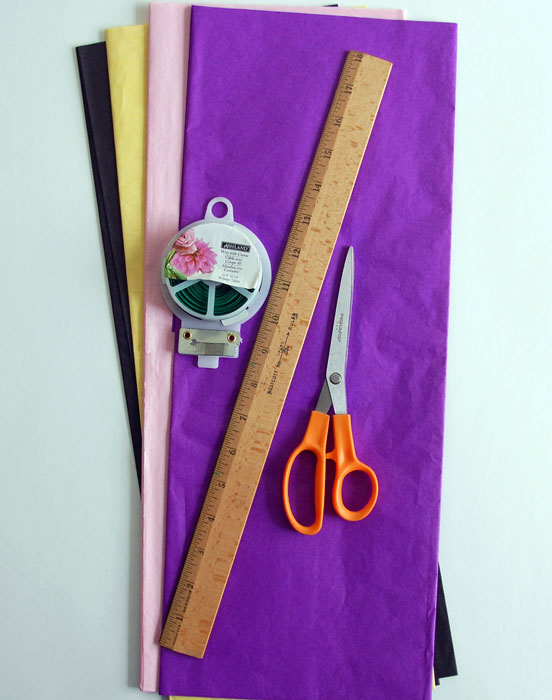 Supplies you'll need:
Various colors of tissue paper
Ruler
Scissors
Florist wire or pipe cleaner, approximately 12″ long
Flower 1: The Basic Bloom
Step 1:
Cut five sheets of tissue paper to 7″ x 12″ and stack with all ends even.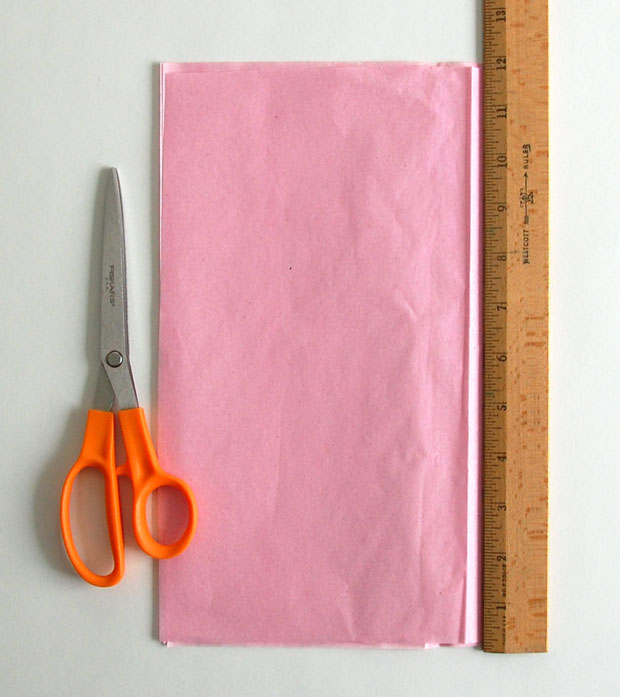 Step 2:
With the short end facing you, begin to fold stack in an accordion-style using 1″ folds. If desired, use a kraft stick or your fingers to smooth the folds and create crisp edges.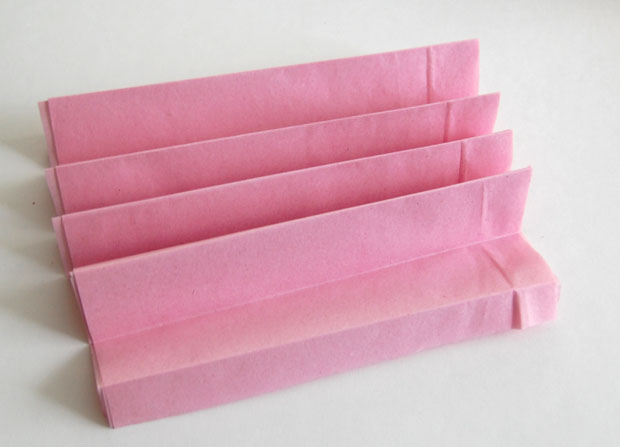 Step 3:
Round each end with scissors. The depth of the cuts on each side will determine the depth of the petal edges. Keep in mind that deeper cuts on each side of the left and right ends create more fragile petals, so more care will be required in Step 5 when separating the layers of tissue.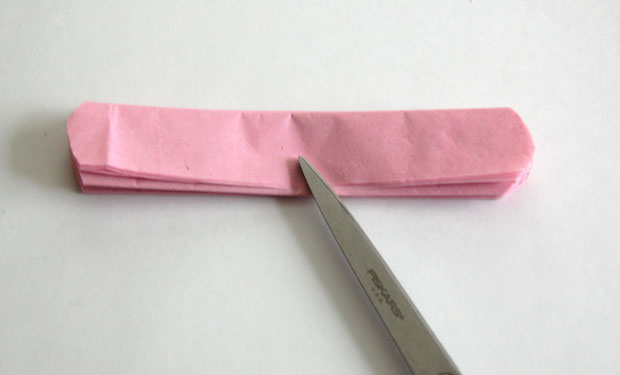 Step 4:
Wrap one end of florist wire around the middle of the tissue paper stack. Twist together on one side to secure.
Note: If you are using two colors of tissue paper and want a specific color to appear in the center once the flower is open, that color should be facing up and folded inside.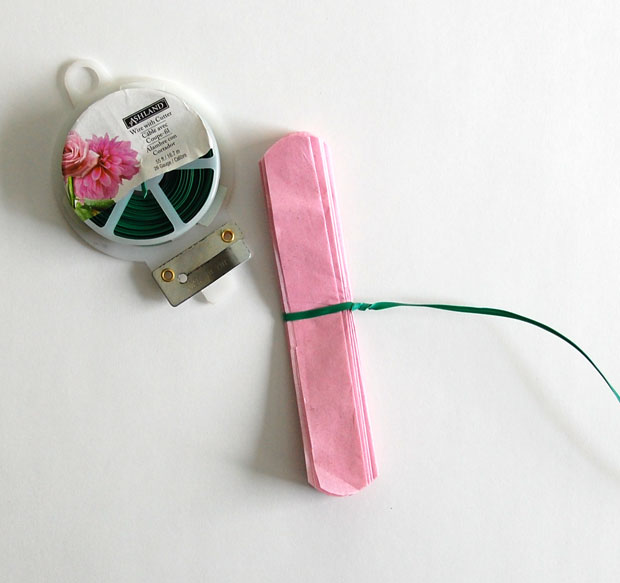 Step 5:
Unfold one side and gently pull up the first layer of tissue paper. I found it helpful to only partially lift the layer all the way across, then go back to lift more.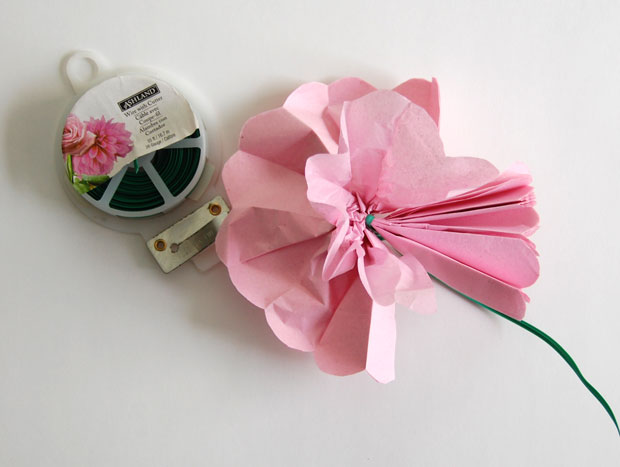 Step 6:
Continue to pull up each layer until flower is formed. At this point, florist tape may be used to cover the wire, if desired.
To create a smaller flower, cut four sheets to 5″ x 9″ and follow Steps 1 through 6 above.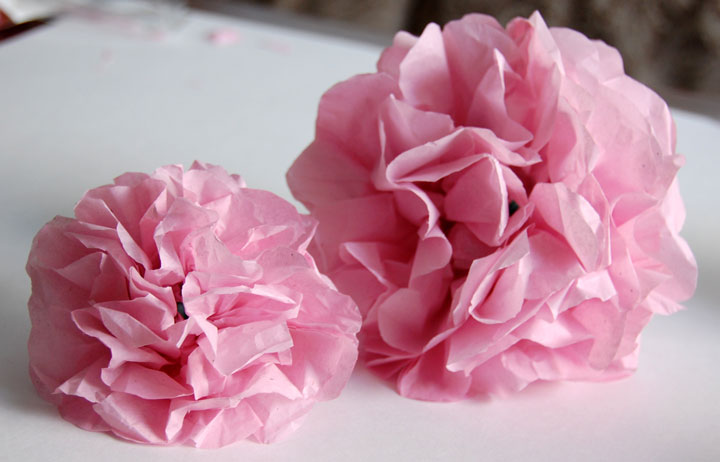 Flower 2: The Daisy
To create a daisy or sunflower bloom, cut the edges to a point and add black to the tissue stack.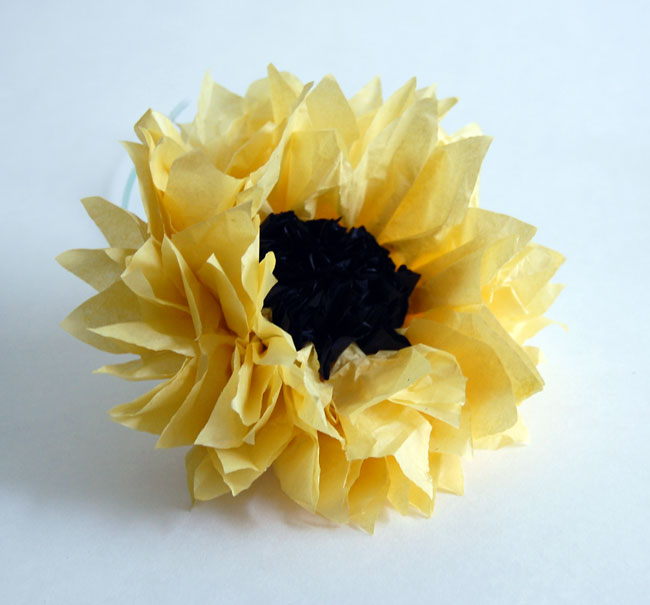 Step 1:
Cut five sheets of yellow and two sheets of black tissue paper to 7″ x 12″. Stack, placing yellow sheets on the bottom and black on the top. Align all edges.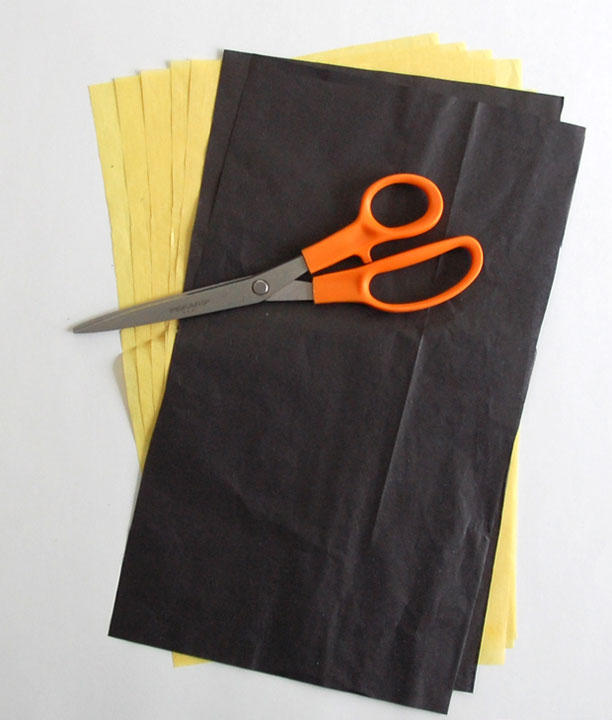 Step 2:
With short end facing you, fold accordion style using 1″ folds. Once folded, cut each end to a point.
Step 3:
With the inside color (black) facing up, wrap florist wire around center of folded stack and twist to one side to secure.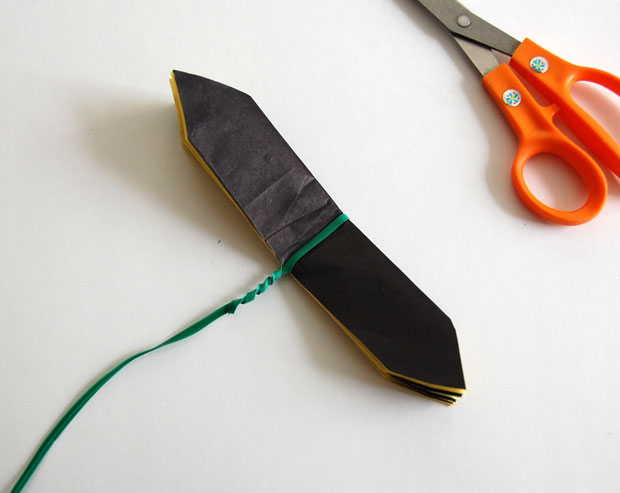 Step 4:
Beginning with black (inside color), slowly and carefully pull tissue up toward center, one layer at a time (a). With the deeper edge cuts, the paper will be quite fragile so pull gently. Once all layers are separated, gently pull the black petals together and away from the yellow petals (b). With scissors, trim black tissue to desired length (c). Carefully pull yellow petals back toward center to complete the flower (d).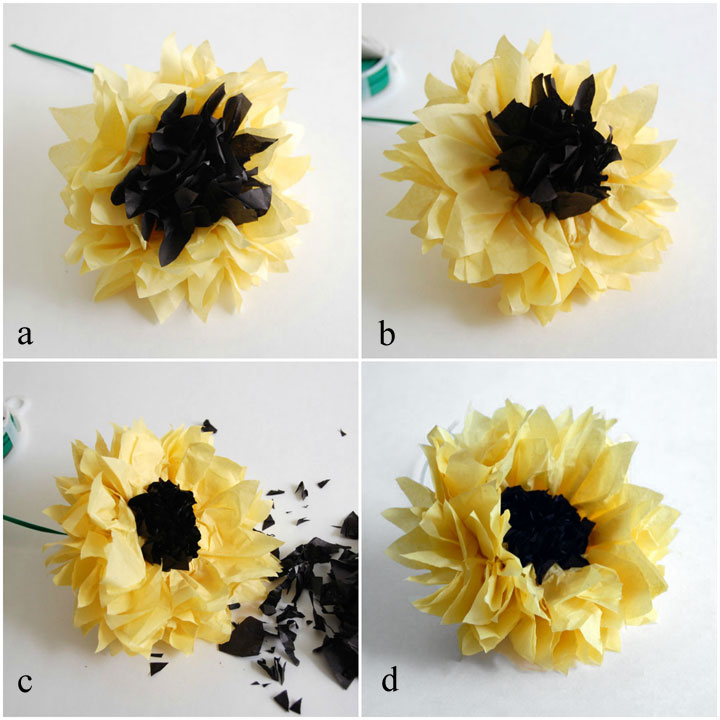 Flower 3: Pompom
Create a fringed flower or pompom by simply changing the cuts on the accordion folded stack.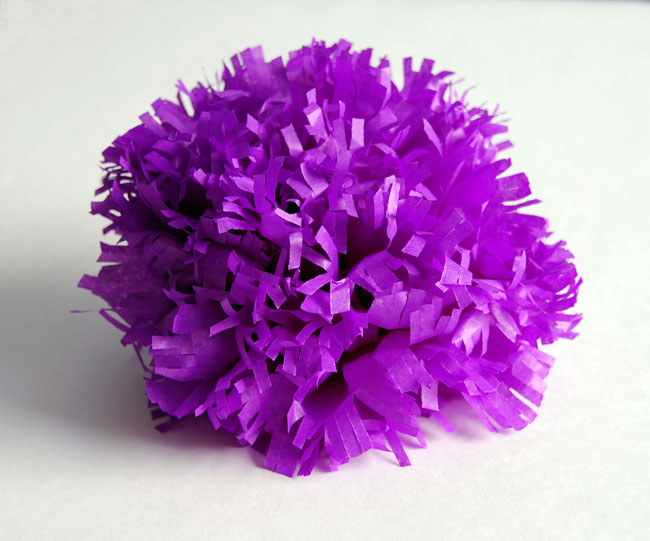 Follow all steps as completed for Flower 1 but cut ends into a fringe as shown below.