Denim is a versatile fabric and a wardrobe staple but working with it can be intimidating. Aside from making sure you have the proper needle in your sewing machine (denim won't hesitate to break a needle not up to the job!) and good quality thread, there are a few other tricks to make sewing denim headache-free.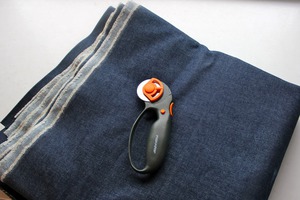 Don't skip the pre-wash. Pre-washing your fabric is especially important when working with denim because it will soften the fabric a bit, making it easier to work with. You might even want to wash and dry it more than once (just don't forget to wash with like colors). This should alleviate color-transfer issues and as a bonus, you won't have to worry about the jeans you spent hours tailoring to a perfect fit shrinking up after the first wash.
Use sharp tools. A good, sharp pair of scissors or a new blade on your rotary cutter will make cutting out your pattern pieces much easier. Depending on the thickness of your denim, you may need to cut through only one layer of fabric at a time (just don't forget to flip your pattern pieces if you go this route). You might also want to upgrade to stronger pins if you find that yours are bending too much.
Practice makes perfect. Save yourself from time spent with your seam ripper and run a stitch test on a scrap of denim first to check your tension and stitch length. A longer stitch than normal will help – a stitch length between 3 and 4 should work.
Pay attention to seams. Keep your iron handy and your seams pressed flat. Reduce bulk as much as possible by trimming seams as you sew and mitering any corners.
Take your time and sew slowly. Hold the fabric firmly as you feed it through, don't pull or push. If your sewing machine is having a hard time on a particularly bulky seam, try using the hand wheel.
Consider your presser foot. While your standard presser foot should work, you might find a specialty presser foot makes the job that much easier. A walking foot will prevent the fabric from shifting around. A jeans presser foot might be available for your brand of sewing machine (it's not available for mine so I haven't tried one out), and if you are adding topstitching, an edge stitching foot is worth considering.
Denim is prone to fraying (another reason why it's important to use sharp tools) so don't skimp on giving your seams a professional finish. A flat-felled seam will give you the same result as jean purchased off-the-rack. As a bonus, it's also strong, which is a plus if you have seams that will get a lot of pressure (like the crotch on a pair of pants). Using the zig-zag stitch over the cut edge on interior seams will also keep fraying in check.