The beginning of the year is full of crafty resolutions that I won't keep. Use up my stash before buying any new yarn? Broke that one on January 3rd. Keep my craft room organized? Broke that one before the sun even set on January 1. Sometimes project-based goals work out a little better, though, so another resolution I made was to improve my knitting.
If you're an advanced knitter, sometimes you might feel uninspired or bored. Maybe you feel like you've tried everything and that there's nothing new to learn. Not true! See if any of these tips on knitting for advanced knitters might apply to you and vow to keep on knitting in 2014 — even if it means your yarn stash grows exponentially.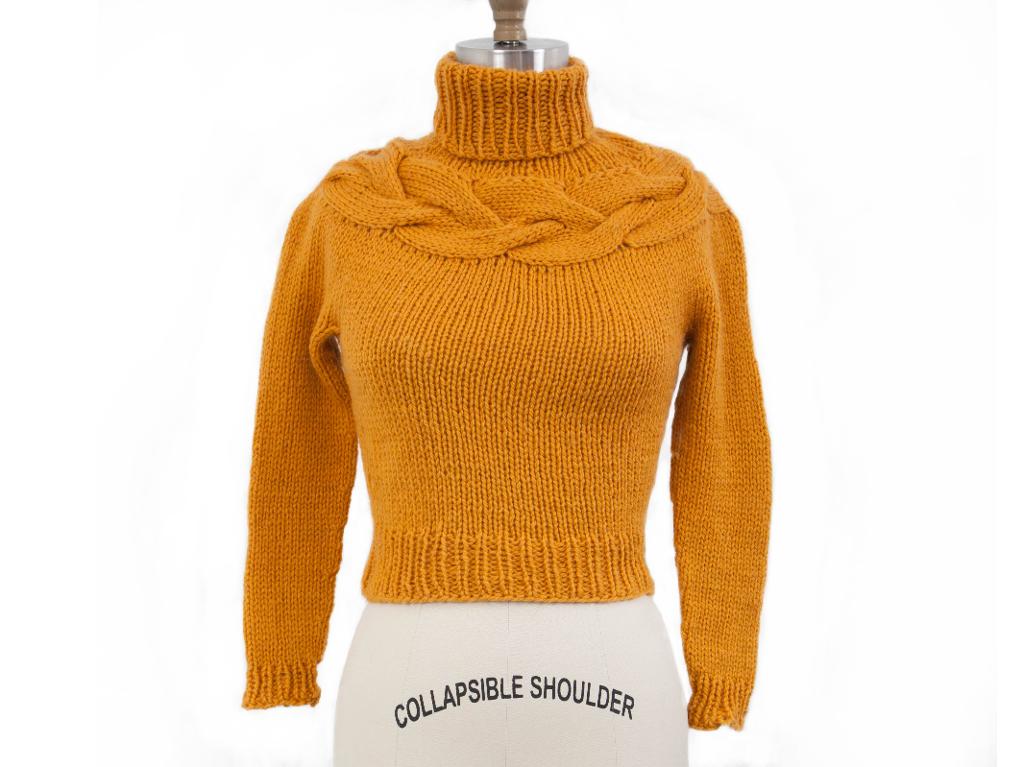 Cable yoke pullover from Choose Your Own Sweater Adventure class
1. Learn a new technique.
I'm convinced that I could learn something new in knitting every day for the rest of my life. Just when I think I've seen it all, I see a blog post or a project that uses a technique I've never tried before.
Craftsy is a great resource for learning new knitting techniques. Have you checked out an advanced-level Craftsy class lately? Right now I'm obsessed with Choose Your Own Sweater Adventure with Eunny Jang. It's the perfect option for knitters who want to eventually design a sweater but aren't quite sure how to go about customizing necklines, sleeves and shapes without a pattern.
2. Perfect a technique.
Maybe you never really got the hang of double-sided knitting. Or maybe the tension of your cables never matches the tension of the rest of your project. List a couple of techniques you'd like to improve on and choose a few new projects that use those techniques.
3. Teach someone to knit.
Teaching is invaluable to any knitter's education. Ask your favorite local yarn store if they need extra help in knitting classes. Some stores require that you are certified to teach. If so, be sure to read our article on how to become a certified knitting instructor to fulfill that requirement. Gwen Bortner's Craftsy class How to Teach It is also a helpful way to learn about different ways you can engage students.
If you're not comfortable in a super professional retail setting, give knitting lessons to friends and family. You'll be surprised at what a beginner can teach even an advanced-level knitter.
4. Write your own patterns.
There's a chance you've already written your own knitting pattern. If so, wonderful! If not, what's stopping you? Writing patterns helps you knit exactly what you want — and remember how to knit it in case you ever want to make a second one.
5. Test different knitting styles.
It's possible you've been knitting using the exact same style and method you used when you first learned to knit. But did you know that different knitting methods and styles each have different pros and cons that can help you speed up your knitting? If you're a continental knitter, try the English method and see how it feels. If you knit Eastern style, check out combination knitting as an alternative.
If you're not sure what your options are for knitting methods and styles, sign up for Improve Your Knitting with Patty Lyons. Patty will demonstrate each method, then give you tips on which methods and styles work well with certain knitting techniques. It's an advanced knitter's dream come true!
Wanna see tips for other knitting skill levels? We also have tips for beginner knitters, plus tips for intermediate knitters.
What are you doing to improve your knitting this year?