Most of us learn about cleaning and caring for our knitted garments the hard way, like washing a wool sweater in hot water only to find that it felted into a baby-sized sweater or washing a hat in detergent that made you break out into a rash. Many of us have learned a thing or two about knitted garment care through experience.
If you're a beginner garment knitter, someone who receives knitted gifts, or even just a seasoned knitter who needs a refresher, these tips will help you properly clean and care for your knits. 
Before you wash your hand-knit garments…
Read the yarn label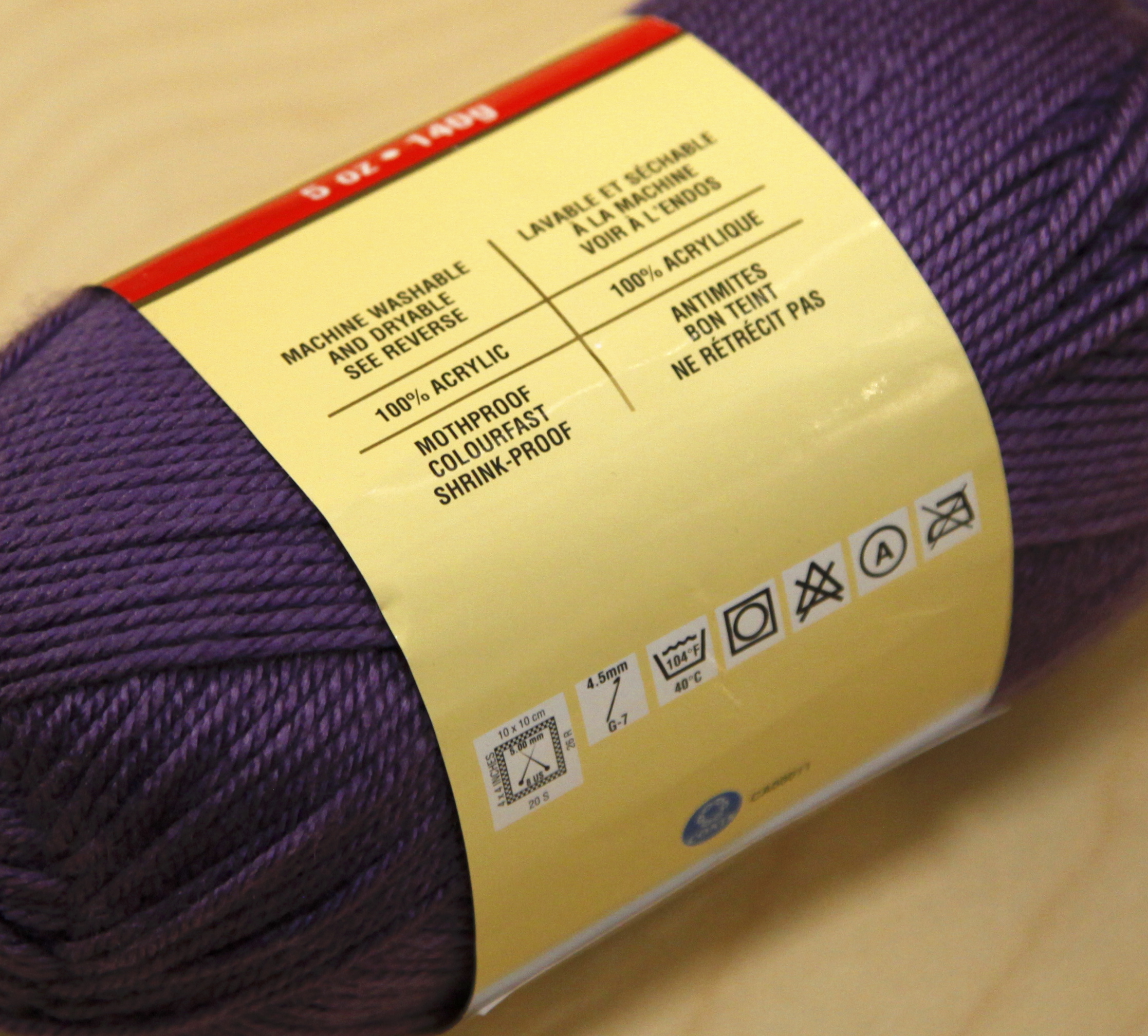 Don't assume that the fiber content completely determines how to care for yarn. Some yarns can be tricky — they need to be hand washed or dry cleaned. Before you go dunking your project in water, check the label to make sure the yarn will be able to tolerate a soak.
In fact, the yarn label can tell you everything you need to know about your knitted garment, beyond just washing. Can you iron it? Will it stretch? All this info is usually included on the label.
Not sure what all those crazy symbols mean? Check out our guide to deciphering yarn labels.
Consider a machine washable yarn
Machine-washable yarns (sometimes called superwash yarns) are ideal for baby knits, gifts and garments that you plan to wear and wash a lot.
That said, if you know you'll take the time to care for your knits, it's perfectly fine to choose a yarn that's not machine washable. You'll find more options too!
Freshen up between washes
If you don't have time to fully wash a hand-knit garment, try a spray that's meant to freshen up knits in between washes.
Spray it on when you need to get rid of wrinkles or just give your sweater a little pick-me-up.
Test on a swatch first
Don't unravel your swatches once you reach the right gauge! Swatches are a great way to test how a project will behave when it's washed.
After you swatch, try washing and drying it in whatever way you prefer. Did it shrink? Did it get all fuzzy? Keep testing until you feel confident about how it will react.
Store your knits right
The No. 1 rule when it comes to knitting storage? No hangers! Any knitted garment will stretch and droop when placed on a hanger. If you've ever hung up a knitted sweater — even a store-bought one — you'll know how a hanger can make those shoulders droop into an unflattering pile.
Washing knits in a washing machine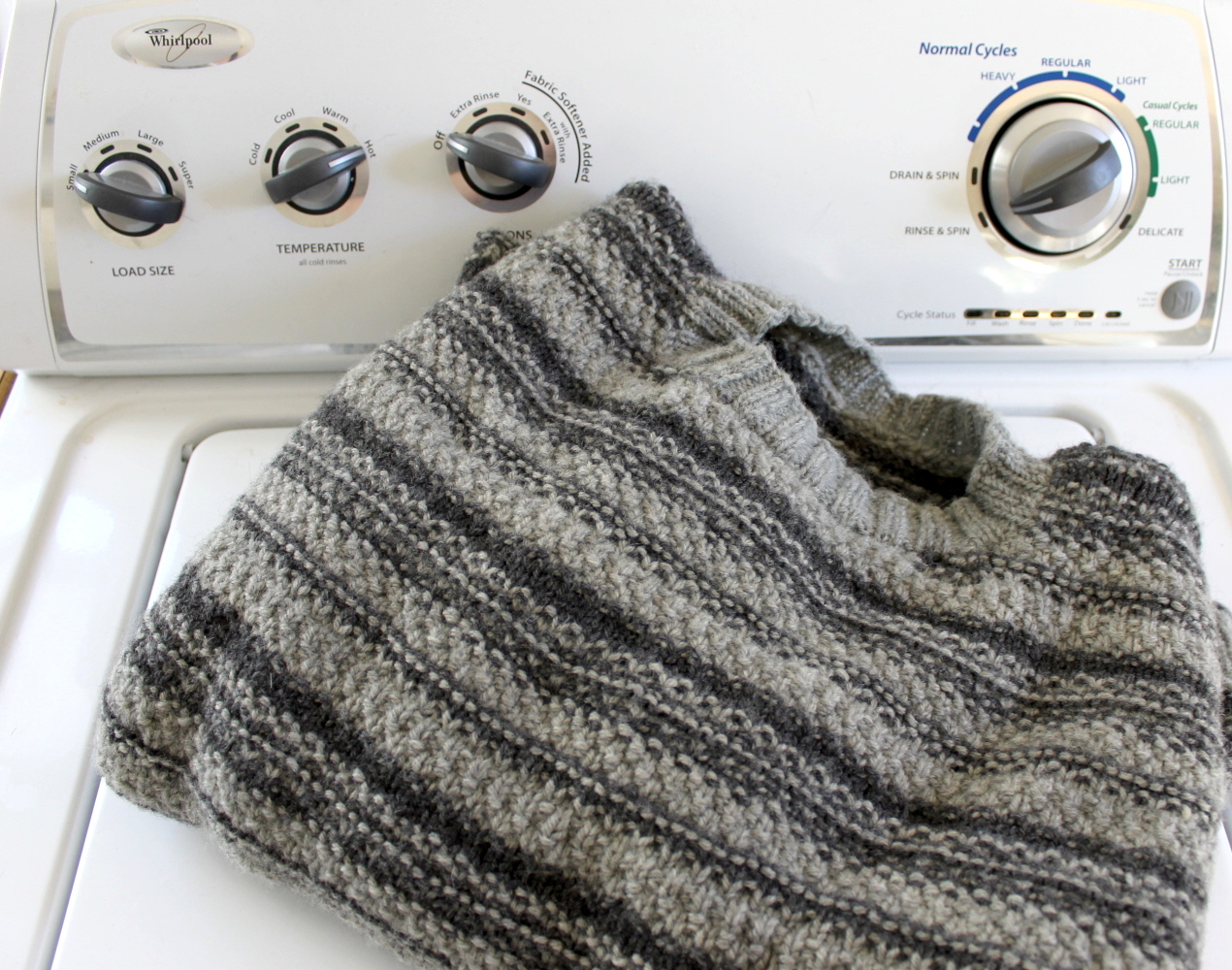 Can you wash your hand-knitted garments in a washing machine?
The only way to know if a hand-knit garment is machine washable is to look at the yarn label. The label should tell you whether the fiber can be washed in a regular machine.
Even if the yarn label says it's machine washable, don't treat it like you would any other machine-washable item. You need to be careful — here's everything you need to consider
When in doubt, choose a gentle cycle 
Depending on the item and the fiber, choose a delicate cycle or a regular cycle on your machine.
For kitchen items made of cotton, like potholders or coasters, a regular cycle should be fine (you can even throw them in with your usual loads of laundry.
But for something like a gorgeous wool sweater or anything with lace, choose the delicate cycle. You can also use the mesh lingerie garment bags to make sure your handknits are handled delicately and not agitated in the machine.
Choose a gentle detergent as well
Keeping "gentle" in mind, use a detergent that will go easy on your knits. There is plenty of machine-friendly wool washes available out there, and you can find mild, alcohol-free detergents in most grocery stores. Baby shampoo is another good choice for knits.
Drying your hand knits
Your yarn label will also tell you if drying the item in the dryer is OK, too. Beware, though that knits may not keep their shape when they're dried in the dryer, even if the yarn label says it's fine. Instead, you might want to dry it flat, shaping it as you go. Then, if it's still damp after laying flat for a while, toss it in the dryer on low heat just to dry it completely.
Washing knitted garments by hand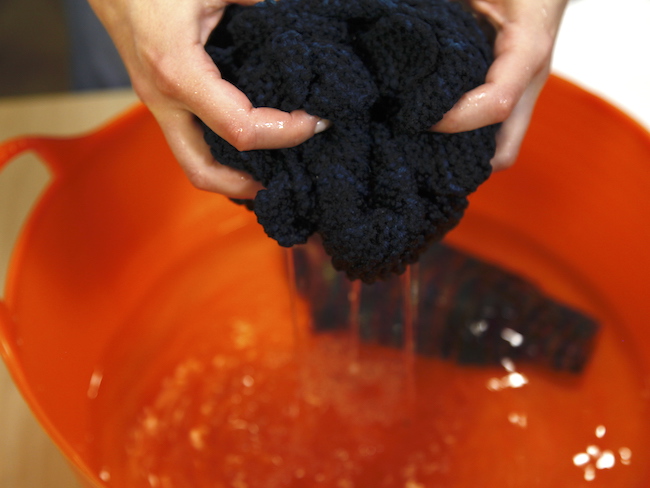 Choosing a soap
Don't use just any old detergent when you're washing your knitted garments. Some cleansers are too harsh for wool and other delicate fibers.
Find a mild detergent that's meant for hand washing. And if you really want to do it right, find one that's made especially for your fiber.
Blocking after washing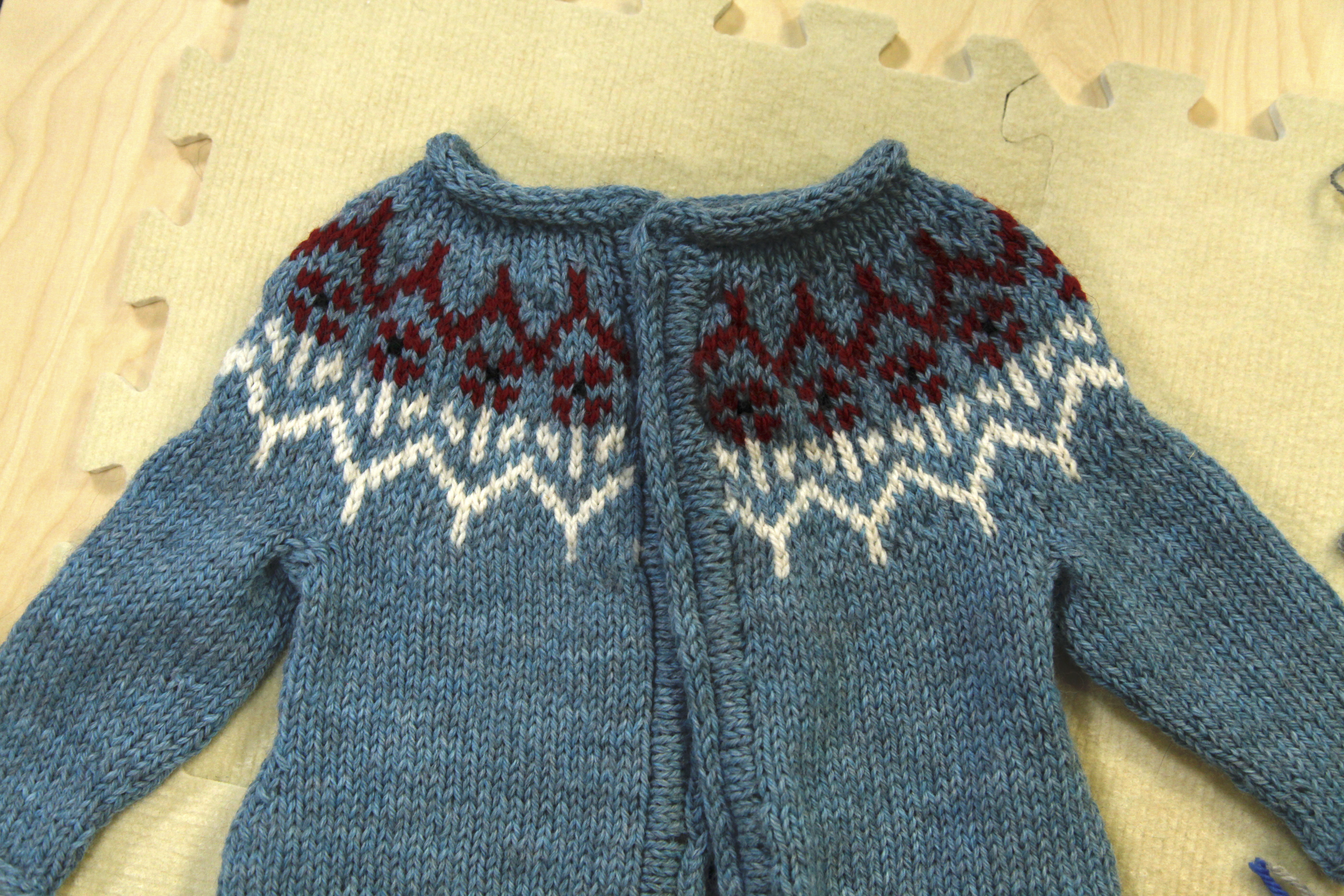 Most of the time, we blocking knits just after binding off, as the final step before wearing the finished piece. But blocking isn't reserved just for new knits — it's a way to reshape your knitted items at any time
After washing your knits, they may look a little misshapen or wrinkly. The trick to getting the back to their former glory is simply blocking them again. Easy!
When in doubt, use your knitter's instincts!
When you're caring for handknits, the bottom line is to use your own judgment. If you're worried the item won't survive a wash in the machine, just hand wash it. Common sense and a knitter's instinct rarely fail us.