Every now and then, we knitters have to be multitalented and add sewing to our list of skills. One of those instances is when we need to sew up our knitting seams.
There are many instances in which you might need to sew your knitting. Sweater side seams, for example, may need to be joined. There are some hats that are knitted flat and then require a seam right up the back of the hat.
One of the most popular seamed accessories is the infinity scarf, which is knit like a traditional scarf then joined into a circle with a seam. The Foxy Loop Infinity Cowl below requires a grafting stitch to seam it together into one continuous loop.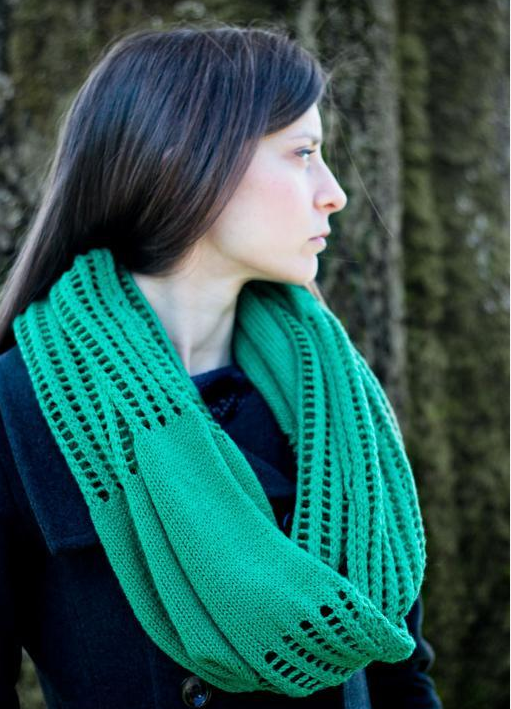 Photo via SweaterFreak
Many knitters, including myself, love the process of knitting but find seaming to be a bit tedious — especially if it's your first time. Like weaving in ends (yuck!), it's just one of those things we have to do as part of finishing a project.
When sewing up your knitting, you'll want the joins to look as seamless as possible, as if the knitting is all one piece.
Here are a few things to keep in mind as you sew up your knitting:
General seaming tips
Work on a flat surface. You may have just rolled your eyes and said, "Obviously!" when you read that. But I've known many knitters (myself included) who find seaming so boring that we must be sitting on the couch in front of the TV to even attempt it. The flat surface will help you even out the pieces as your sewing them together so you can see exactly where they match up, rather than holding the pieces in your lap.
Take a cue from sewing and pin your pieces together. You can use anything from sewing pins to safety pins — whatever gets the job done.
Buy special yarn needles for seaming. If you try to use regular sewing needles, you may end up throwing the project across the room. Yarn needles have bigger eyes, so threading the needle won't require a miracle. Yarn needles also have blunt tips on them, meaning you won't poke yourself or split the yarn as you sew through it.
Seam the piece using the same yarn you knit the project with. Using sewing thread is not an option, since thread doesn't stretch like yarn does. (That would make a really weird-looking seam!)
Gauge is just as important when seaming as it is when knitting. If you pull those stitches too tightly when you're seaming, the seam will gather up, taking length off the final measurement. Make sure you aren't tugging too tightly as you stitch. Seaming on a flat surface will also help with this.
If you want to learn even more about sewing up your knitting, The Ins & Outs of Grafting class with Anne Hanson is the way to go. Anne will show you how to join pieces of every stitch and yarn weight for an invisible seam that flows perfectly from one piece to the next.
Come back to the Craftsy Blog tomorrow for tips on understanding and adapting stitch patterns.
Do you dread the process of sewing up your knitting? Share your seaming tips with us!