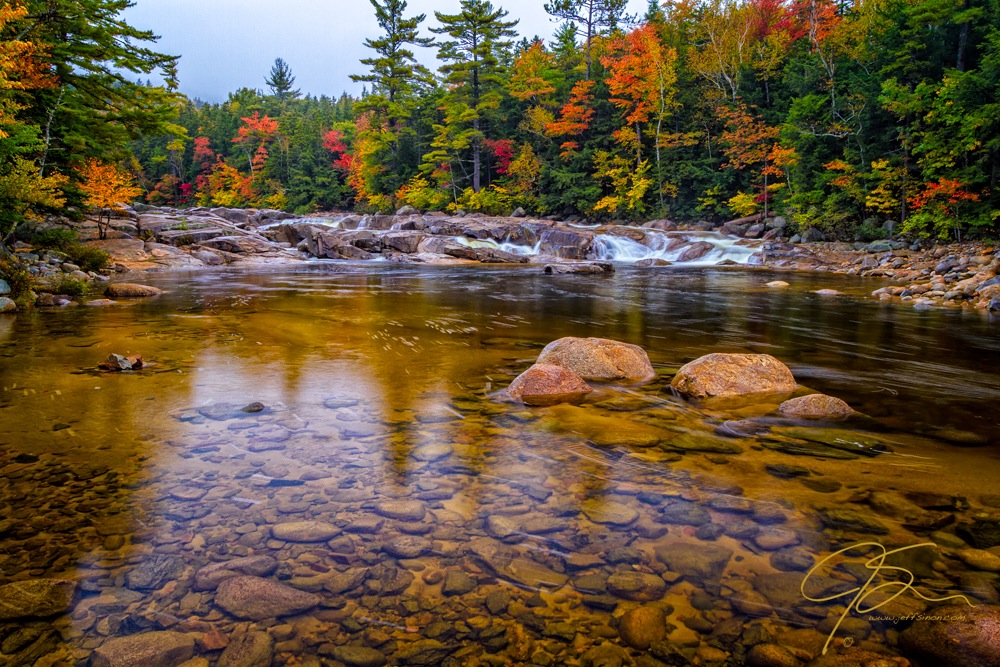 Plunges and cascades, big and tall, short and wide, even covered in winter white. I love photographing waterfalls in all of their awe-inspiring beauty.
Waterfalls are one of my favorite landscape photography subjects, in every shape and size, from a gentle cascade on a hidden stream through the woods, to powerful plunges that fall 50 feet. I also love to photograph them in every season of the year. Luckily for me, living in New Hampshire, there are so many beautiful waterfalls located throughout the Granite State.
Whenever I'm planning a photography trip into the White Mountains, one of the things I look for during the planning is whether or not there are any waterfalls or cascades near my chosen destination. When, during this planning stage of my trip I'm deciding between two possible places to go and photograph, if one of those locations has a good flowing stream or river nearby that I either know has a good waterfall or two on it, or suspect it might, then that one almost automatically moves to the top of the list.
Of course, if the weather conditions are right, and I'll soon describe the perfect waterfall photographing weather, photographing waterfalls won't just be a lucky bonus found while on a quest to photograph some other example of New Hampshire's scenic beauty, from sunrise to sunset waterfalls might be the only thing I photograph.
Here are top tips for capturing the beauty of falling water in your landscape photography —
Tip #1: The most important thing you need to photograph waterfalls, besides the waterfall itself of course, is a tripod.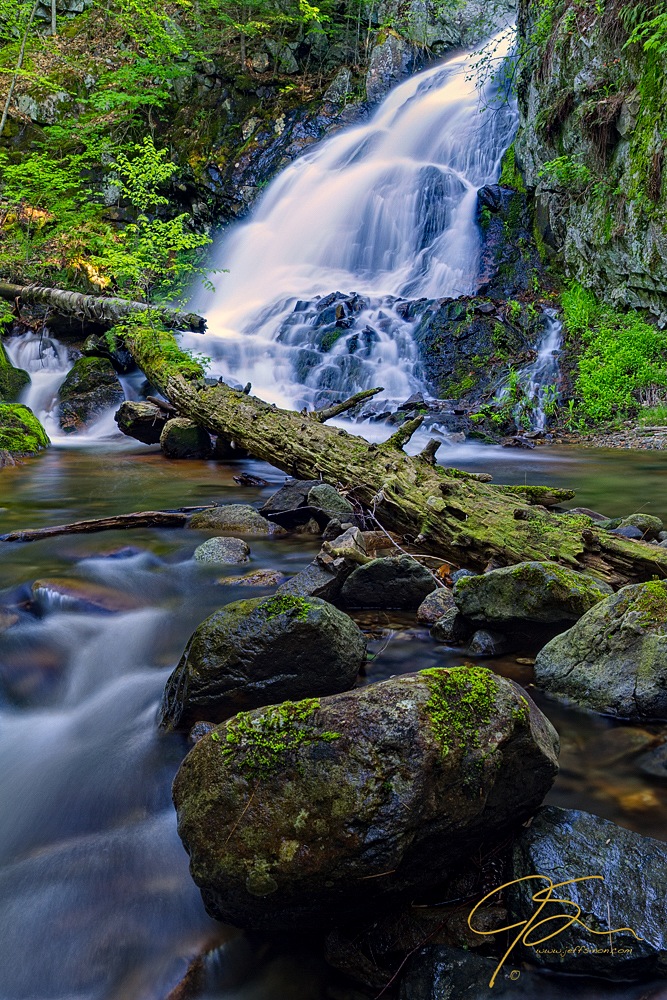 Many times I'm asked if the silky smooth appearance of the water is some sort of Photoshop trick. It's not. All you need to create this look is a long exposure. To achieve this long exposure look to the flowing water, while keeping the surrounding landscape sharp, you need to hold your camera absolutely still. And to do this you need a tripod.
Tip #2: Which brings me to shutter speed.
There are too many variables, light, speed of the water, the amount of blur you want to impart on the photo, for me to give one definitive shutter speed. I usually try for at least a 1 second exposure, to as long as 35 seconds in a night time scene like this one captured in downtown Dover, NH.
The key is to experiment until you get the look you want in the water, without over exposing it and turning the water into a bright white featureless mess. While I want the water to have that silky appearance, I want to retain at least a little detail or structure to the moving water.
Tip #3: Rainy and high overcast days are perfect waterfall days.
The nice even lighting of an overcast or rainy day will make getting a good exposure on both the bright water and the surrounding darker areas so much easier. If you truly want to make your life difficult, try photographing a waterfall when part of the water is in the bright sun and part is in the shade. Under conditions like this, one of two things is going to happen. Either the part of the waterfall in the sun will be well exposed and look perfect, with the shaded parts of the scene being dark and under exposed, if not totally black. Or, the shaded areas will turn out just great, with the bright sunlit areas being nothing but bright white overexposed blobs with absolutely no detail.
Me, I just turn around and go home to come back another day.
Tip #4: Go with the flow.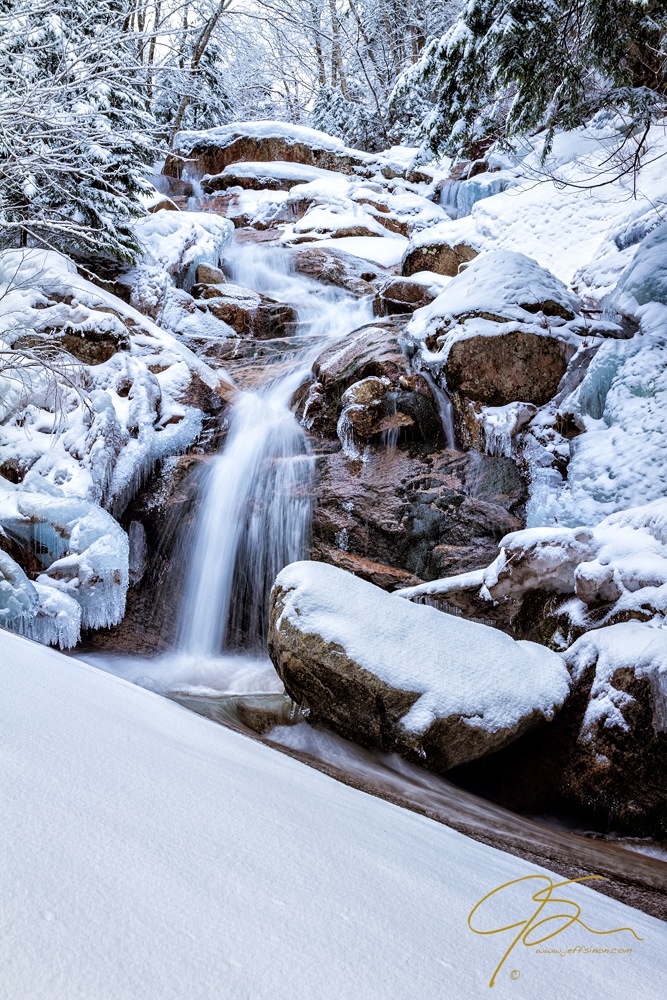 I like to photograph waterfalls in all seasons, and if there has been enough rain I can usually do that. But the best time to photograph waterfalls is in the spring. Between the spring rains and the snow melt in the mountains, most waterfalls have good enough flow to allow you to photograph them at their most picturesque.
On the other hand, too much flow can be even worse than not enough. For starters, it can be dangerous to be near a swollen raging stream, and no photo is worth risking your life for. And second, the underlying riverbed is what give the waterfall character. Too much water and all of that is lost under a sheet of white.
Tip #5: Look close to home.
New Hampshire is loaded with fantastic, well known waterfalls that have been photographed to death from ever angle imaginable. Try looking at smaller, less well known streams for their waterfall potential. My favorite waterfall in the entire state, below in one of the many photos I've taken of it, is on a little know stream right in the town I live in.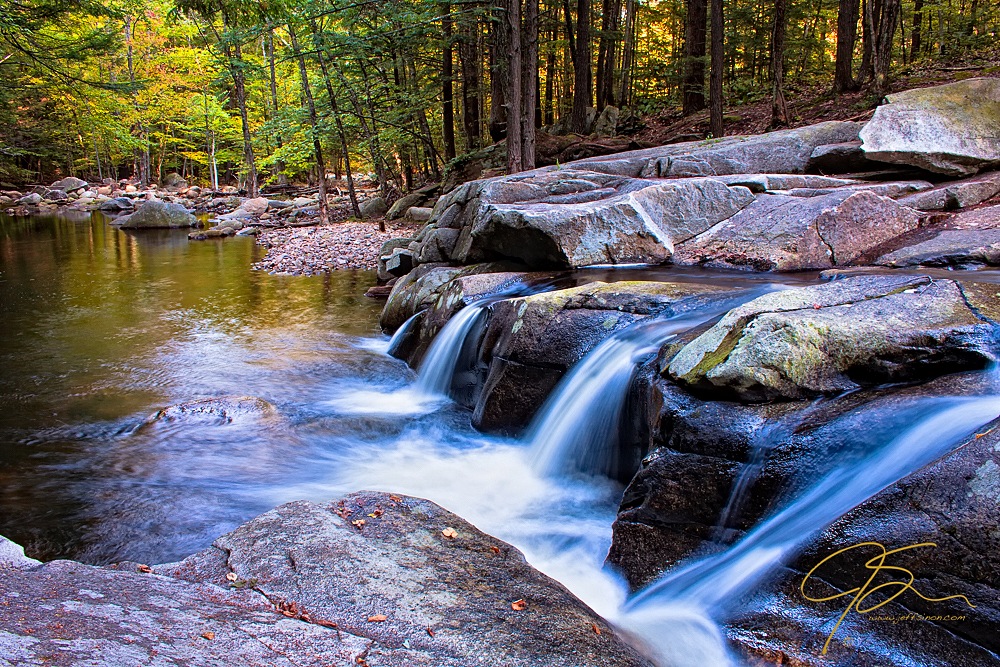 As an added bonus, as far as I know anyway, this hidden gem has only been photographed by one other person. You won't find it on any maps or in any guide books, but as far as I'm concerned it's as beautiful as many of the other waterfalls throughout the state that are crowded with tourists and photographers on any given weekend. So if there's a cascading stream or river near you, do a little exploring, you may find your own secret waterfall.
Tip #6: Filter it.
I almost always use a circular polarizing filter not only to reduce the glare and reflections on the wet rocks and waters surface, but it can also slightly reduce the amount of light coming through the lens by as much as 2 stops, allowing me to use a longer shutter speed for the desired look.
The other filter I use is a 4 stop neutral density filter. Described in the same article, it allows me you use an even longer shutter speed, again in order to achieve the desired look to the water.
And there you have it, my top tips for getting the most out of your waterfall photography!