[box type="shadow"]This guest post is written by Kate Sullivan, instructor of the Bluprint class The Art of Painted Cakes. Sign up today to learn accessible hand-painting techniques to create your most artful cakes yet.[/box]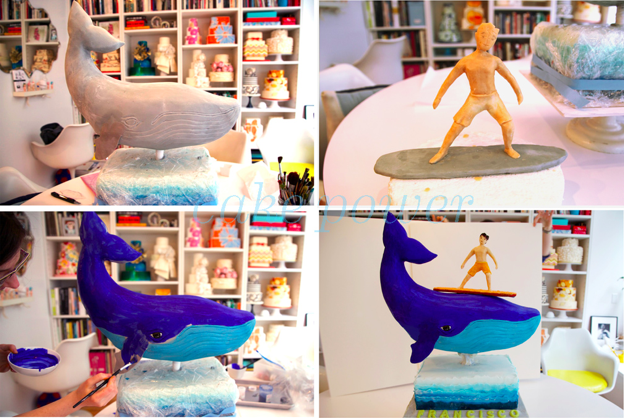 Photos via Bluprint instructor Kate Sullivan
I always love to see the steps leading up to finishing a cake — or dress or painting or building! Color, for me, is often that final touch in cake decorating, and can really set the tone for making a cake either understated and sophisticated (like our gray whale in the first photo above) or playful with a real punch (like the finished blue whale on the bottom, perfect for our 7-year-old surfer dude). Here's a behind-the-scenes look at the inspiration behind some of the colorful cakes I create.
Fudgy the Blue Whale Surf cake
To paint or not to paint? This cake was one of those times when we had to take a step back before picking up a paintbrush. We thought the cake was pretty nice already in the gray chocolate fondant that originally covered it. But, in the end, color won out, mainly because it was a cake for a 7-year-old. Most of the kids we know and love generally eat super bright, saturated colors right up!
The whale cake and modeling chocolate surfer were painted with a mixture of petal dust and lemon extract. The waves on the base cake were made from fondant colored by mixing varying amounts of blue gel-paste food color into it in advance, creating an ombré effect.
For a more detailed tutorial of the hand-painting techniques I used here, check out my Bluprint class The Art of Painted Cakes.
[box type="shadow"]
Quick tip #1: brushes
For the fine lines in our surfer's face, we used a #2 liner brush. To make broad strokes for painting a larger surface, like the whale, we used #10 and #12 flat brushes.
[/box]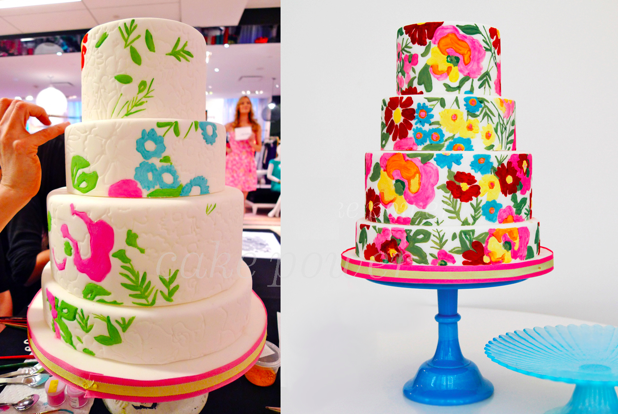 Lilly Pulitzer "Garden by the Sea" cake
This hand-painted cake for Lilly Pulitzer was based on their popular pattern, "Garden by the Sea."
Can you see the embossing on the cake on the left? Using the "royal icing stamp" method creates both a guide for the flowing floral pattern and a lovely letterset looking texture as well.
I also detail the step-by-step process of re-creating this look in The Art of Painted Cakes.
[box type="shadow"]
Quick tip #2: color application
When painting a large thick area of saturated color, like the blues on the whale, I paint it in two or three coats as needed, waiting for each coat to dry before applying the next.
[/box]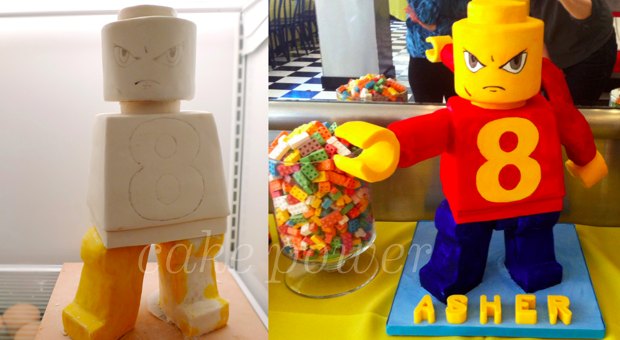 Lego Figure-8 cake
It was fun to open the refrigerator to find this tough guy staring me down, even without (or perhaps because) any arms. You can see that initially he was going to have yellow legs, but the scuttlebutt around Legoland (OK, actually, around the kitchen) was that yellow legs would mean he had no pants on.  That just seemed wrong. Yet, his stern look remained, even after getting a blue coat of pants — fierce, to the end.
His face and the number 8 on his shirt were applied to the cake using the pencil transfer technique.
What's your favorite way get your patterns and designs onto your cakes?
[box type="shadow"=]
About Kate Sullivan

Kate Sullivan is Brooklyn-born baker who combines a love for art and an infatuation for chocolate. She brings over 20 years of inspiration to cake decorating and teaching. In 2005, Kate established her custom cake studio, LovinSullivanCakes which eventually grew into Cake Power. One of the sweetest things in the world is to make a kid's birthday cake— there's nothing like the happy faces as the cake enters the room! Check out the cakes at www.cakepower.com, and visit the Cake Power blog for cake decorating ideas, DIY projects and behind-the-scenes peeks at of some of our favorite cake projects.[/box]