The first time I tried knitting with lace yarn, something terrible happened. I held the yarn in my lap as I knitted but unbeknownst to me, the yarn was being attacked by the buckle on the belt I was wearing. It snagged and even broke a couple of strands, leaving me with a seriously damaged lace-weight scarf that was beyond repair.
Lace-weight yarns boast a beautiful knit drape that no other yarn weight can give you. But there are a few things you need to know about knitting with lace yarn to avoid accidents like the one I experienced.
Arm yourself with tiny needles and use these tips to get you prepped for knitting lace yarn!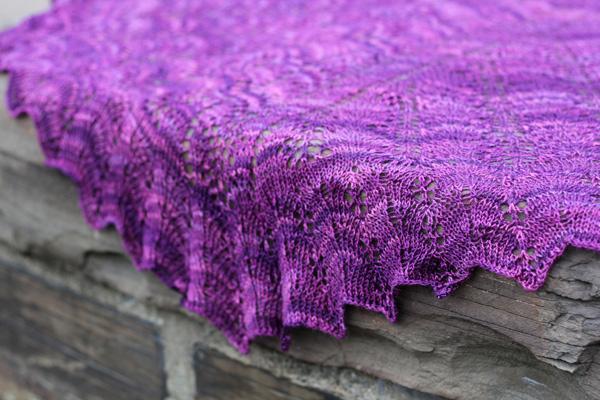 Photo via Craftsy instructor Laura Nelkin
Tip#1: Learn the basics.
What is lace yarn? Lace yarn is the lightest of yarn weights, weighing in at zero on the Craft Yarn Council's standard yarn weight system. Lace yarn is most often knitted up in luxurious shawls, scarves, and other similar accessories. Take a look at Craftsy's lace yarns and lace yarn kits, and you'll see that lace yarn has as much variety as any other yarn weight. From metallic to neutral shades and every texture imaginable, there are countless options when it comes to the best yarn for lace knitting.
While lace yarn does produce some really amazing knitting projects, you do need a bit of knitting experience before you tackle this delicate fiber.
Tip #2: Look out for snagging.
The best yarn for lace knitting isn't always the easiest yarn to work with. Lace yarn is a fragile little thing. You can't pull and tug it like you would most other yarn weights. Be aware of your clothing if you're knitting with lace-weight yarn. The yarn can attach itself to almost anything (see my belt story above!) and snag or even break.
Tip #3: Frog your knitting carefully.
And speaking of snagging, frogging — the term for ripping out your work — with lace-weight yarn is a delicate process. Because the fibers are fine, they break easily. You don't want to rip a lace-weight yarn with the same force you'd rip, say, a worsted-weight yarn. If you do have to frog, do it carefully. Pull the yarn slowly and never use your brute knitter's strength to pull it!

The Obsessio Lace Cowl kit, knitted with lace-weight Artyarns Silk Mohair yarn
Tip #4: Choose the right needle.
Because lace yarn is so light, it tends to slip on and off the needle easily. This is perfect for speeding up your knitting, but not so perfect if it causes you to drop stitches. When you first learn how to knit with lace yarn, try using bamboo or wood knitting needles to get a better grip.
Tip #5: …and the perfect stitch markers.
We've already established that lace-weight yarn is fragile and fine. Keep that in mind when you're choosing stitch markers for lace projects. Choose stitch markers that lock in place securely and don't have ends that would easily catch on the yarn. I would not, for example, recommend split-ring markers. The yarn would slip right off those. Instead, use a locking stitch marker that doesn't allow the yarn to move.
Tip #6: Change the skein.
If you're working on a project that requires more than one skein of lace-weight yarn, try to start a new skein at the end of the row. Trying to hide an end in the middle of a lace project is nearly impossible, especially if you're knitting a pattern with very open stitches.
Tip #7: Try blocking your project.
I don't block all my knitting projects, but lace yarn is definitely one type of yarn that can benefit from a nice blocking. Even the best yarn for lace knitting can look a little limp and yucky after you finish knitting. Blocking will give the project some shape and drape.
All these tips might make you shake in your boots just a little. No problem. You can take baby steps toward lace-weight yarn!
Did you know that you can knit lace patterns with almost any yarn weight? Let Craftsy instructors Kate Gagnon Osborn and Courtney Kelley show you how to create beautiful lace-pattern hats using worsted-weight yarn in their class Next Steps in Lace: Hats. It's a great intro to working with lace designs. Once you feel ready, you can move on up to working with lace designs paired with lace-weight yarns.
Do you have any tips or horror stories to share regarding lace-weight yarns? Share with us in the comments section!