At one time or another in your knitting past, you've probably made a knitting error. We've all been there! Did you rip out the entire sweater? Give up and throw it in the back of the closet?
Next time you make a knitting error, check out these tips to try and save yourself from a total knitting meltdown.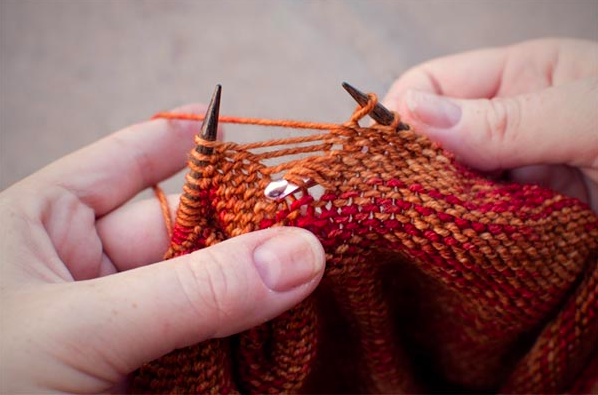 This is one of the most common knitting errors. A dropped stitch is just that — a stitch that drops off your needle. Sometimes you don't discover the dropped stitch until you've knitted several more rows. No need to rip out all those rows! You can use a crochet hook to bring that little stitch right back where it belongs.
See Craftsy instructor Stefanie Japel's step-by-step dropped stitch tutorial.

It's easy to forget which way your cable needle should hang. A mis-crossed cable isn't the end of the world (nor is any knitting error, for that matter!) and some people probably won't even notice. But if you're critical of your knitting, you'll never be able to look at the project again without knowing about that mis-crossed cable. See Stefanie Japel demonstrate how to fix mis-crossed cables.
Knitting lace can bring on knitting mistakes easily since you're working with such intricate designs. Sometimes you might forget to make a yarn-over and not discover it until the next row. Or maybe you forgot to decrease and now your stitch count is off. As with dropped stitches, no need to do any ripping! Craftsy instructor and lace knitting expert Laura Nelkin shows you how to easily fix lace knitting mistakes without starting from the beginning. demonstrating the fixes for those of you who prefer visuals over text.
If you want even more tips from Laura, you can also enroll in her popular Mastering Lace Shawls class!
Ripping back
I know I said you shouldn't rip the whole thing out if you make a mistake. But what if you just made the mistake a few stitches back and you already spotted it? Woo hoo!
When ripping back, there's no need to drop all the stitches off the needle and yank on the yarn. In my experience, this can cause even more problems. Instead, rip back the right way, making sure your stitches sit on the needle exactly the way they should.
If you made mistakes on an old sweater and simply hate the way it fits, don't abandon it! Check out Sweater Surgery with Carol Feller to find out how to disassemble and then magically reassemble your sweater into one you'll look forward to wearing.
Come back to the Craftsy Blog on Thursday for more knitting fun! We'll be sharing a tutorial on how to knit jogless stripes in the round.
What's your most common knitting error? How do you fix it?