When it comes to wedding photography, nothing is more important than the portraits. The first kiss photo comes close, but portraits are where the photographer is totally in charge.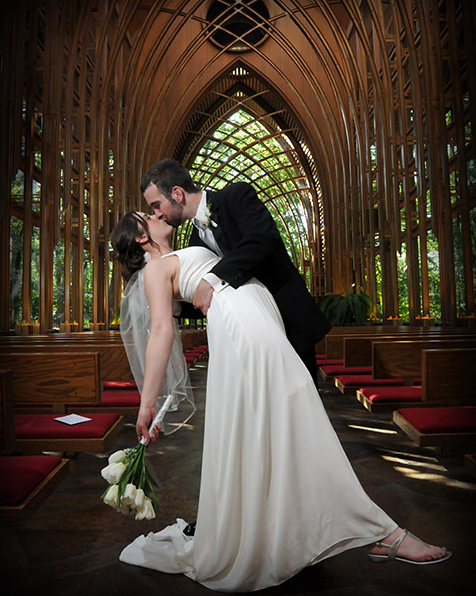 It's always a good idea to come with some interesting ideas for some fun and creative portraits. Here are some tips to help you think of ideas:
1. The wide shot
You can never go wrong with a extreme wide shot of the couple surrounded by beauty. Whether it be in a church, garden, beach or wherever, the wide shot shows the location of the day and the couple. You can also use any number of poses since you have a lot of room. There is the kiss, the dip, the dip and kiss, or go simple and just hold hands. As you can see the options are endless, so it really depends on the couple.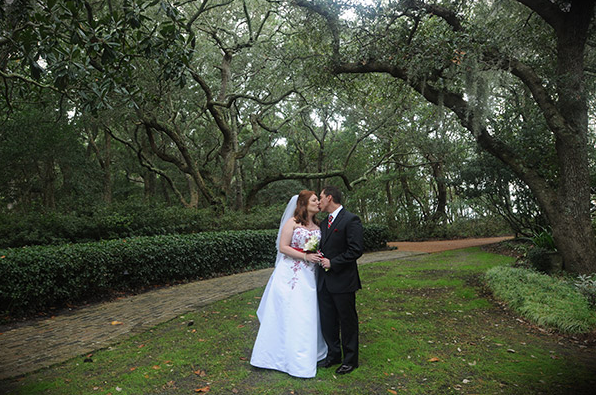 2. The first look
The first look is a new trick photographers are using. It's when the bride and groom see each other all dressed up for the first time before the ceremony. This is a good way to capture a real intimate moment since it's just the three of you.
Usually the photographer will pick a photogenic place, then have the couple look at each other in any creative way you can think of. Every couple is different, but they usually do something cute and don't need much coaching. After this, you now have time to take some more couple portraits.
This technique is good to use since it allows you to get some of the portraits done before the ceremony, and everyone can get to the reception faster. This works really well if you have a groom who isn't a fan of having his photo taken and wants to get to the food, drinks and buddies as quickly as possible. When you have the couple together before the ceremony, they are much more patient. Of course, this is up to the couple. Some are suckers for tradition and want to see each other for the first time walking down the aisle.

3. Think in 3-D
Instead of lining everyone in a straight line, space people out and move them to different sides of the photograph. Try to have the couple as the main focal point but get creative with how you pose everyone. At one wedding I photographed, the family made a sign on an old ironing board. I brought it with us for the portraits. Sure it's misspelled, but that's part of the fun.

4. Take advantage of bad weather
So it's raining, muddy, snowing, windy, etc. Use that to pitch some creative ideas on how to capture it in a portrait. At one wedding, I had a groom giving his bride a piggyback ride from the dance floor to the cake room so her dress didn't get muddy after the rain.
Another wedding I shot was in February along the Potomac River in the snow. So we took the groomsmen outside for some fun, snowy portraits. The bride didn't want to get her dress wet, so be prepared to be shot down when you have an unconventional idea, but always pitch it. You never know what couple will be willing to do.

5. Have fun with it
Weddings are a time for celebration. Everyone is there to have a good time, so try to reflect that in your images. You can use the classic jumping photo, but that's getting a little overdone these days. Plus, most ladies don't want to jump in heels. I only break that one out if a bride really wants it. Usually, if you just interact with the wedding party, they will come up with their own ideas or just start acting silly.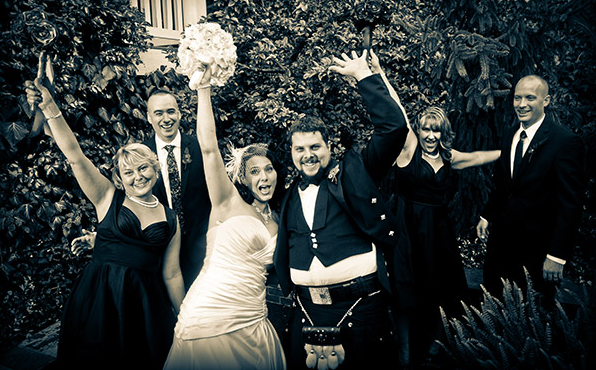 As the photographer it's your job to capture photos that show the day and the couple's personality. Work with the couple beforehand to come up with a game plan, but don't be afraid to pitch ideas and improvise once the day has arrived. Be flexible but confident when it is portrait time.
Next week, we'll be launching Wedding Photography Wednesday on the Craftsy Blog! Be sure to come back every week for more helpful wedding photography tips and techniques!
What is your favorite wedding portrait story?