Have you ever received a handmade quilt? If so, you know that it's a gift that is full of meaning, encompassing the maker's creativity, time, and love. Now imagine receiving a quilt unexpectedly, perhaps from someone you've never met. Thanks to the generosity of quilters everywhere and the efforts of many quilt-giving charities, this simple act of kindness is spreading all over the world.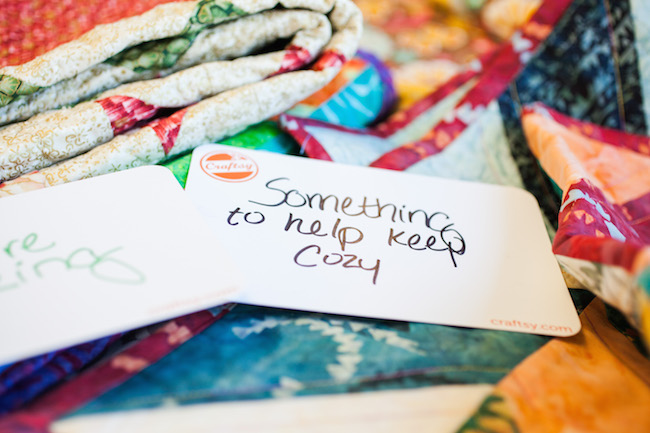 But how do you get started donating quilts? What size and style of quilt should you make, and how do you donate it?
We've gathered some of our top tips for donating quilts, including some creative and unexpected ways to use your talents for the greater good.

1. Sew comfort quilts for those in need
Charity quilting can take many forms, the most obvious is making a quilt and donating it to an individual in need. From children's hospitals to wounded veterans associations, there are many groups willing to receive comfort quilts on an ongoing basis.
To find an organization that collects and distributes quilts to those in need, check out this post on where to donate quilts for lots of suggestions.
Before you begin sewing, make sure to read the guidelines for the suggested size of quilts and any fabric suggestions.
Have extra quilt tops laying around? Some charitable groups accept unfinished tops, blocks or even new quilting fabric to help their ongoing efforts.
Make sure to label the quilt if requested, and fill out all appropriate donation paperwork before sending. Also, take a lint roller to the quilt and wrap it in a heavy-duty plastic bag before putting it in the box to mail.

2. Host a charity quilt auction
If you have a truly special quilt — perhaps a sampler quilt or a complex patchwork design — you may want to consider auctioning off the quilt for charity. The proceeds can then go to help a special charity, raising awareness and providing relief to more than just one individual.
Many non-profit groups host an annual charity auction to raise funds for their ongoing work. Donating a quilt to an already established auction ensures that it will be well promoted and it requires very little legwork on your part.
Did you know that eBay has a charitable wing called Giving Works? Auctioning off a charity quilt on this site is easy to do, and you can share the link with your networks to drive interest in bidding. The proceeds can then be donated to the charity of your choice.
During disaster relief situations, many people want to help, but they do not know the best way to do so. Often, a monetary donation can be more helpful than a handmade item. Auctioning handmade items lets you craft for charity but still make a very useful contribution.
Holding a quilt raffle, where tickets are sold for an entry, is another way to raise money by quilting. It's a little more complex, but it can be done. Check out your state's specific guidelines for raffles, and make sure you adhere to them before starting an online or in-person quilt raffle. I recently held a quilt raffle to raise more than $600 in donations for a friend going through health problems. Tickets were $5 each and were donated directly to the recipient via PayPal.
3. Host a quilting bee
A quilting bee is a group of quilters who all sew the same block and donate it to one quilter, often rotating who the "host quilter" is for each month. This allows the group to finish a quilt quickly, and it's also a lot of fun!
Try making a quilt block that is meaningful to the organization you plan to help. For instance, you could try to make schoolhouse or pencil blocks for a school-related charity. Since you have other quilters helping you out, you can pick more complex blocks.
Does your town have a quilting guild with a bee already in progress? If not, check out this blog post for ideas on how to join or start your own quilting bee.
If you have a quilt top you haven't finished in a long time, try a simple tied quilting method or stitch-in-the-ditch for quick results! Having a charity in mind can often motivate you to finish UFOs.
Check out my book, "Modern Bee," for more  ideas on how to host your own quilting bee, plus 13 patterns that are perfect for quilting bees.
No matter how your begin your charity quilting project, just know that it's a true gift to be able to share the love of sewing with others.
Do you have any tips on making quilts for charity? Please share them in the comments!