Vintage color palettes and themes are always popular within cake decorating and design. Much like the fashion industry, cake designers take a considerable amount of inspiration from yesteryear. We get regular requests for antique-styled wedding tiers, old Hollywood-inspired cupcakes and birthday cakes with a retro feel, and an easy way to deliver either a vintage or modern feel for your cakes is by tinting your fondant.
Here are some handy pointers, tips, tricks and essential advice on how to achieve a gorgeous vintage color palette when tinting fondant!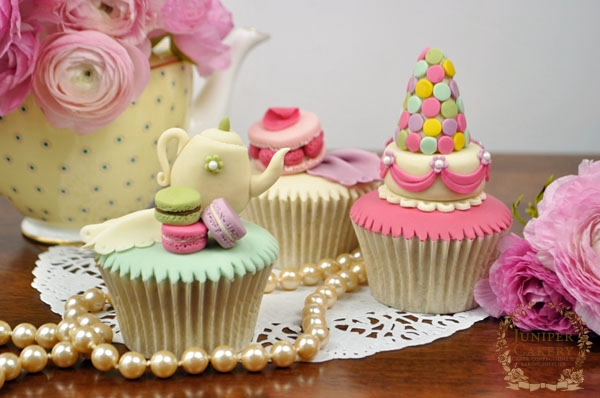 Photos via Juniper Cakery
To illustrate how tinting fondant can help bring a design together, we've created a sweet little collection of Parisian Salon de Thé themed cupcakes. The tiny fondant cupcake toppers were created with the help of Sheryl Bito's adorable Tiny Cupcake Toppers Class (seriously, the miniature jelly rolls, Key lime pies and macarons are to die for!). We adorned our cupcakes with a teapot, ispahan macarons, scalloped serviettes and whimsical macaron towers for a chic Parisian look! Oh la la!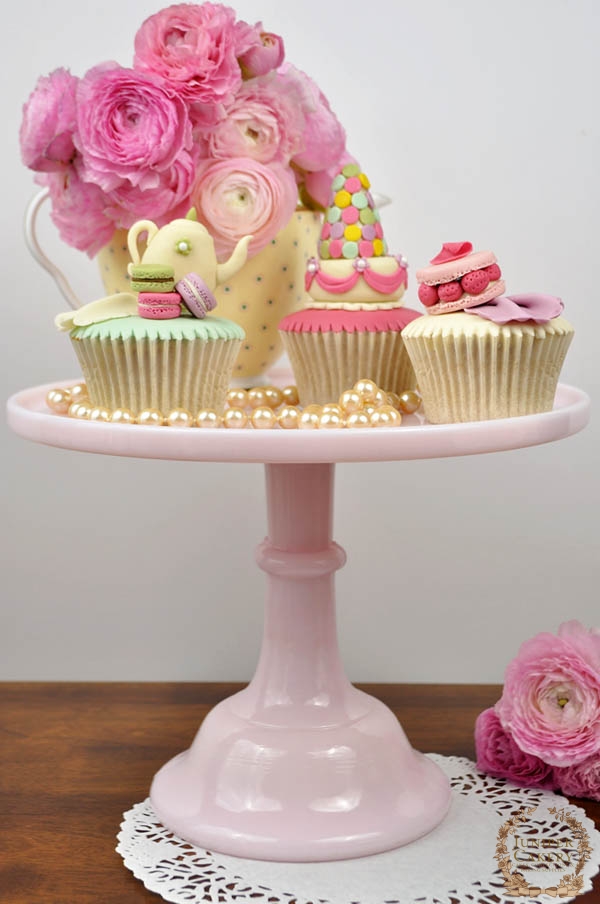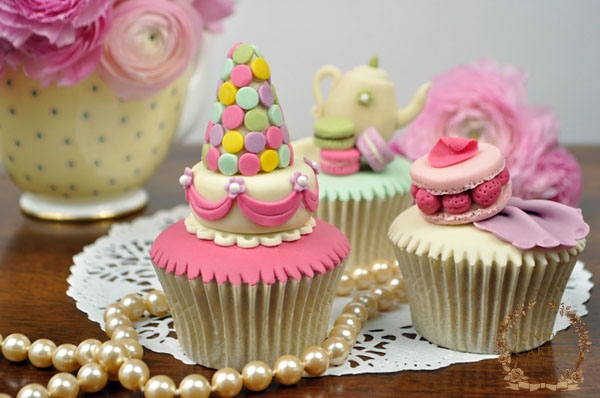 A handy trick is to finalize your color palette before you begin, as having a definite color scheme will really help the other decor elements come together. This is particularly helpful when the work is piling up as deciding on, and being strict with, the colors you're using will help keep you on the right track.
For our très jolie cupcakes we took our color palette inspiration from a certain Dior perfume advertisement directed by Sophia Coppola. We loved the combination of a 1960s-styled Paris with fun candy colors!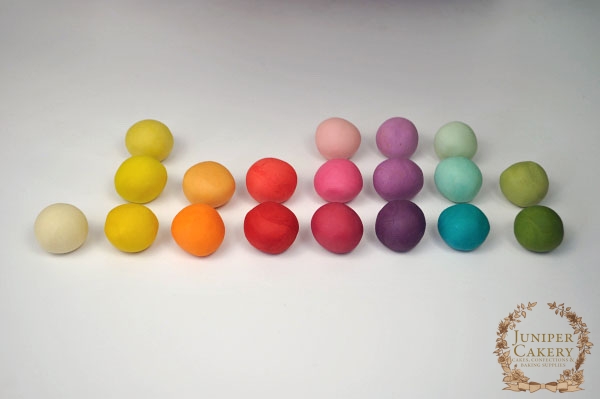 Tip #1: Begin with a base color
When creating a vintage color palette, our top tip is to color all of the fondant you need a base color of ivory. We've found that tinting fondant a pale cream or ivory before adding the main color helps create a lovely vintage or antique tone to the palette. When you think of it, the older a photograph becomes the more of a sepia tint it develops. For bolder colors, add not only more color, but a little more ivory or cream food color too!
Above is a quick snap we took of a basic rainbow of vintage fondant colors we put together. Note how adding a cream tone beforehand makes the yellows slightly mustard in tone, creates a lovely light dusky pink, helps color a red into a 1950s lipstick shade, adds a sea green look to the blues, and creates lovely natural olive greens!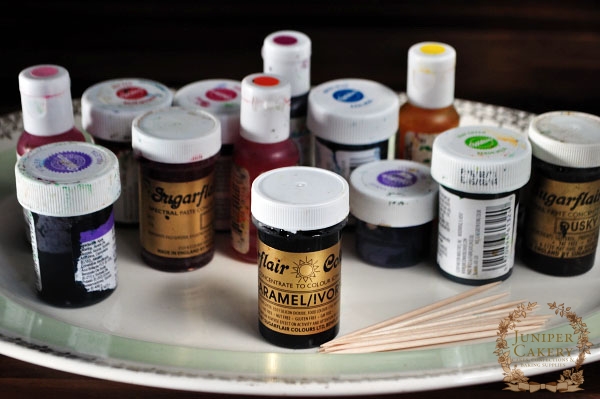 Tip #2: Gel or paste colors vs liquid colors
Make gel or paste food colors your best friend. They're wonderful compared to the liquid food colorants that can usually be found on supermarket shelves. Not only are they usually a more concentrated color, but they don't weaken the stability of your fondant, modeling chocolate, batter, buttercream, etc; as adding more liquid can turn a perfectly kneaded ball of fondant into a gloopy disaster!
Tip #3: Start small
Another tip is to always start small. It's oh so much easier to add more color to get the tone you desire than it is to remove color. Use cocktail sticks dipped into your pot or bottle of color and add gradually to your fondant.
Tip #4: Be kneady!
To mix in color we like to knead our fondant much like bread. We add a little bit of gel or paste, and using a clean surface, we knead with the palms of our hands. Getting a good rhythm going while doing so really helps to mix the color evenly through your fondant, ridding you of any streaks!
Tip #5: Mix it up
A great tip for coloring large batches of fondant is to whip out your dough hook and trusty KitchenAid stand mixer. Knead and warm up the fondant by hand and add it into your mixer bowl with a tiny amount of food coloring. Set to mix at a slow to medium speed and add more color if needed. This little tip really helps save your wrists from pain.
We hope you've found our post on tinting fondant helpful and inspiring! It's always important to get color right when it comes to any form of design, but it's essential when designing something to be eaten! You not only want to wow people with your skills, but you want them to be excited to eat the cake you've created, and color really does help establish that.
Learn the step-by-step process for making these delightful dessert-themed cupcake toppers in Sheryl Bito's Tiny Cupcake Toppers Craftsy class.
How do your color your fondant? Do you prefer to adjust store-bought colored fondant? Or do you like to start from scratch?