From totally cute to extremely realistic, tiger cakes come in all stripes and sizes! This fun roundup of tiger cakes includes buttercream iced and carved cakes, and sculpted and airbrushed cakes, too.
We're hoping these tiger cakes will get you roaring with cake-making excitement! (Or maybe just a little meow?)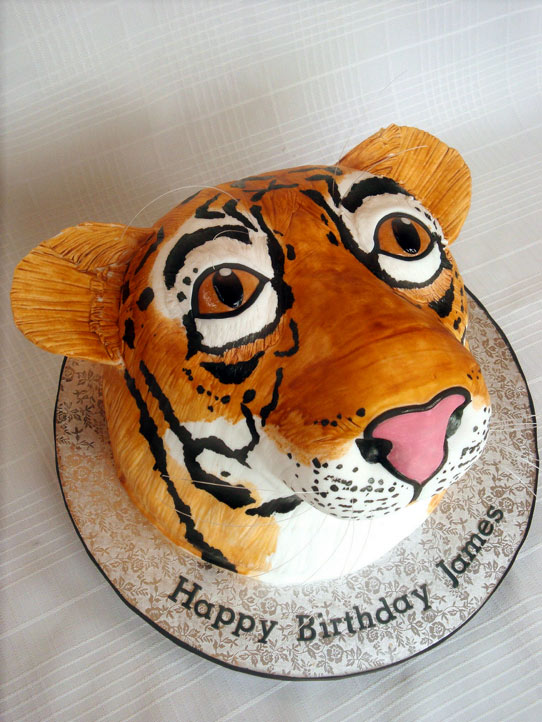 Photo via Spring Lake Cake 
Bring me the head of a tiger cake:
Merissa of Spring Lake Cake created this awesome tiger head cake based on a design in a book by cake decorator Lindy Smith. Merissa covered the whole head in fondant and then textured and used hand cake painting techniques to create a life-like coloring. But the coolest surprise of this cake is the inside, which was orange-colored cake batter marbled with chocolate to emulate the stripes of a tiger! I love details like that — total surprise fun for the client, and it shows the amount of care put into her cakes.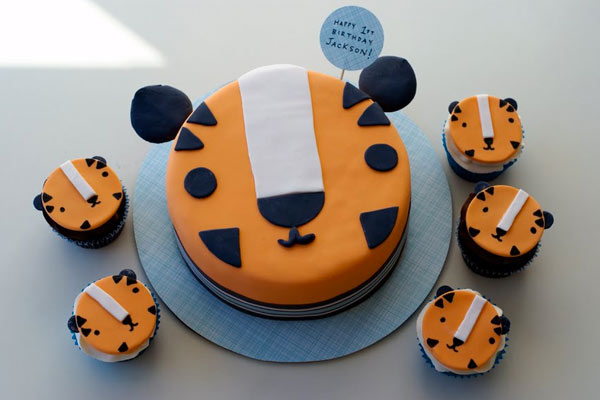 Photo via Coco Cake Land 
Cute tiger cake and matching "cub"cakes:
This adorable tiger face cake was based on a party invitation for the birthday boy's first birthday. The cake was chocolate with chocolate buttercream, and covered in fondant with fondant cutouts to create the cartoon-like face. The "cub"cakes were made using fondant and edible marker to draw on the cute little faces. A simple and modern tiger-themed cake without too many bells and whistles.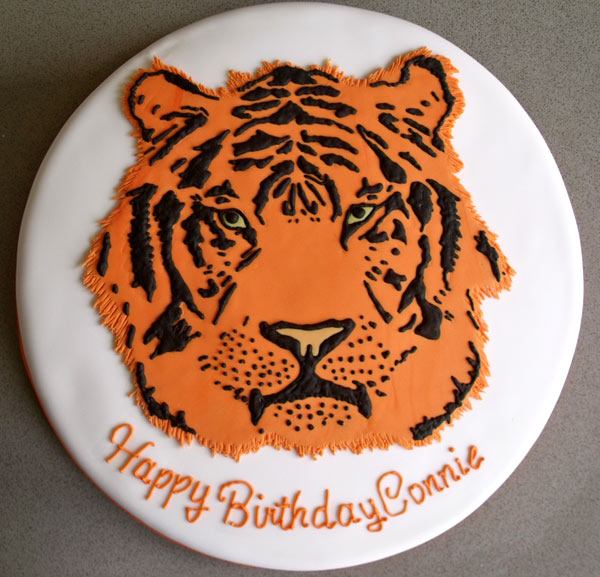 Photo via Katy Made Cakes
Orange you glad I'm a tiger cake:
I love the textured fringe bordering this fondant tiger cake with beautiful piping. This reminds me of a black velvet painting found in a family rec room from the 1970s, complete with black lights and a shag rug carpet. A great cake for a tiger lover!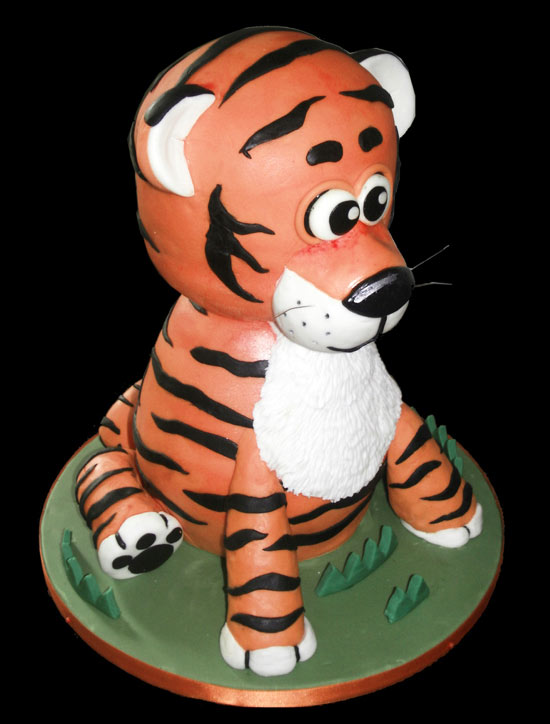 Photo via Caking It
Cartoon style upright tiger cake:
This super cute cartoon-style upright tiger cake stood just over 14 inches tall and was made of vanilla sponge cake with buttercream and raspberry jam for the body and the head. The front legs were cake crumbs mixed with Crunchie chocolate bar and melted chocolate with butter and syrup. The back legs were Rice Krispies Treats and fondant. Just goes to show you there's a lot of deliciousness, along with artistry, that goes along with cake making and decorating. As any client will tell you, a cake can look amazing, but if it doesn't taste just as good, it's not worth making.

Photo via Coco Cake Land
Kiss me tiger cake:
This pink buttercream iced furry tiger face is cute enough to snuggle with! Although I wouldn't recommend it, unless you like having a face full of icing. A fun example of a textured tiger cake in an unlikely color (using creative piped texture for fur), made for a little birthday girl who loved her pink tiger cake very much. Details were made in black fondant, and the cake itself was a vanilla with a raspberry jam filling.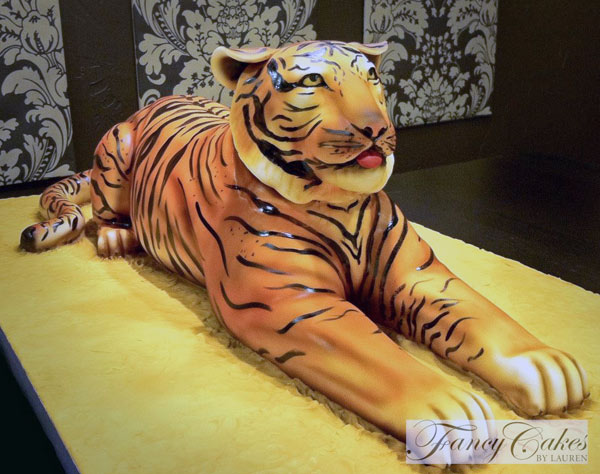 Photo via Fancy Cakes by Lauren
Grand tiger cake:
This incredible tiger cake was made by the super talented Lauren Kitchens, who teaches the Bluprint class Intro to Modeling Chocolate. This cake was 3-feet long from end to end and served over 125 guests. The fondant was airbrushed, and then the stripes were painted on by hand.
Do you favor animals that are a little less fierce? Come back to the Bluprint blog tomorrow for a fun roundup of poodle cakes!
Which of these incredible tiger cakes is your favorite?