Peace, love and cupcakes! For a fun summer-of-love party vibe, create these easy, fun, and magical tie-dye cupcakes. You could even include a tie-dying T-shirts activity to complement the grub. These cupcakes would be great to make with the child in your life; have them help with scooping the multi-colored batter into the cupcake liners. There will be magic in their eyes when they bite in. Let's begin!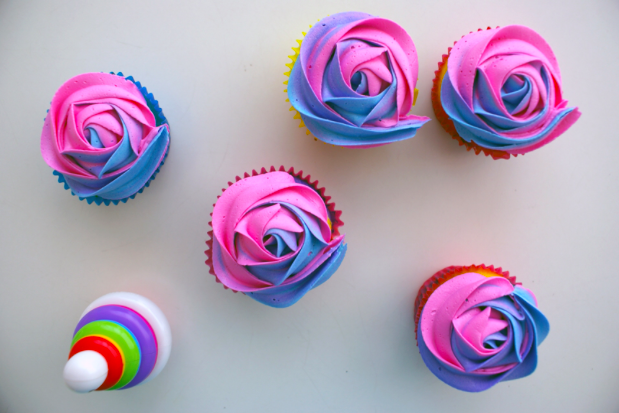 Photo via Coco Cake Land
Materials
A cake recipe for 1 dozen vanilla cupcakes. Or, you can easily use a box mix, too!
A buttercream recipe enough to ice 1 dozen cupcakes. Store bought icing in a can will work, too.
Gel food coloring in an assortment of colors.
Cupcake liners (I used a mix of colours).
Five small mixing bowls to mix your cake batter and five spoons.
Three medium mixing bowls to tint your buttercream various colors.
A medium sized piping bag fitted with a 1M open star tip.
A one dozen cupcake baking tin.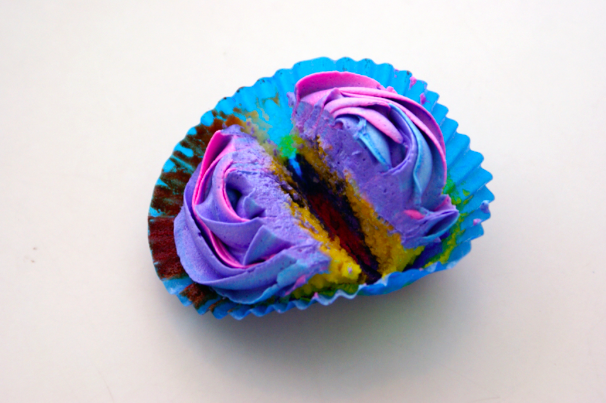 Instructions
1. Make your cake batter according to the recipe's instructions. Divide batter evenly into small mixing bowls.
2. Fill your cupcake baking tin with cupcake liners.
3. Using your gel coloring, add about an ⅛ teaspoon of one color into each bowl. I used pink, blue, purple, pink and yellow.
4. Thoroughly mix the gel color into each bowl of batter, but don't over mix your batter!
5. Now, take a spoon and drop a blob of your first color batter into each cupcake liner.
6. Repeat this process of filling your cupcake liners with all of the colors until you have filled the cupcake liner halfway with the different colors of batter. (Optional: you can use a toothpick to lightly swirl the batter colors together now. Don't over swirl to avoid getting a muddy color!)
7. Bake your cupcakes according to your recipe's instructions. Let cupcakes cool completely on wire racks before icing.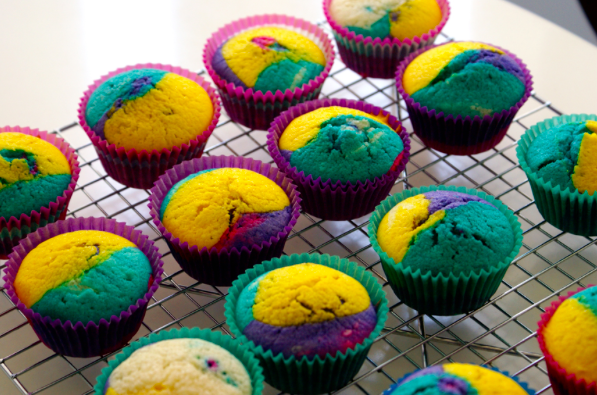 8. Make up your buttercream according to your recipe's instructions.
9. Divide buttercream into three medium mixing bowls.
10. Color each bowl with a different color of gel color. Gel color is very potent so start with a little color and add more if you'd like it to be more vibrant! About ⅛ teaspoon will make it quite bright. I used Wilton brand fuchsia pink, sky blue and lavender purple because each of these colors meld with each other nicely.
11. Now, fit the piping bag with the 1M open star tip. Next, you will fill the bag with all three colors. I do this by setting my piping bag open in a yogurt-type container, then using a spatula to vertically fill a third of the bag with one color at a time. Don't worry if it's not a completely even distribution. To test your color mix, squeeze out a bit of frosting until colors swirl together.
12. Using your piping bag, ice the tops of your cupcakes with the tri-colored buttercream icing! I made a rosette style by simply starting from the middle of the cupcake and piping outward. Rainbow rosettes!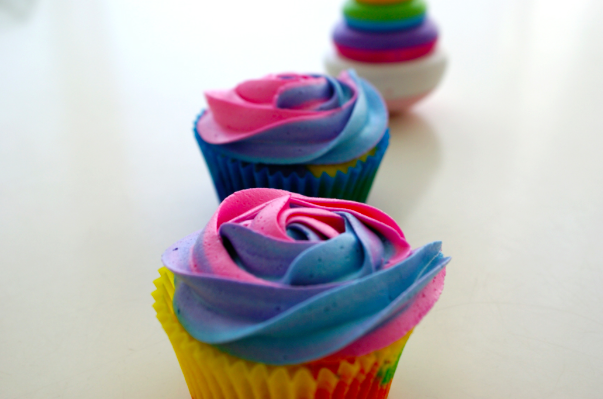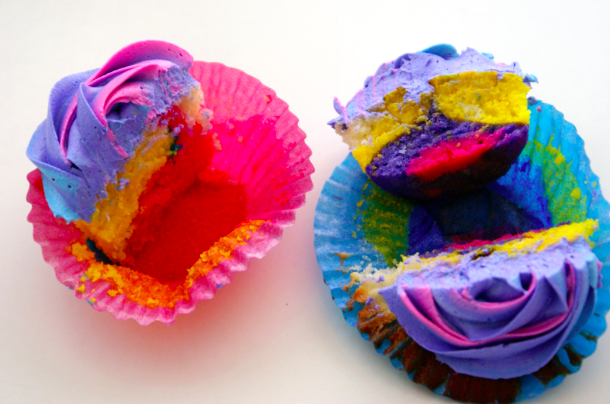 The fun part comes when you bite into your cupcake and discover the myriad of vibrant rainbow colors. What occasion will you first make these cupcakes for?
Now, it's time for some inspiration! You're going to love these awesome tie dye-themed party cakes; guaranteed to make you want to jump on the next bus to Woodstock and crank some Janis Joplin and Grateful Dead! Can't you feel the sun on your face and the love in your heart?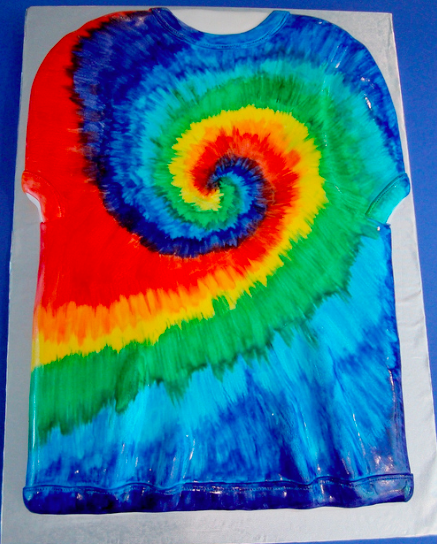 Photo via Cakezilla
Shiny Tie Dye T-Shirt Cake: This is an amazing hand-painted fondant beauty of a tie dye t-shirt cake. Beginning with the blue, this cake artist incorporated multiple colors using gel paste. It appears as though you could just slip this on over your head and run off to the nearest Volkswagen camper van.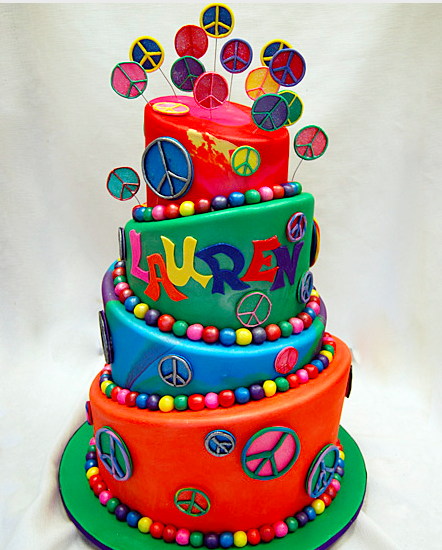 Photo via Pink Cake Box
Peace, Love and Understanding Rainbow Bat Mitzvah Cake: This is a great topsy turvy every-color-of-the-rainbow tie dye cake for a bat mitzvah! I love the peace sign emblems and the colorful rainbow ball borders, that tie the whole cake together. The best part of this cake might be the marbled fondant layers, a great technique to emulate the tie-dye look!
Interested in trying the topsy turvy cake yourself? Craftsy has a great online class Topsy Turvy Cake Construction with Richard Ruskell.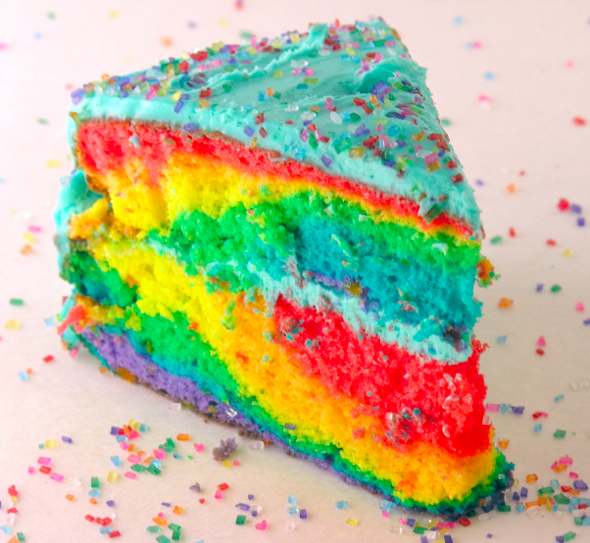 Photo via Easybaked.net
Tie Dye Insides Cake with Blue Raspberry Icing: The rainbow crystal crunch of those sprinkles add a festive topping to this blue raspberry-iced rainbow tie dyed two layer cake!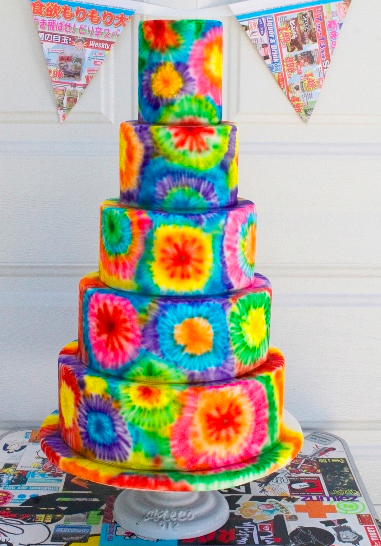 Photo via Greggy Soriano
Awesome Five Tiered Tie Dye Cake: This incredible tie dye psychedelic cake just screams summer love and fun! Greggy Soriano created this five tiered fondant covered, hand-painted cake in a myriad of sunburst rainbow colors. This festive cake would be great for a vibrant birthday party or even a wedding.
Which tie dye cake is your favorite?