You have probably thought you've heard it all, but this might just prove otherwise. I asked some machine embroiderers to tell me things they would never be heard saying, and the response was fantastic!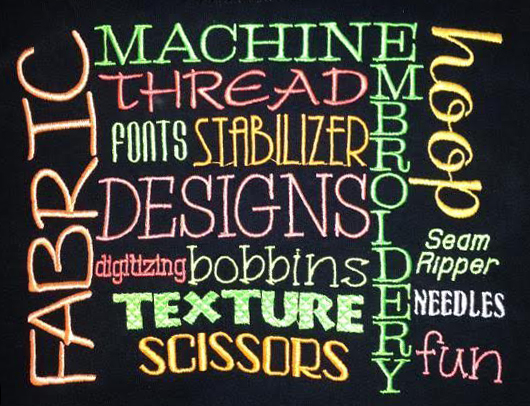 All About Machine Embroidery pattern via Bluprint member Carole Baker Designs
Things you will never hear a machine embroiderer say:
I have all I will ever need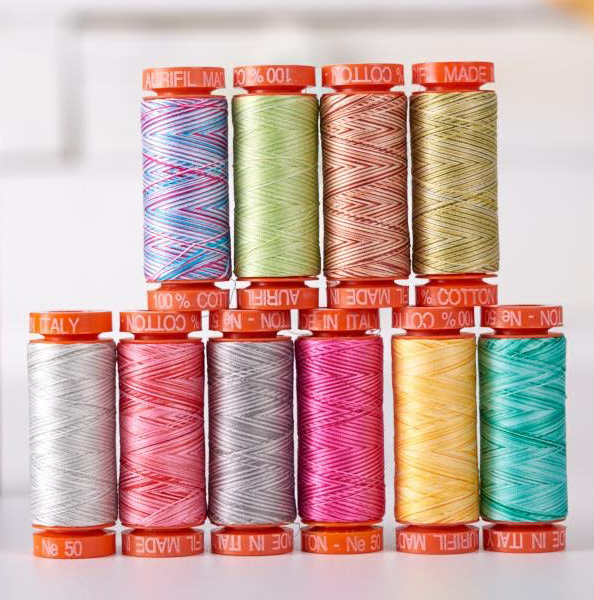 Tula Pink Auriful thread set
"I have enough thread, I don't need any more."  –Jutta Duncan
"Gosh, I really have too much fabric and thread."  –Birdie James
"I will never buy another embroidery design."–Sandy Mowery Taylor
"My granddaughter has all the monogrammed clothing she could possibly need!"  –Jan Cancila
"I can totally stop buying supplies I don't need just because they are on sale."  –Kimberly Martindale Pappe
"My embroidery room is big enough; everything is in its place!"  –Nancy Wagner Burrell 
"No, I don't need any more fabric for my stash!"  –Katherine R. Vishaway Cantin
"I have all the time I need to embroider all the designs I have bought."  –Sharon Wilson-Wood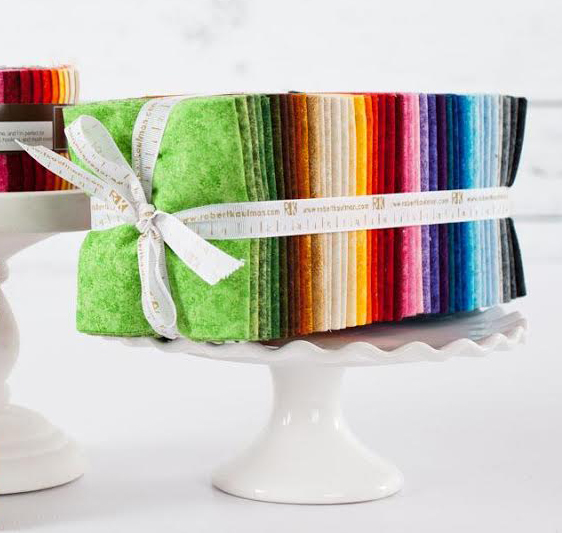 Robert Kaufman Fusions Meadow precuts
The customer is always right
"Sure, you bring items to my shop that you bought somewhere else, and I'll embroider them for you."–Reggi Coles
"No charge; I just enjoy doing it for you!"  –Nancy Wimberly
"Please take a seat and wait right here for us to stitch your order. You are, after all, our only customer."  –Linda Bologna
"It doesn't take long at all to digitize your design!" –Shelley Kepford
"Only takes a second to whip that design out!"  –Stephanie Smith McNeill
"Ah, it's really nothing. The machine does it ALL!"  –Pam Burke Atkinson
"All I do is push a button…" –Kyla Eiland
"Oh, sure. I can tell you how much it will cost and how long it will take without seeing the item."–Donna Kaisner
Bigger is not better
Photo via Hoop Savvy with Lisa Shaw
"No, I don't want a machine with more needles; my single-needle machine works just fine!" –Sandra Street
"My six-needle machine sews big enough and fast enough. I don't want one that sews faster or has bigger hoops!"  –Rebecca King Odle
"I don't need a bigger hoop."  –Joan Fraley Wasson   "Gosh no…me either. I like re-hooping!"  –Debbie Booker Voss 
"No, I don't need that machine that costs a fortune, I am perfectly happy with my little one!" (Anybody that says that is lying!)  –Starlene Wilson Weatherston
We're all experts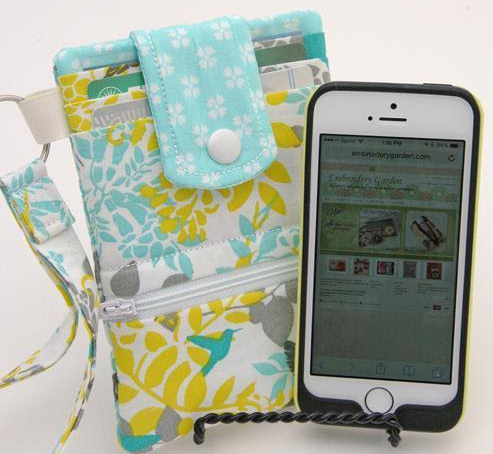 Phone Wallet pattern via Bluprint member Embroidery Garden
"My designs always stitch out great the very first time!"  –Toni Leli
"I only use one stabilizer."  –Veronica Garrison Lee
"Nah, I never stay near my single-needle embroidery machine because nothing ever goes wrong!"  –Cyndi Block-Hessler
"I'm the BEST embroiderer and I know everything there is to know about my craft!" –Leslie Van Dalsem Myers 
"I never have to throw away a design because I used the wrong stabilizer."  –Delorus Freer Jarrett 
Embroidery is bad for your health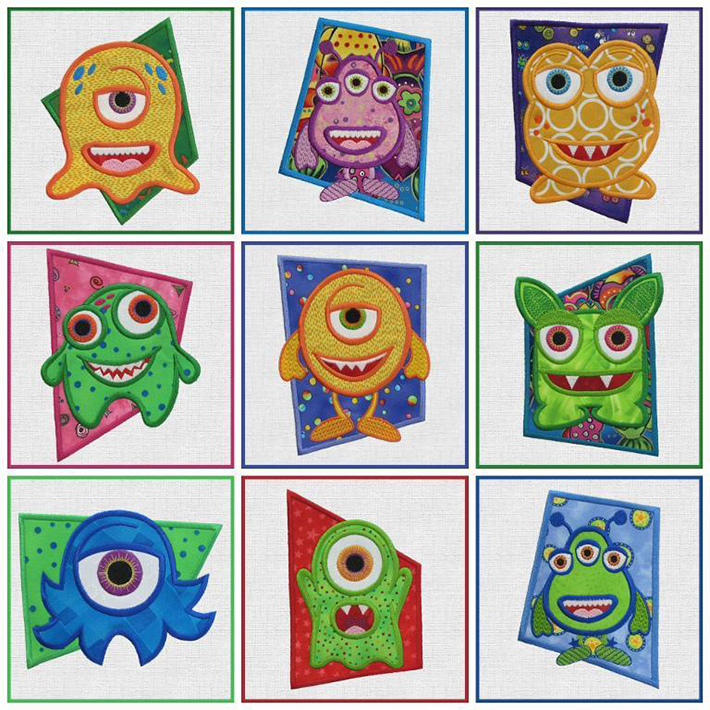 Monster Patch via Bluprint member Marjorie Busby of b-quilts
"Of course I've never had the machine needle stab me; I've never had my finger anywhere near the needle."  –Carol Blaha 
"I'm so bored! I have nothing to do…"  –Karen Franklin Horn
"I don't have an embroidery addiction!"  –Catherine Pamias
"I don't talk to my machine; that's a sign you're crazy."  –Donna Coley Austin
"Where is my medication?"  –Cynthia Chalfant 
Sound familiar? Have any others to add?
Make Your Next Embroidery Project More Enjoyable!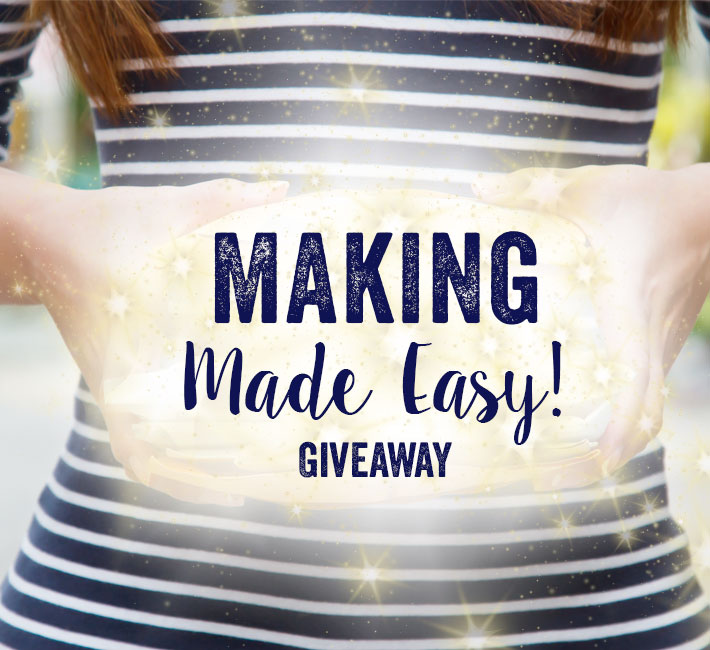 Bring your ideas to life! Enter Bluprint's month-long Making Made Easy Giveaway for 4+ chances to WIN a class of your choice taught by the world's best instructors.Enter to WIN Now »