Imagine this, all you die hard fans of knitting and crochet out there. You're sitting in traffic after a horrible day when you spot a blue truck. Is that a ball of yarn you see on the side of that truck? With knitting needles and a crochet hook? No, couldn't be. Your eyes must be deceiving you!
Well, actually it could be, if you live in Southern California.
The Yarnover Truck has been making its way around Southern California, brightening the days of yarn lovers in its path. You might see the truck at a farmers' market, in the park, or just hanging out in a random spot. And if you vote for the Yarnover Truck in the Intuit Small Business Big Game contest, you might even see it on a Super Bowl commercial!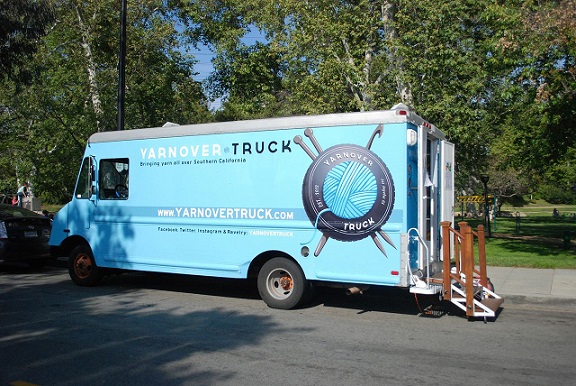 Photo via the Yarnover Truck
About the Yarnover Truck

No doubt you've noticed the recent explosion of food trucks. The Yarnover Truck takes the food truck trend and turns it into a local yarn store on wheels. The truck was born in July 2012. It's the brainchild of Maridee and Barbra, who met at — you guessed it — a knitting group. The truck travels to street fairs, craft fairs, music festivals, farmers' markets, and any other event where yarn lovers might need them.
The Yarnover Truck doesn't just sell yarn. Maridee and Barbra also want to educate customers in the needle arts. The truck hosts private parties that range from project-based (like knitting cowls, blankets and baby items) to shopping parties, where the truck comes to you and at least 15 yarn-lovin' friends.
The truck carries everything you'd find in your local yarn store, including yarn, patterns, needles and anything else you might need to complete your project. You can see a complete list of products on Yarnover Truck's web site. You'll recognize a few familiar faces from Bluprint on the list of designers, like abigailology, Cooperative Press, Kira K Designs, The Sexy Knitter, Stitch Diva Studios, Sunset Cat, Tabetha Hedrick and more.

Photo via the Yarnover Truck
Vote for Yarnover Truck

If you can't shop the Yarnover Truck, you can still help out this small business by voting for them in the Intuit Small Business Big Game contest. Intuit is sponsoring this contest for small businesses to have a chance to appear in their very own Super Bowl commercial.
If you've ever watched Super Bowl commercials, you know that they're dominated by big corporations. The high price to air a commercial during the game means most small businesses will never have a chance to be seen by such a large audience. This contest will choose one small business owner who will win their very own spot during the Super Bowl.
Small businesses are currently submitting their stories to enter, and the Yarnover Truck's story is already up and ready for votes. The winner of the contest is determined by the highest number of votes, so it's important that you vote for the Yarnover Truck to help them win. Voting ends September 22nd. You can vote once a day.
If you live in Southern California, be sure to keep an eye out for the Yarnover Truck!
Come back to the Bluprint Blog tomorrow to watch the latest edition of our YouTube series 1 Hour Project. This week, Stefanie Japel demonstrates how to work up a pretty lace headband.
Have you ever spotted the Yarnover Truck or another craft store on wheels? Tell us about it!