In the first article in this series on dimension and texture in hand embroidery, we talked about embroidery threads and their fiber, twist and weight.
Today, we're going to chat about other materials that can be used along with thread to add dimension and texture to an embroidery project — specifically, fabric, ribbon, beads and specialty threads.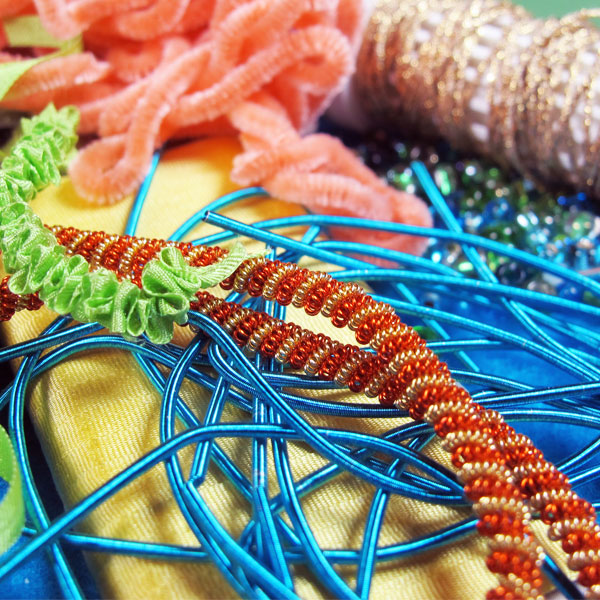 Fabric, ribbon, beads and specialty threads help add dimension and texture to embroidery
All photos via Needle 'n Thread
Fabric for adding texture and dimension to embroidery
Hand embroidery can be done on any type of fabric under the sun — and it can be done on things other than fabric, too! When it comes to adding dimension and creating textured embroidery, different fabrics come in handy for adding just the right touch to a project.
Wool felt
Wool felt can be used several ways to add dimension to embroidery projects.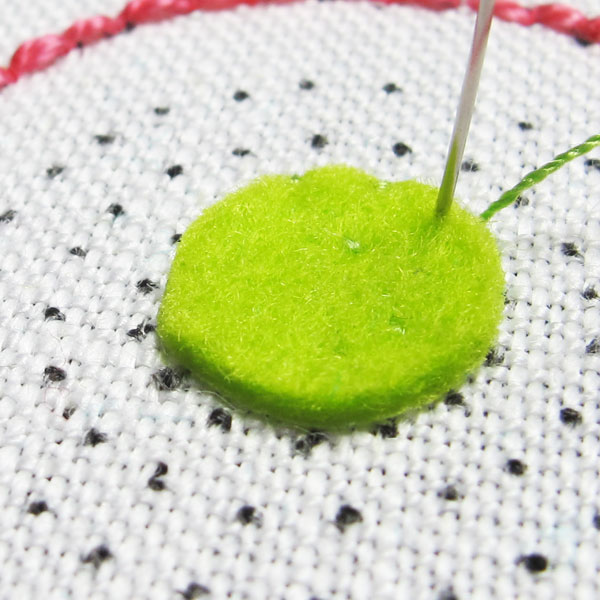 Felt appliquéd to the fabric, to be used as padding
Felt can be used as a visible element in embroidery, appliquéd to the ground fabric with decorative stitches. Felt shapes can create a colorful, vivid impact, and the stitches used for appliqué can be diverse and fun.
Often, felt is also used for padding underneath an embroidered area, to add height to the stitching. When it's used for padding, the felt isn't necessarily visible in the finished piece.
If you haven't tried felt appliqué, Craftsy has a great class available right now called Embroidering Texture & Dimension by Hand taught by Sue Spargo. In the class, Sue presents all kinds of ways to embellish felt appliqué, and she also covers decorative and dimensional embroidery stitches that can be added to any kind of surface embroidery project. It's a terrific way to learn!
Specialty fabrics
Specialty fabrics can be used in surface embroidery to dimension and texture, too.
Tulle, for example, can be placed over ground fabric and then stitched over directly, so that the tulle becomes part of the ground. It can also be appliquéd to ground fabric, with the ground fabric cut away from behind the tulle, to leave a lighter, airy area for stitchery.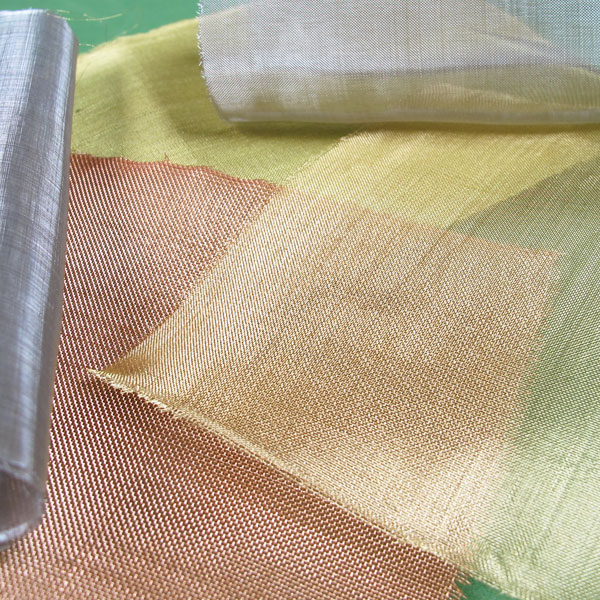 Metal fabrics used in embroidery and mixed media
Metal fabrics are a little trickier. They can be cranky to work with, but they can be used with interesting results, especially in mixed media artwork. A stiletto or awl goes a long way with this kind of tougher fabric!
Kid leather is often used in goldwork and other advanced forms of embroidery. It's also appliquéd to the ground first, and then it can be left as it is, in its full leathery glory, or it can be stitched over further.
Silk ribbon
Silk ribbon embroidery falls into its very own category of embroidery types, but for now, we're not really looking at silk ribbon embroidery as a separate technique. Just a small bit of silk ribbon incorporated into embroidery can add an extra dimensional touch.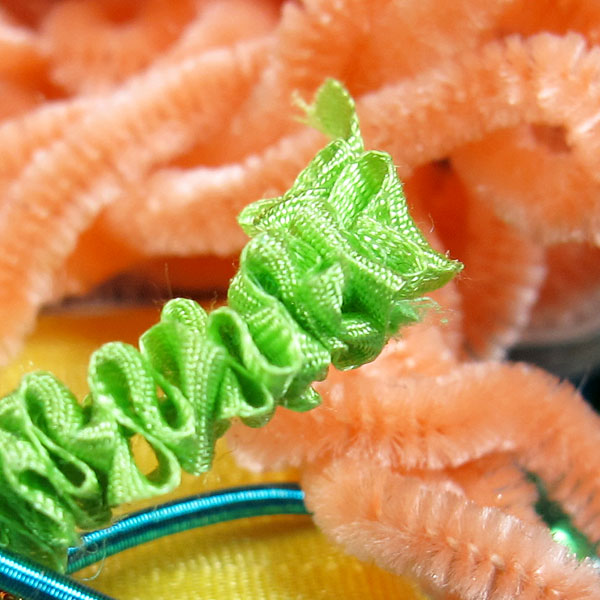 Silk ribbon can be used numerous ways to add texture and dimension to embroidery
It doesn't take much silk ribbon! You can incorporate silk ribbon into embroidery in all different ways. A little ribbon flower bud here, some ribbon leaves there, or just a couched, bunched ribbon for a decorative line — they're all effective!
Beads for texture and dimension
Beads are a terrific, quick and relatively easy way to add texture and dimension to embroidery!
Beads come in all kinds of shapes and sizes, from tiny seed beads, to longer tube beads, to larger specialty shapes.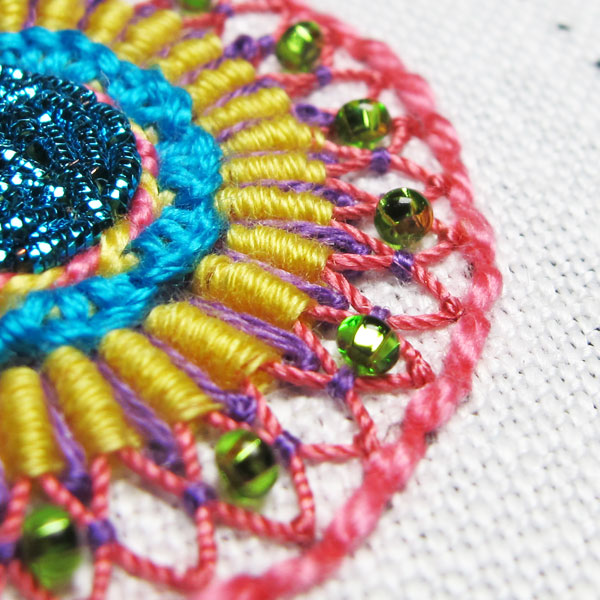 Beads make great accents on surface embroidery!
Placing small seed beads among embroidery stitches in the photo above helps to create a textured ground and adds vibrant color and sparkle. Beads don't take a lot of effort to stitch onto a project, yet they create a big impact.
Specialty threads
Right now, the needlework market enjoys an "embarrassment of riches" when it comes to specialty threads, from furry fiber blends to synthetic sparkly threads.
Most thread manufacturers produce specialty threads of some sort. Metallic braids, blending filaments, silk gimp, chenille thread, various hairy threads, silk purls, wired threads, real metal threads — these are just a selection of the many specialty threads available today.
Most specialty threads today are made more for cross-stitch and needlepoint than for surface embroidery, though, and this makes a difference in the way they hold up to surface stitching.
Tips for working with specialty threads
Cross-stitch fabric and needlepoint canvas both feature somewhat open holes, which makes it easier for specialty threads to pass through to the back of the fabric unscathed. Because surface embroidery ground fabric usually has a tighter weave, the threads are subject to more friction as they pass through the fabric.
These tips for working with specialty threads will help to keep your threads intact, longer:
Consider adding them on the top of the fabric only, by couching them.
If you are going to embroider with them, use very short lengths. No more than 15" long is a good rule of thumb.
Use a chenille needle. Its larger eye will accommodate the thread better, while its thicker shaft and sharp point will open a good hole in the fabric for the specialty thread to pass through.
Use stitches that don't require the thread to pass into or out of the same hole repeatedly.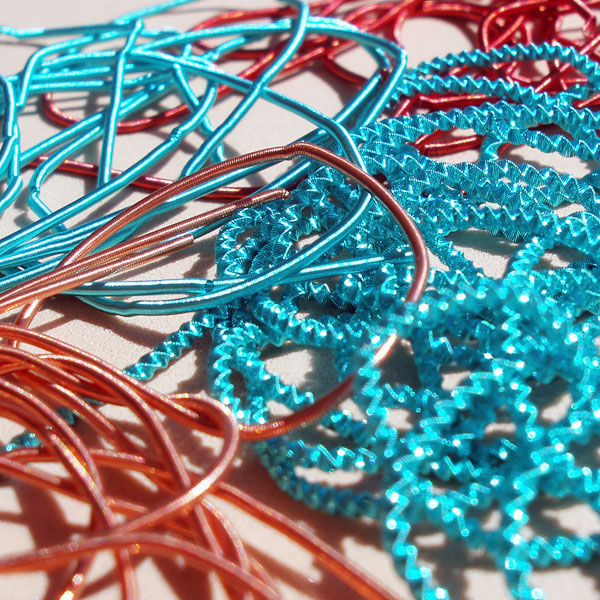 Real metal threads for hand embroidery
Real metal threads are a great way to add texture and dimension to hand embroidery! Real metal threads are either couched on or cut and sewn on like little beads.
Putting it all together
Adding a few special touches to your embroidery by using fabric, ribbon, beads and specialty threads will enhance your embroidery projects and turn them into highly tactile art, with noticeable dimension and texture to it.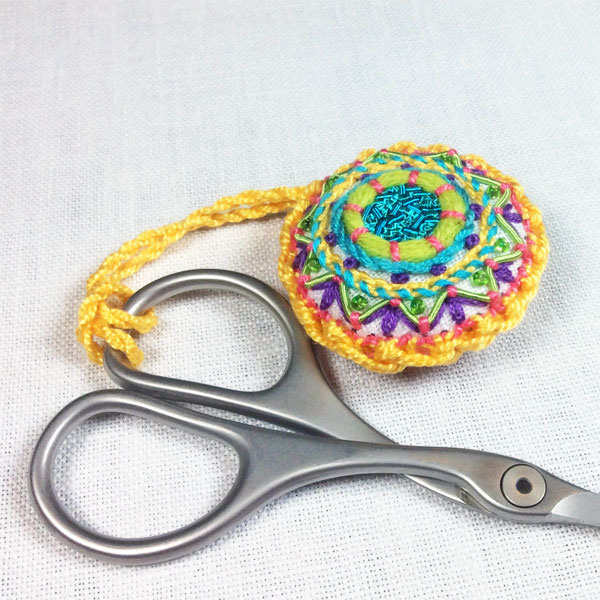 Now that we've looked at how to add dimension to create textured embroidery by choosing specific threads and considering their fiber, twist and weight, and we've chatted about using other materials like specialty threads, fabrics, beads and ribbons on your projects, we're going to work our own little piece of textured, slightly dimensional embroidery.
In my next post on dimension and texture, we'll incorporate all we've learned into one finished item, the Fiesta Fob pictured above. Be sure to join me!