Text is all the rage right now! No, this is not a reference to the highly popular act of communicating via cell phones. I am talking about actual words! You don't have to look far to come across artwork of various types that are covered in words and typography, even in the quilting world.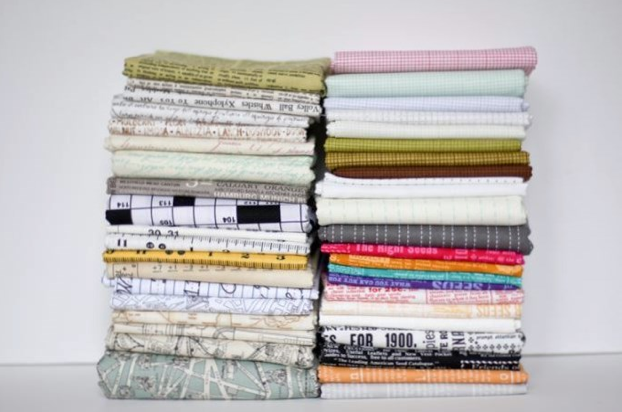 Photo via Jeni Baker
One place to find an abundance of printed text is on fabric.
Words, phrases, definitions, numbers, math equations, recipes and maps are just a few things that you can find! Oftentimes these fabrics are printed with black ink on white fabric, but a variety of colors can be found if you look hard enough. Low volume fabrics are very common as well. These are the ones that you see that are very muted, and they tend to be predominantly white, ivory, cream or light gray with small pops of color.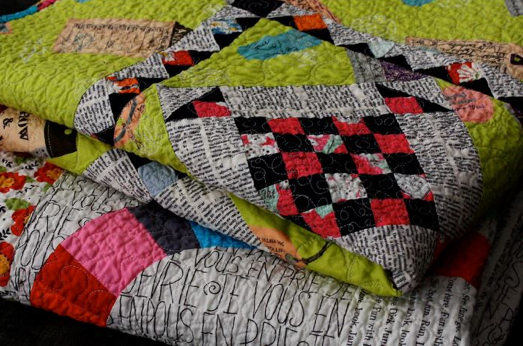 Photo via Flickr member Silly Lil' Doe
Text fabrics can be used just like any other printed fabric. One common way to use text prints is in place of a solid background fabric. This adds a unique and contemporary touch to any pattern. Check out the perfect examples in the photograph above. Flickr member Silly Lil' Doe livened up her Checkerboard and Single Girl quilts by choosing a variety of text fabrics for backgrounds rather than a plain solid.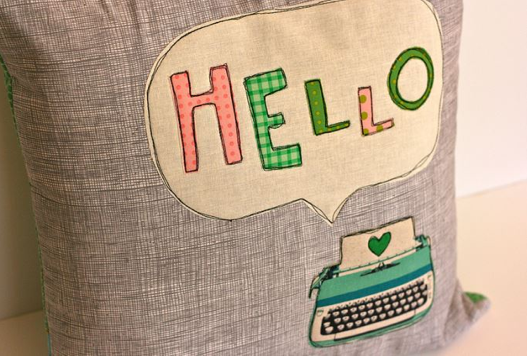 Photo via Amber Carrillo
Another way to add text to a project is by creating actual words and phrases within the quilt.
Do you have a favorite song or quote? Quilted projects of all types become very meaningful and significant when special phrases are used. One common way to do this is through appliqué. Letters are cut from fabric, then fused and attached through raw edge appliqué. Amber of One Shabby Chick, who created the pillow above, is known for her adorable word pillows. You can see more of them on her Flickr page.

Photo via Kaye Prince
Word quilts can be a bit labor intensive, but the finished result is stunning. In these quilts, the letters are formed with the help of templates. Once they are all complete, they are sewn together into rows to create the desired words and phrases. There are many pieced alphabet templates available.
Kaye Prince used the Refrigerator Magnets Quilt Blocks pattern by Bluprint instructor Elizabeth Hartman to create her quilt, pictured above. In the pattern, Elizabeth thoroughly describes her unique piecing process that uses freezer paper templates. Unlike conventional paper piecing, the templates are not destroyed during the sewing process. This means they can easily be used multiple times!
Another popular pattern for pieced letters is The Proverbial Quilt by Denyse Schmidt. Not only does this pattern include directions on how to create each letter, but you will also learn how to sew them together into a masterpiece.
What do you think of text fabrics? Have you ever created a text quilt?