While looking through some baby photos dated from 1965, I noticed some interesting charms that looked like tiny bells on baby shoes. I asked my mother-in-law about them, and she told me they were gadgets that kept toddlers' shoelaces from coming untied. That was the inspiration behind these sweet embroidery embellished white tennis shoes.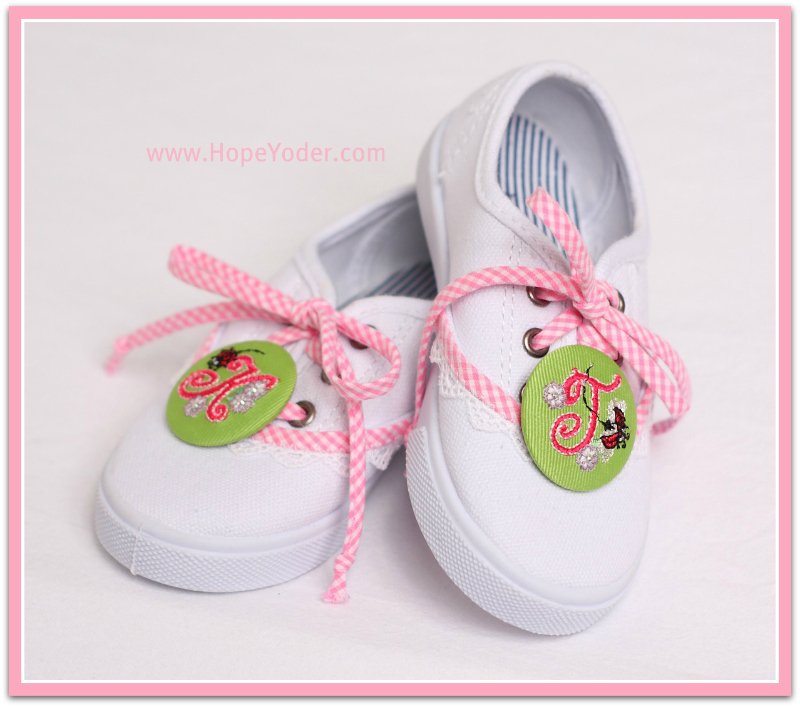 While it's very difficult to embroider on shoes, you can still transform an ordinary pair of sneakers into something sweet by adding some pretty buttons and a little lace trim.
Materials needed:
Directions:

Step 1:
Remove the shoelaces from the purchased shoes.

Step 2:
Completely remove the seam allowance from Victorian trim. Machine set up: 75 needle, 60wt white cotton thread, bridging stitch or small zigzag, and an edge joining foot.

Step 3:
Place the spaghetti bias on one side of the flange of your edge joining foot and the Victorian trim on the other side. Using a bridging stitch or a small zigzag (L=2mm, W=2mm) to join the Victorian trim to the spaghetti bias. You may need to adjust your stitch length and width.

Step 4:
Turn under a scant ¼ inch on one end of the bias trim.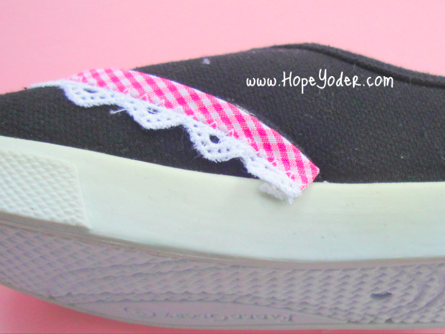 Step 5:
Starting at one side of the shoe, place a small amount of Fabri-Tac along the seam of the shoe. Work in 1″ increments. Align the folded edge of trim to the toe seam at the sole. Press into place. Run another inch of glue and continue adhering the trim along the toe seam. When you get to the other side of your shoe, cut the trim so you have a scant ¼" to turn under, making sure that you end at the base of the sole.
Repeat for second shoe.
Allow to dry for about 30 min.
Step 6:
Embroider two Button~Ups Ladybug monograms on 3″ grosgrain ribbon. Make 1 1/2″ ponytail buttons, using 1 1/2″ Button~Ups Fabric Button Cover Machine or plain sew on buttons from a traditional covered button kit. Thread one monogrammed button onto the spaghetti bias.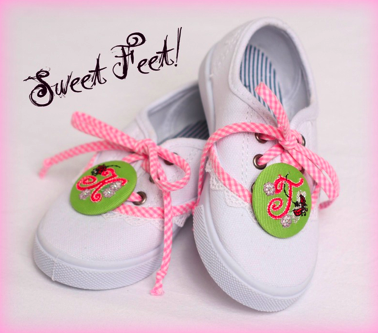 And that's all there is to it!
If you like this idea, you might also enjoy my embroidered ribbon switch flops tutorial.
Will you try this fun and easy project?