It's not a knit-along without lots of tips and tricks to go around! Make your Tealeaf Sweater a little smoother sailing with some smart hacks from Bristol Ivy, the knitters of Bluprint and our whole knitting community.
1. Corral your yarn in a sock!
The Teleaf Sweater does use quite a few skeins, and if you don't contain them, it's only a matter of time before they're a tangled mess. Our product manager Mary has a great solution: Keep your skeins in a (clean) sock! The sock makes sure your skein doesn't unravel or roll away.
2. Wind it all at once.
Nothing slows you down like not having your yarn at the ready! Before you even cast on your swatches, get all your yarn wound into balls, like knitter @vanessaknits did. That way, when you need to add new yarn, you don't have to break out your swift and winder, too.
3. Try a yarn bowl.
Another option for keeping your yarn in check: Put the skein you're working with in a yarn bowl. Bonus points if yours is as pretty as knitter @phwhite19's.
4. Consider a contrast yarn.
After knitting her lace swatch in a hand-dyed yarn, our knitting editor Stephanie decide she didn't love how it looked. She had a genius idea: She's knitting the lace and pocket sections in a solid color and using her hand-dyed yarn just for the stockinette body. We think it's going to look SO unique!
6. Switch your skein each row.
Speaking of hand-dyed yarn, if you're using a speckled yarn, hand-dyed yarn or a few skeins that are from different dye lots, you can make the coloring look smoother with this trick from our yarn guru Lindsey. At the end of each row (or every other row), switch to a different skein. That way, your colors will blend much more smoothly.
7. Get yourself an interchangeable needle set.
A set like this will come in handy long after you've bound off the Tealeaf Sweater! But for this knit-along, you'll need at least three sets of needles, so a combo pack that has everything you need will be your best friend.
8. Use stitch markers all across the lace.
The rows of lace in this sweater are long. Losing count is practically a given. That's why many of us put stitch markers between every repeat (or every six stitches). That way, it's easy to notice if you dropped a stitch or did an extra yarn over somewhere.
9. Swap the lace for stockinette

Need to catch up, or worried about falling behind? Skip the lace — we won't tell! You can follow in the footsteps of our quilting editor Linda, who knit the bottom of the sweater in stockinette. You can do the same by following this pattern variation:
Work to Body line 7 as written. Switch to largest needle.
Work even in Stockinette stitch for 5 3/4″, ending with a WS row.
Separate for Pockets: K 6 (6, 12, 12, 12, 18, 18, 24) st, place marker. [p1, k1, p2, k1, p1] 5 times, k until 36 (36, 42, 42, 42, 48, 48, 54) st remain. [p1, k1, p2, k1, p1] 5 times, place marker, k to end.
Work as written from this point. Your est. pattern is stockinette.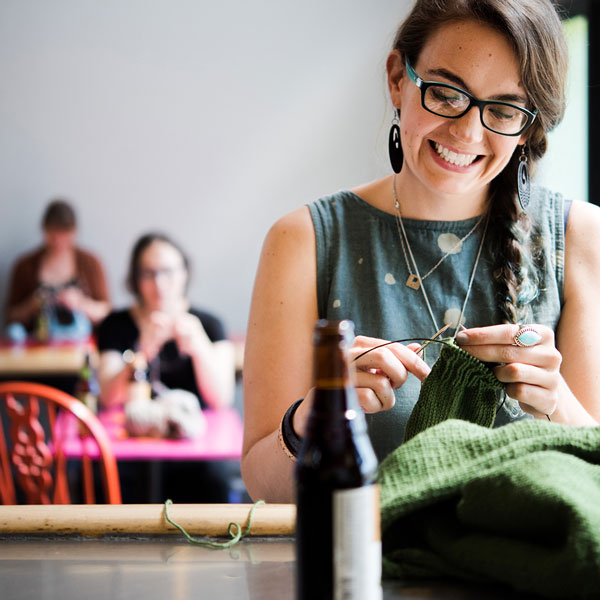 Let's #SweaterTogether
Find out what our Tealeaf Sweater Knit-Along is all about. We hope you can join us!Check It Out