Go back to school in delicious fashion with these custom teacher cake pops! They're a great back-to-school gift for teachers and staff and a wonderful way to set the tone for the new school year.
These teacher cake pops are easy to make and allow you to convey special messages to those special people on campus. Let's get started!
Follow along to learn how to make these teacher cake pops, just in time for Back to School!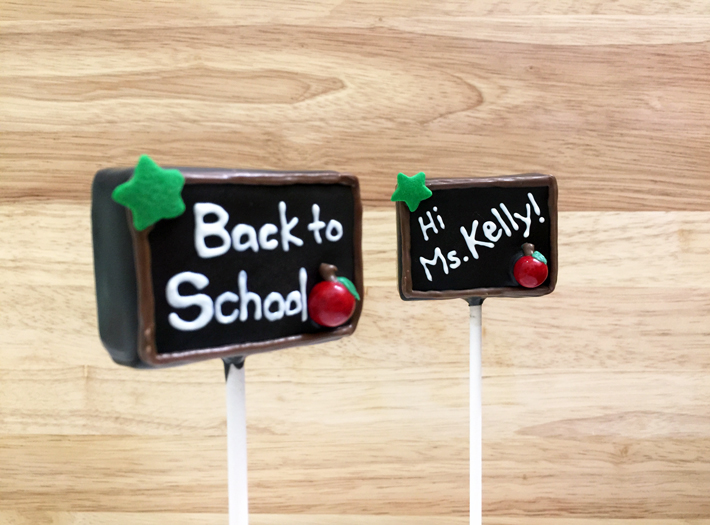 Materials:
Cake pop dough
Black candy coating OR navy blue + dark brown
Light brown candy coating for piping
White candy coating for piping
Green candy coating for piping
Red Sixlets candies
Wilton jumbo stars sprinkles
Rolling pin
2 cookie sheets
Lollipop sticks
Toothpicks
Ziplock bags
Wax paper
Step 1:
Line your work surface with wax paper and use this cake pop dough tutorial to create cake pop dough that's easy to shape.
Roll dough into ¾ inch thickness by using two upside down cookie sheets, placed along the sides of the dough, as a guide for your rolling pin. They are exactly ¾ inch high. Make sure to place wax paper in the space between. Roll out small amounts of dough at a time.
You can also use other objects to create a ¾ inch height guide. If they are not food-safe materials (such as piles of magazines or books), wrap them in plastic wrap before using.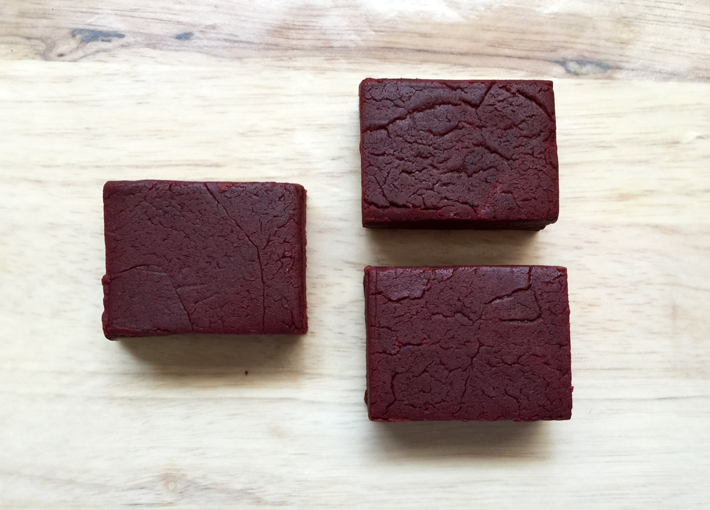 Step 2:
Use a sharp knife to cut 2"x 1½" inch rectangles. Place rectangle pieces on a wax paper-lined cookie sheet. Collect dough scraps, ball up and repeat steps 1 and 2. Refrigerate all pieces.
Step 3:
Melt the black candy coating in a small microwave-safe bowl. If black candy coating is not available in your area, you may substitute equal parts navy blue and dark brown. This combination yields a dark slate gray, almost black, color.
For tips on melting and thinning candy coating, please refer to this dipping tutorial.
Step 4:
Remove cake pieces from the fridge and let sit at room temperature for a couple of minutes as you gather your materials. We want to take the chill off of them before moving forward.
Gather the lollipop sticks and red Sixlets. Take a Sixlet and use it to create a divot on the bottom right corner of each rectangle. You'll want to push it in about half way. This will create a space and guide for it as we will place the Sixlets in the corners after dipping.
Step 5:
Dip a lollipop stick, about ⅓" into the melted coating, then push it in until it's about halfway into the rectangle. Make sure the divot is in the bottom right corner. Repeat this step for the remaining pieces. Let dry completely.
Step 6:
Dip each cake pop into the black candy coating. Carefully and gently shake off the excess coating. Use a toothpick to pierce any air bubbles and give the cake pop a gentle shake to even out the coating after piercing any bubbles.
Place a red Sixlet in the divot and hold in place if necessary for a few seconds before placing the cake pop on the stand to let dry completely.
Step 7:
In separate ziplock bags, heat white, light brown and green candy wafers in the microwave in 15-30-second intervals at 50-percent power. We will use these colors to pipe on the finishing touches by snipping a tiny piece off the tip, cutting more if necessary.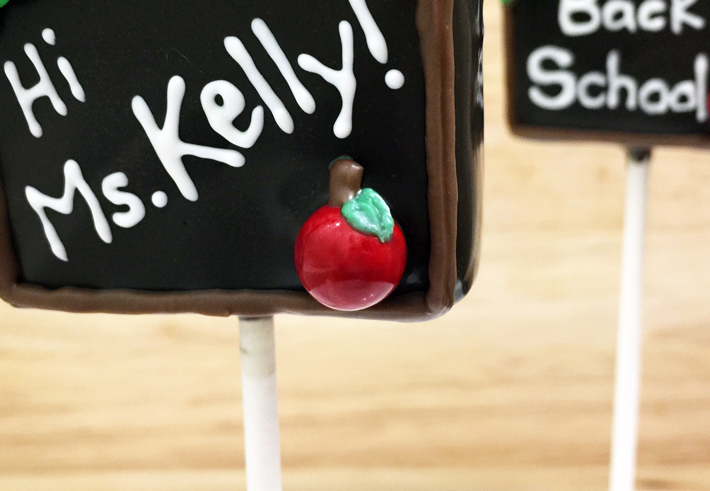 Step 8:
Once the cake pops are dried and set, place them on a clean wax paper-lined surface for piping. I recommend starting with using the light brown candy coating to pipe the wood border and apple stem. While the border is still wet, add the star on the upper left corner. Then pipe the green apple leaf and finally your personalized message in white.
Don't forget that you can decorate and write a message on both sides! Add a border along the back side and add another star on the bottom right corner! What will your message say? I'd love to know, leave a comment below!