Do you want to learn how to knit in the comfort of your own home? I love teaching myself creative hobbies at home without the pressure or cost of taking a class.  Here is a list of free knitting resources I've found that may help you figure how the "knit one purl two" scene and start making your own hand knit gifts and accessories!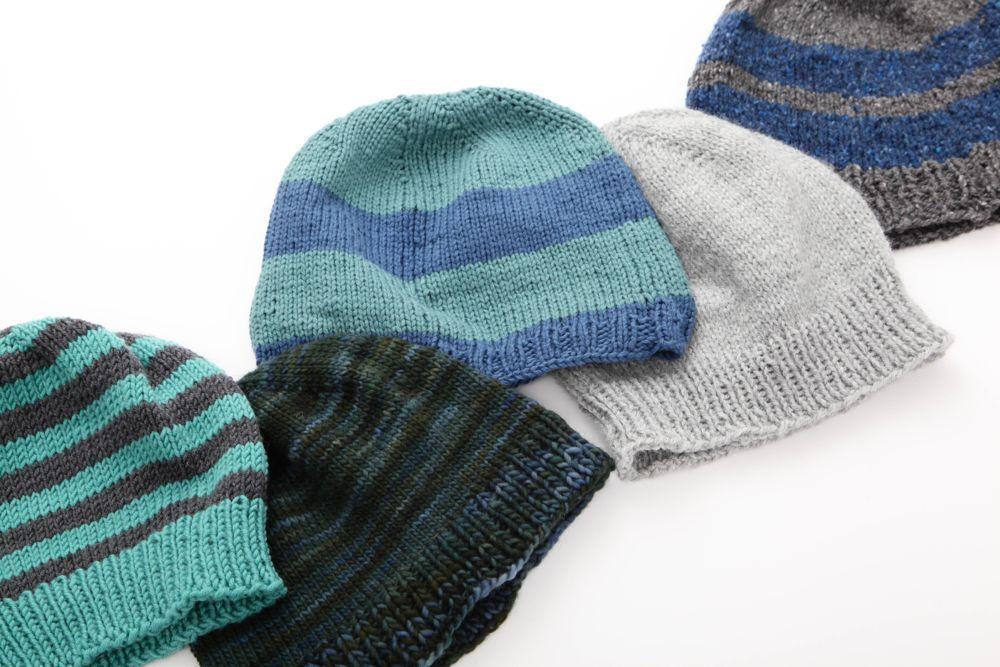 Swatch Hat from the Bluprint class Know Your Yarn: Choosing the Perfect Yarn Everyhtime
Choosing a yarn, knitting needles and pattern
Some beginner knitters are inspired by the yarn first, and other beginner knitters are inspired by a pattern. If you've never knit before, a good way to start is to choose a yarn from your local yarn shop that is beautiful to you and knit it into a simple scarf.
The owner of the yarn shop can help you read the label and choose the needles that you will need to knit. But if you want to learn how to read a yarn label from home this is an excellent video that will walk you thru that process, as well as explaining the care instructions of the yarn.
Casting on
Once you've selected your yarn and have the needles that it recommends on the label, you will need to cast on the yarn to the needle to begin knitting. Assuming you have selected a yarn that you are knitting into a simple scarf, here is a tutorial that you can follow for casting on. There are many different ways of casting on, and different knitters prefer different methods. I prefer this method "the wrap cast on" or "the loop cast on," which you can learn from this video on how to cast on and bind off.
The knit stitch
If you're making a simple scarf, all you'll need to learn at this point is the knit stitch. Knitting every stitch on every row will create a fabric called garter stitch. This fabric has rows of mountains and valleys and lays flat, which makes it perfect for beginner projects — like a scarf!
Learn the garter stitch with this free downloadable guide.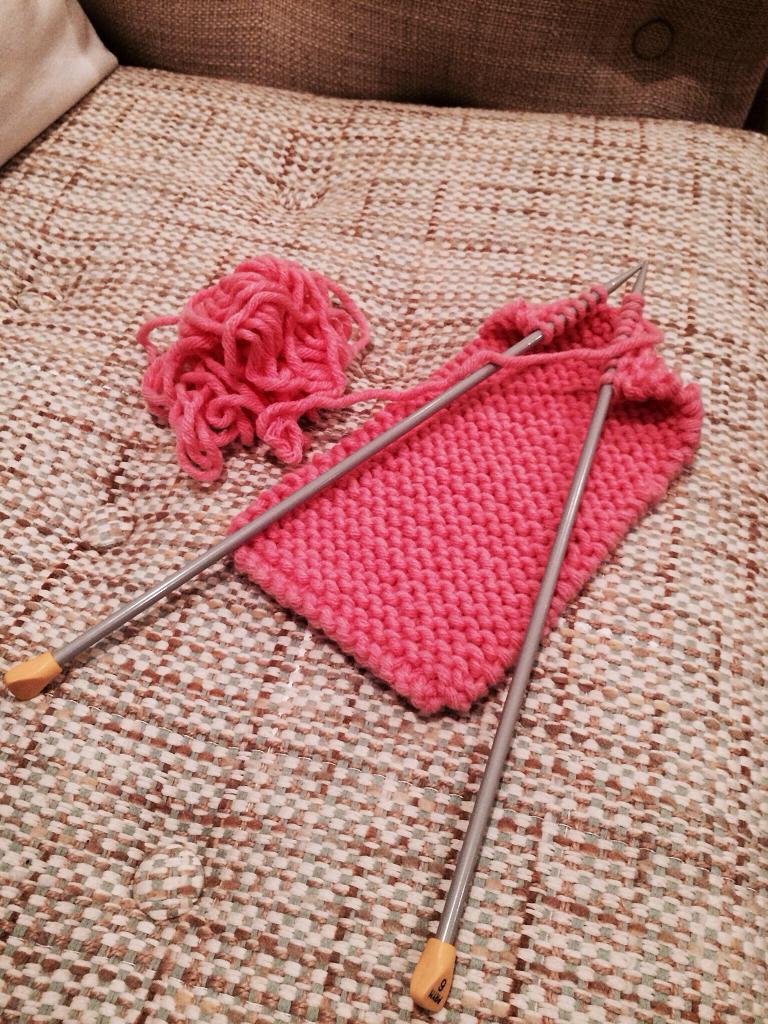 Garter stitch via Bluprint member Laila Alkassabi
The purl stitch
The second stitch that most knitters learn is called a purl stitch. A purl stitch is a backwards knit stitch. Most sweaters are made with all the stitches knit on the front side of the fabric, and all the stitches purled on the back side of the fabric. When a fabric is made of one side knit and the back side purled, it's called stockinette stitch.
Stockinette stitch tends to curl on the edges, so it's great for knitting hats. In the photo below you can see how the fabric is made of all letter "Vs" – those are knit stitches all in front. The inside of the hat would just look like bumps (or purls!) and the brim of the hat the knitter knit a pattern of knit stitches and purl stitches to create a ribbed effect. If you're making a basic scarf it's best to leave the purling lessons for your next project.
Two methods of knitting
There are two methods of knitting, and different knitters prefer different styles. Whatever works best and is most comfortable to you is the "right" way for you to knit. Below are the two different knitting methods, try each one and see which one feels most natural to you. The results will look the same. You can read more about the differences between English and continental knitting here.
English knitting (aka "throwing") or American Style: where the yarn is carried by the right hand
Continental knitting (aka "picking") or German Style: where the yarn is carried by the left hand. Some people say this method is faster. Here's some helpful tips on continental knitting.
Binding off
As with all the steps above, there are many different ways of binding off. Some binding off methods are stretchy, some leave a chain that makes it easy to seam (for raglan sleeves, or quilt squares) but since we're focusing on the simplest methods, here's a step-by-step method for binding off that's great for beginners.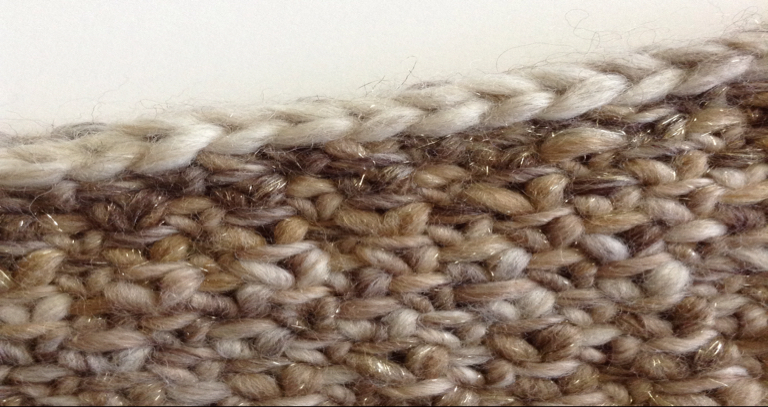 Bulky Cowl via Bluprint member ivillarreal1997 from the Bluprint class 40 Ways to Cast on & Bind Off
I hope that this collection of tutorials has helped you find the easiest methods for casting on, knitting and binding off so you can teach yourself how to knit from home without getting overwhelmed by all the different methods that more experienced knitters prefer. Once you master these basics, feel free to experiment with other methods to find what works best for you!
More FREE mini-classes you'll love!
Happy Knitting!
Knitting Stitches You Need to Know