Being British ourselves we love a good cup of tea, and we also love tea party cake designs and confections! Afternoon-tea-styled parties are always fabulously quaint ways to celebrate any event, from birthdays and anniversaries to a thoughtful get together just to say thank you.
If you're planning a party, read on for some sweet tea inspired cake and cupcakes!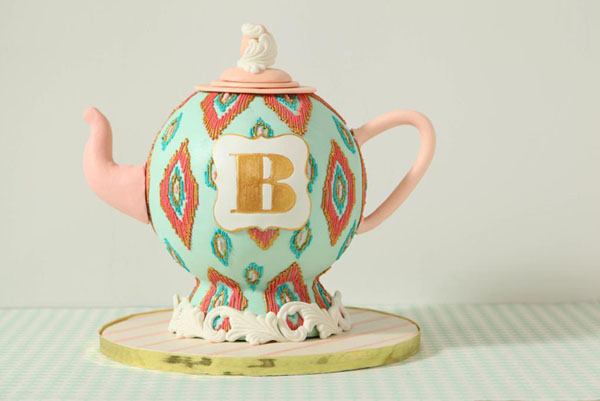 Photo via Bluprint instructor Mary Maher
Bridal show teapot cake
This is such a striking cake, incorporating some unusual colors and design elements all pulled together to create a wonderfully lovely, quirky end design. The monogram painted plaque is such a great way to add a personal touch to this cake. As well as hand painting a bold initial, we love the idea of including an edible image of the lucky recipient — especially when it's finished with a royal icing pearl border.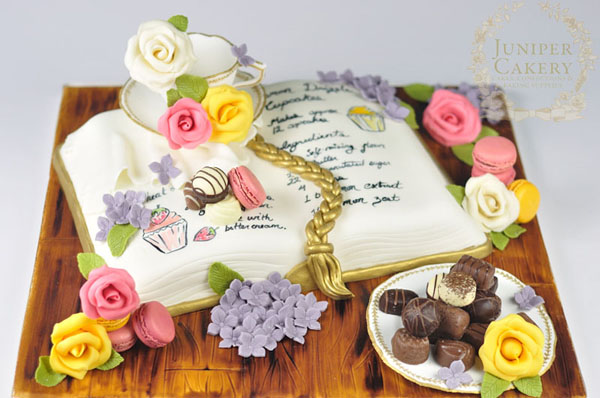 Photo via Juniper Cakery
Recipe book and tea cake
This was a large cake that we created for our own head baker's birthday party. We perched a gum paste teacup edged with gold atop of a recipe book cake. Then, we adorned the cake and board with lots of delicious treats and sugar roses!
The side plate placed at the front of the cake was also created using gum paste and edible gold paint; adding elements such as an edible teapot or teacups are a lovely way to add height, drama and interest to an otherwise flat cake.
To discover how to create sweet sugar roses why not sign up for Nicholas Lodge's The Ultimate Sugar Rose class today!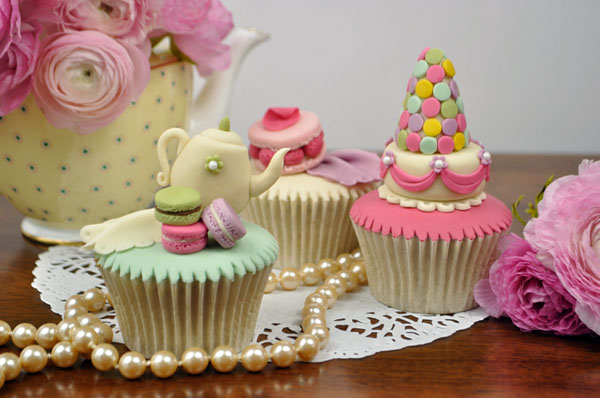 Photo via Juniper Cakery
Parisian tea room cupcakes
We created the above Parisian tea room inspired cupcakes to illustrate how to tint fondant with a vintage inspired palette! Adding adorable tea themed fondant toppers for a collection of delicious cupcakes is a great way to wow guests at a party — people love to ooh and ahh over tiny treats!
Why not read our top tips on tinting fondant to help achieve vintage or antique inspired colors for your next cake!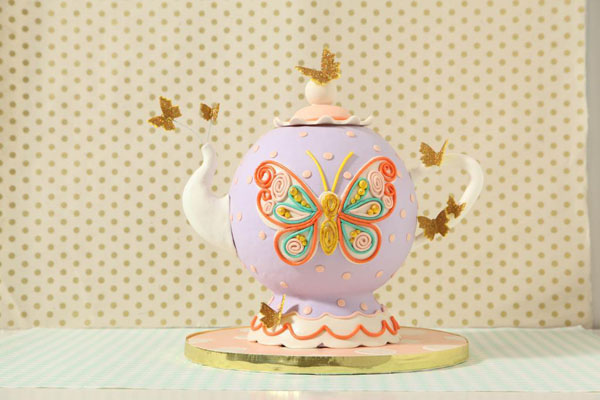 Photo via Bluprint instructor Mary Maher
Butterfly birthday
This sweet teapot cake is perfect for a fun spring or summer birthday party. We love the bold use of fondant quilling used to add detail to the main butterfly motif. Another fabulous detail on this cute cake is the scallop detail at the teapot's base and along the fondant lid.
Mary Maher's A Cake for Every Occasion is the perfect class for you if you'd love a fun sculpted cake that can be easily redesigned for lots of events and parties!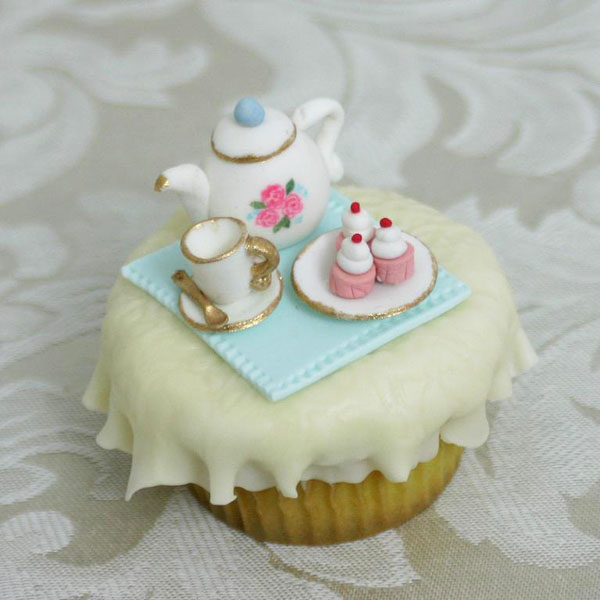 Photo via Bluprint member Cdangelo
Tea party cupcake
Using a flat cake or cupcake as a "table" to drape an embossed fondant table cloth over is such a cute and fun idea. We love this cupcake and the teeny tiny fondant tea set and cakes perched atop of it! The miniature gold-painted spoon is a particularly lovely detail too.
Why not enroll in Sheryl Bito's Tiny Cupcake Toppers to learn how to create some adorable fondant dessert cupcake toppers!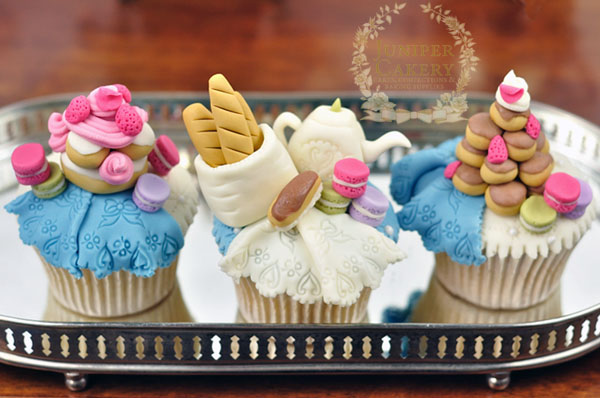 Photo via Juniper Cakery
Pâtisserie and boulangerie-themed cupcakes
We designed this little collection of Parisian bakery themed cupcakes exclusively for Bluprint. Each cupcake incorporates fine Parisian delicacies from baguettes and macarons to a tower of profiteroles and a tea pot ready to pour out a relaxing cup of tea!
Why not check out this free French cupcake topper tutorial, and create some dainty French, tea-themed cupcakes today! They'll certainly be perfect for any Francophile with a sweet tooth.
With so much sweet inspiration for creating fun, tea party cakes, why not begin one for your next project today? You might even love creating your own tea-inspired cakes so much, you may never want to stop!
How would you create a tea party inspired cake or cupcake?