Tall cakes are inspiring, impressive, and command your attention by reaching for the skies without toppling over. But how are very tall cakes made? Let's explore.
On a small scale, tall cakes can be successfully constructed by simply layering more layers than usual on your cake.
Take, for example, this beautifully decorated cake by Enchanted Icing. It's not a skyscraper, but it is noticeably taller than a regular cake.

Photo via Enchanted Icing
This is called a "double barrel" cake, which means that it is two separate tiers of cake. However, instead each layer graduating in size, it is made from two tiers of equal height. When stacked, separated by a cardboard round for stability, they resemble a very tall single tier.
The outer icing and fondant helps to stabilize the layers, too–but even so, don't jostle a cake like this, unless you want it to start resembling the leaning tower of Pisa.
From here, the art of the tall cake can get more complicated and intricate. Here are some gorgeous examples to get you inspired to make some architectural feats of cake of your own.
Fun and playful tall cakes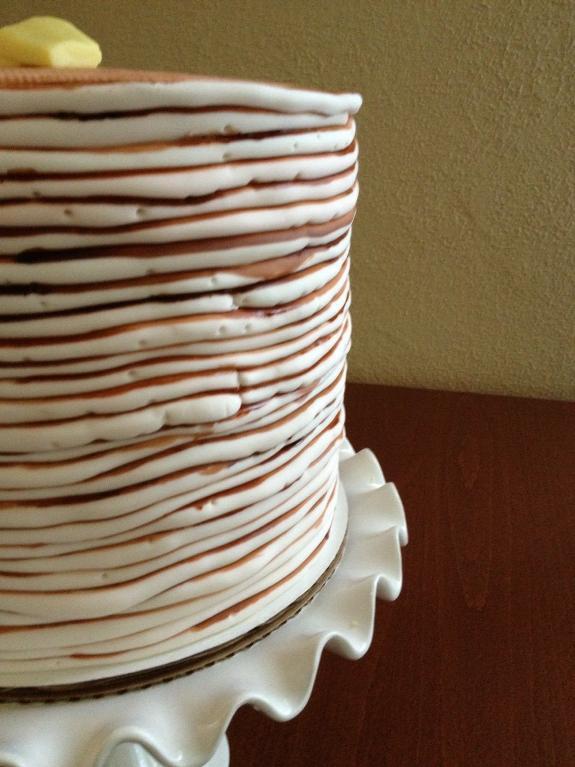 Photo via Bluprint member Sweetly Aimee
Stack of pancakes cake:
After taking the Bluprint course Basic Fondant Techniques, talented Bluprint member Sweetly Aimee was inspired to create this sky-high cake designed to look like a stack of pancakes. After baking and stacking a number of cake layers, a crumb coat was applied to keep the layers in place, and then long "snakes" of fondant were rolled and coiled around the cake. Then they were painted, on their edges, with a brown food coloring gel and vodka mixture, to give the color and textured effect of stacked pancakes from the side view.  A flat pancake made from fondant finishes off the effect on the top.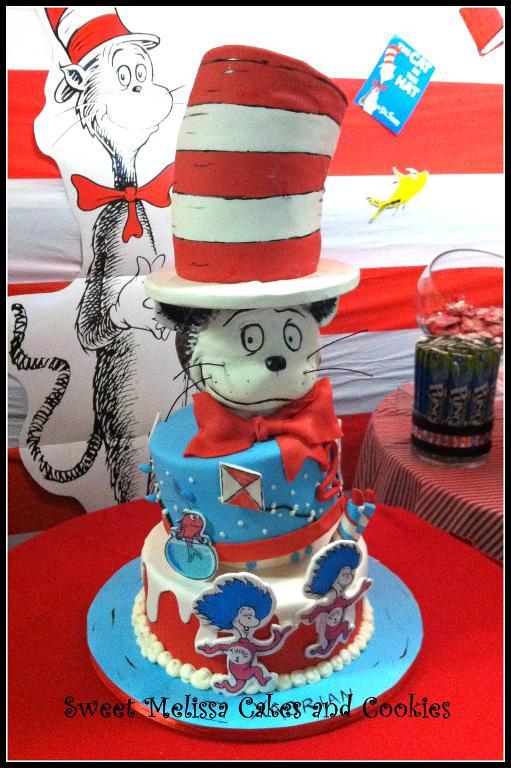 Photo via Bluprint member Sweet Melissa
Cat in the Hat Cake:
Topsy-Turvy Cake Construction was the Bluprint course that helped member Sweet Melissa to make a tall cake and add a stunning sculptural element to it. Cake and styrofoam dividers make up this intentionally off-kilter beauty, in which the hat alone is 12 inches tall!
Fancy tall cakes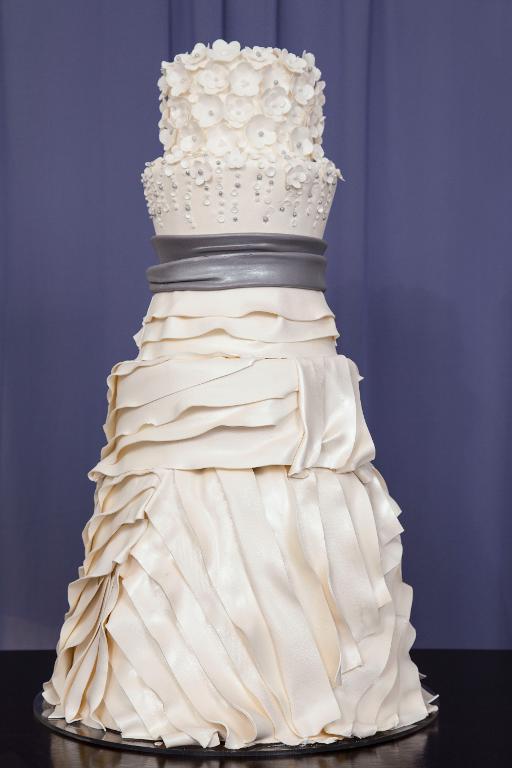 Photo via Bluprint member Rachael Teufel
Wedding dress cake:
The tall, slim silhouette on this wedding dress cake is the result of many layers of cake, stacked and carved into a pleasing silhouette. Secured by dowels, the layers are set in place with an artfully arranged layer of fondant ruffles and garnished with modeling chocolate detailing. This beauty is a featured cake in Bluprint course Cake Design Made Simple: The Wedding Dress.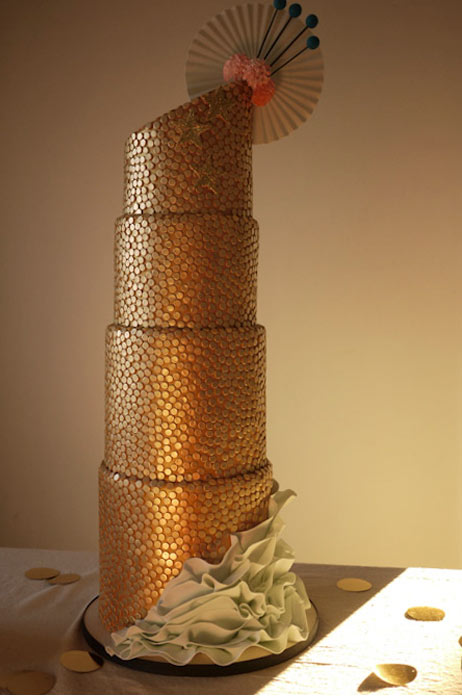 Photo via Charm City Cakes
Gold cake:
Tall doesn't have to mean plain. This glitzy, party-ready number is made using the double barrel method mentioned above, but the double-tall tiers are graduated with an assymetric top tier, for a skyscraping, avant garde, and overall glamorous effect.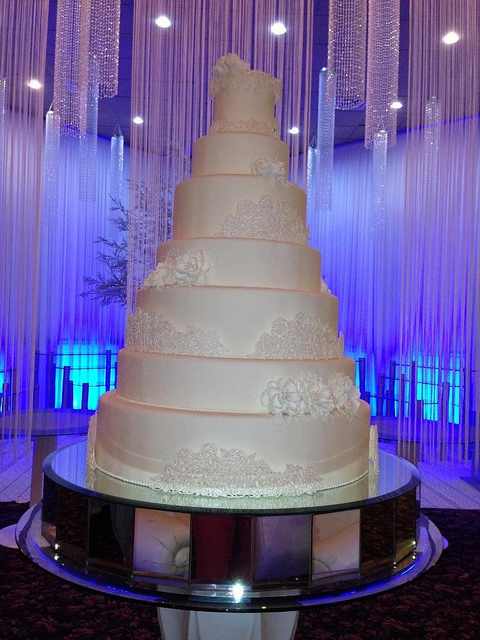 Photo via Bluprint member Ancidis
Big and tall wedding cake:
Bluprint member Ancidis sure took Bluprint course Vintage Cakes, Modern Methods to heart. This fondant topped cake is gorgeous– no doubt about it– with a romantic lacy pattern that is both classic and timeless. The thing that makes this cake awe-inspiring is its size: The bottom tier is 31 inches and the entire cake is over four feet tall.
A record-breaking tall cake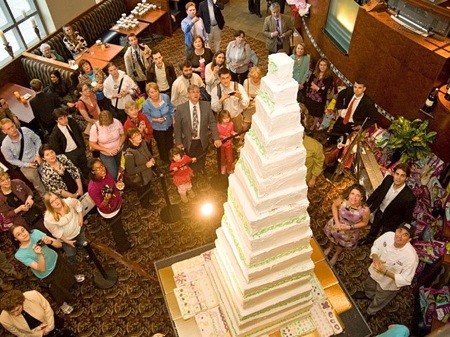 Photo via Culinate
World's tallest gluten-free cake:
In 2011, Jules Shepard baked the world's largest gluten-free cake. The supplies behind this 13-foot high cake? Among other things, 700 pounds of icing, 459 pounds of cane sugar, 40 feet of PVC piping, and 30 feet of 1/2-inch threaded rod for helping those cakes stay in place.
Come back to the Bluprint blog tomorrow for Wedding Cake Wednesday! We'll be taking a look at some beautiful monogram cakes.
How high was the tallest cake you've ever made?