When sewing garments, measurements are key. You'll need to know your measurements to buy the correct pattern and to purchase enough yardage to make your size. Your measurements will also help you get the best possible fit. And if you know your exact measurements you can easily compare yours to the pattern measurements. While commercial patterns are sized incrementally, most people aren't! For instance, my bust, waist and hip measurements all fall into different sizes. Knowing this before I start cutting, I can go with the largest size, which should fit me properly in the hips, and know that I will need to make alterations to the fit in the waist and bust.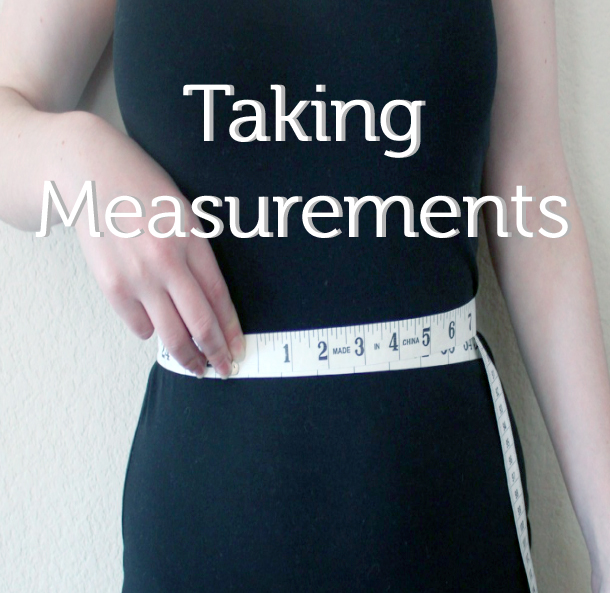 The best way to take your measurements is you have someone help you. It's pretty much impossible to take accurate measurements by yourself, and accuracy is key. If possible, take your measurements wearing only the undergarments you're most likely to wear with your finished garment. If that's not possible, wear close fitting clothes like a tank top and yoga pants. You'll need a piece of narrow ribbon or elastic, a flexible measuring tape and a retractable measuring tape. Write down your measurements some place you won't lose them. Unless your weight or muscle tone fluctuates frequently, you won't need to redo your measurements every time you start a new pattern. And if you haven't learned already, your pattern size will be much larger than what you would buy at the mall. Let's take a look at how to measure each area of your body for clothes.
Waist: Tie the piece of narrow ribbon or elastic around your waist, but don't tie it too tight. Move around a bit until it finds your natural waist. Measure your waist over the top of the ribbon. Hold the measuring tape snug, but not tight. Record the measurement but keep the ribbon on for the rest of the measurements.
Bust: Measure around the fullest part of your bust. Then measure your high bust (under your arms, around the widest part of your back, about 2″ above the full bust). Commercial patterns are sized for B-cups, so if you have more than a 2.5″ difference between your bust and high bust measurement, you'll need to adjust patterns with bust darts.
Hips: Measure around the fullest part of your butt and hips. This is usually about 7-9″ below your natural waist.
Back waist: Measure from the bone at the back of the neck to the ribbon at your natural waist. If you are having a hard time finding the bone, bend your head forward and the bone will be more prominent.
These are the basic measurements you need for a commercial pattern. But while you have the measuring tape out, you might want to measure yourself for skirt length (from your natural waist to wherever you like your skirts to hit), your inseam (use your favorite pair of pants as a guide), and sleeve length (with your arm bent, measure from your shoulder to your elbow and your elbow to your wrist).
Let me know in the comments if you've taken your measurements and if it's helped you get a better fit!