We've all been there: you want to showcase the very best image of your homemade scarf in order to sell the pattern online. Or, you've just whipped up the most beautiful fruit tart and want to snap a shot to share on Facebook. You know you need a good photograph, but all you have is an iPhone!

Ashley Rodriguez, creator of the award-winning food blog Not Without Salt, also writes for Craftsy's Food & Cooking blog. She is an accomplished cook, baker and photographer, beautifully documenting her creations via photography. Though she usually shoots with a Canon 5d Mark II or a Canon A-1, Ashley is skilled at capturing the essence of dish with only an iPhone. Below, she shares tips with foodies and crafters for taking stellar shots using only your smartphone.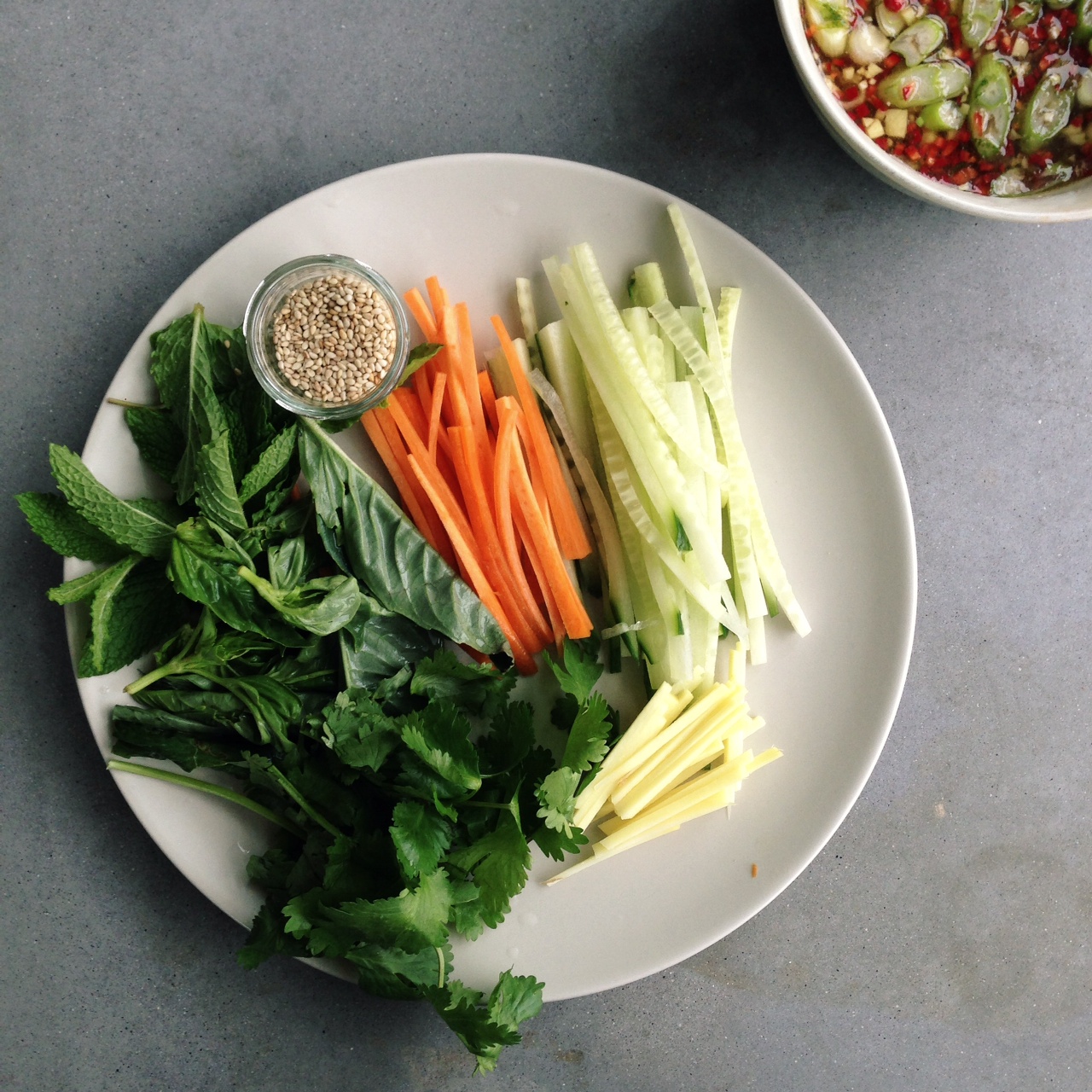 Take better pictures with your iPhone: Tips & Tricks
1. Never leave home without it.
You can't take good iPhone photos without your iPhone. So keep it close and keep it handy. For me, this means I usually have my phone in my back pocket, even if I'm carrying a purse. That way I can get to it quickly. Whether it's a beautifully-plated dinner or a stunning quilt at a local quilting retreat, I won't miss the moment if my phone is nearby.
This is also why I utilize the quick swipe function to open the camera app. My phone is locked, so my kids don't have access to it all the time. With the quick swipe, I can quickly open my camera and take pictures in a matter of seconds.
2. Find the light, wherever you are!
This is the number one rule of photography in general. The quality of your light will directly affect the quality of the image. Take the time to find the light. For me, this is most often natural light.
When I'm planning to shoot my meal, which I often am, I'll find the seat nearest to the window in a restaurant. If you are shooting your latest knitting projects at home, try and find a spot close to a window, or even consider taking the photo outside. After all, nature provides a beautiful background for showcasing your work!
Note that more light doesn't equal better light; it's really about the quality. If possible, turn off all overhead light and just shoot next to a big window. Use shadows and highlights to add interest to the photos and to help create an interesting composition. If shooting during the day is out of the question, I recommend buying an inexpensive hood light with a natural bulb.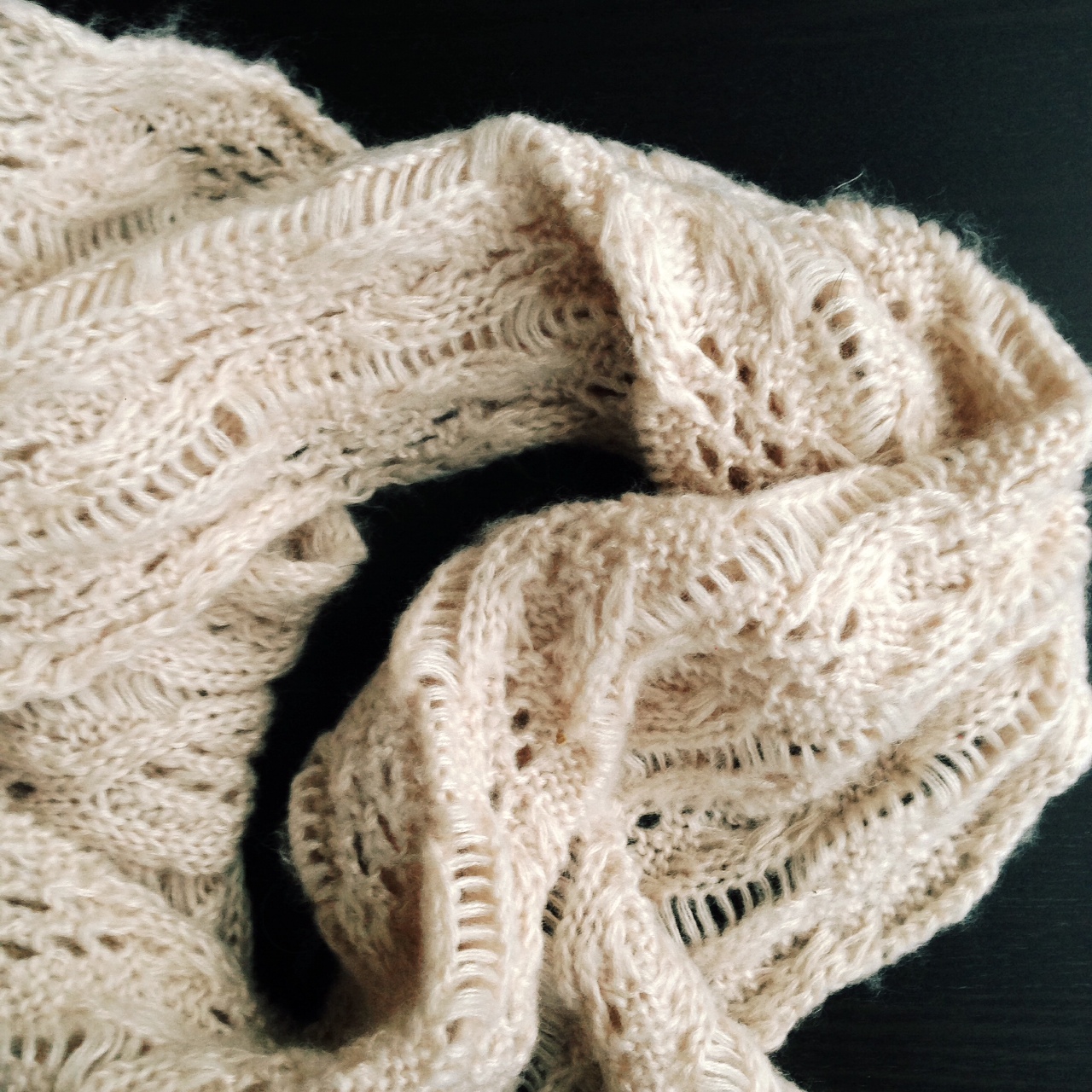 Lighting was very important for catching the details in this scarf
3. Keep it steady.
Sharp, clean images are taken by a steady hand. Hold the iPhone as you would a camera, with two hands. Keep the phone close to your body, where you have the most stability. There are small tripods available that you can purchase for the phone, but those are hard to use in a fast-moving, just-grab-the-shot situation.
I recently learned the picture is taken after you release your finger from the "shutter" button, not when you press it, so keep the camera steady throughout the entire process. Having more light on the subject will also help to get a sharp, crisp image. (You can also boost the photo's sharpness in editing apps).
4. Edit, but not too much.
Whenever I teach photography classes, I remind my students that editing is like makeup. You want someone to say, "You look beautiful!" As opposed to, "Your makeup looks great." The same is true in photography. The best compliments are, "Wow. That's an amazing photo." Instead of, "The post-processing on that image is really great." The editing should be subtle, serving to enhance the photo, not distract from the subject.
Lately I've been using the Afterlight app to do my editing. Sometimes, I won't even use a filter. If I do, I tone it way down. Beyond that, I'll maybe bump up the highlights, sharpness and contrast, or play around with the tone. I try to make fairly subtle adjustments.
I stay away from the Instagram filters, although the latest update now has the feature to decrease the intensity of the filter, which could help.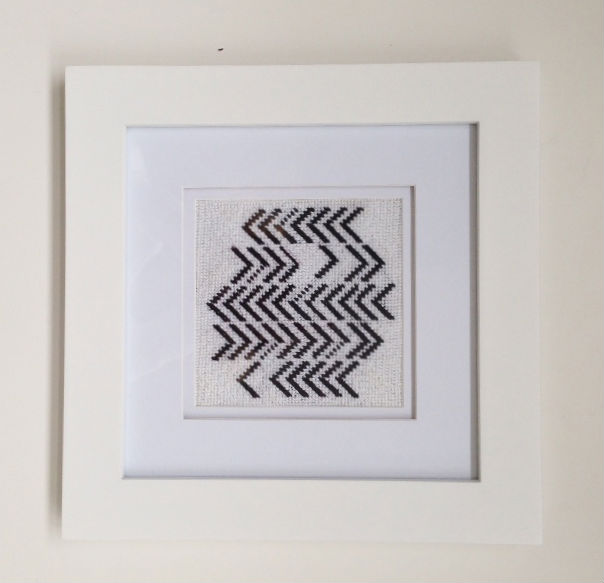 Image via Deborah Baron
5. Remember composition.
Composition is the process of leading the viewer on a journey through the image plane. There is a central focus; from there, lines, shadows and light move the viewer's eye in a pleasing way around the image and then easily off the photo.
It's typically more interesting to keep the focus of the image off-centered. Using the grid lines on your phone will help you be aware of the composition. Grid lines can divide the image into 9 squares. In art there is something called "the rule of thirds." The rule of thirds is a generally agreed upon principle that an image divided into thirds is more pleasing to the eye, and elements that fall on the edge of each third just look "right."
The best way that I've found to study and develop your skills in creating an effective composition is to study great artists and photographers who are gifted in this area.
In her class Just Shoot It!: A Product Photography Primer, Caro Sheridan provides in-depth instruction on using the rule of thirds to create visual appeal in your image. Her class, geared at crafters wishing to take better photos of their work, is a great place to start when becoming more familiar with shooting your projects.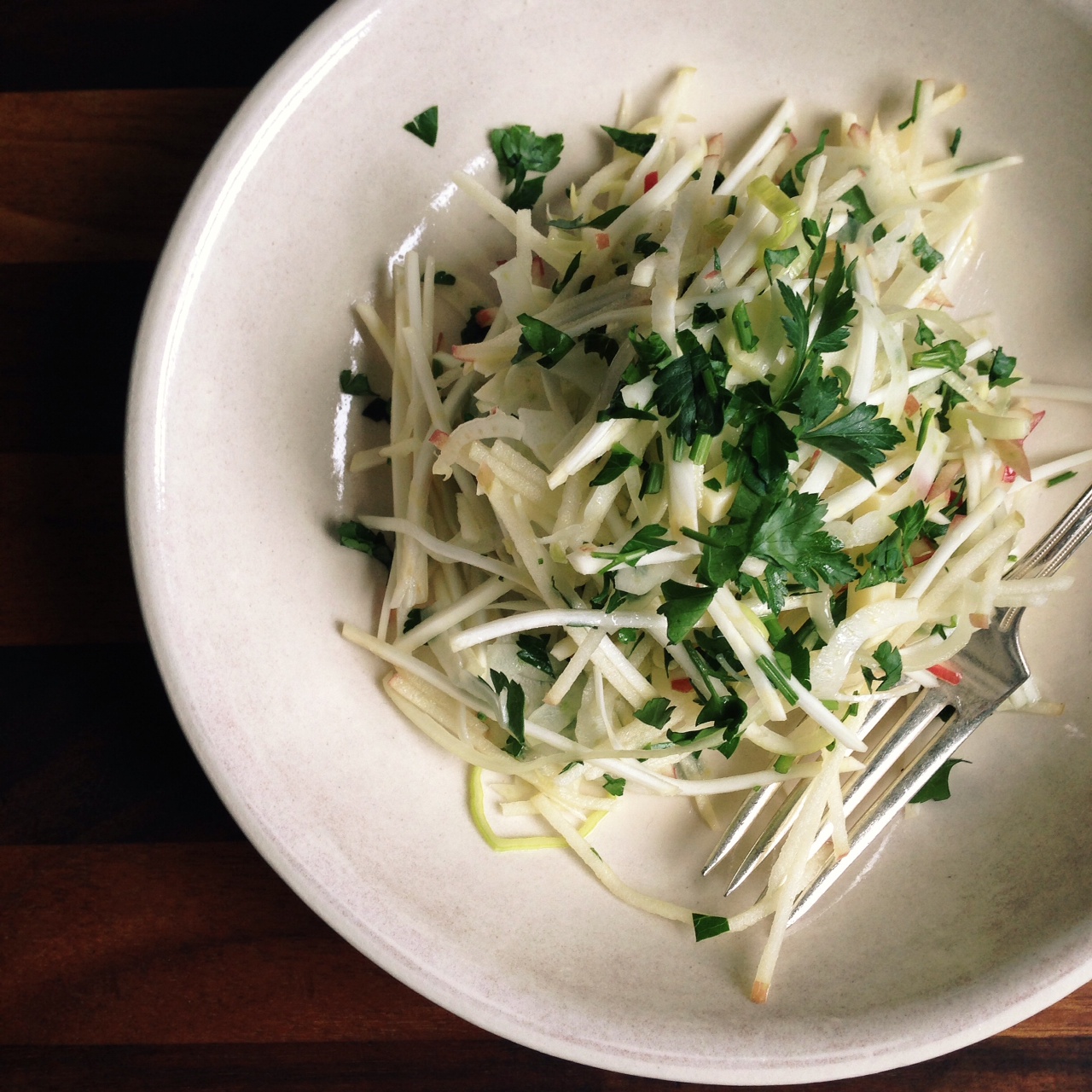 Notice how the subject in this image is just slightly off-center? That's the rule of thirds.
6. Keep it simple.
Don't overcomplicate the scene. If you're wondering if your image is too complicated, try removing something from the image and re-shooting it.
7. Keep it clean.
Are you having issues with the sharpness of your images? Try cleaning the lens on the camera. I know it seems really simple, but I've fixed so many photos by simply wiping the lens clean of the sticky smudges from kids' fingerprints.
8. Move your feet, not your fingers.
When you zoom on the iPhone camera, you get instant graininess. The better option is positioning yourself closer to your subject whenever possible. Minor adjustments can be made when you edit (like straightening the image) but most of your zooming should happen by your body placement. This is especially easy if you are getting a close-up of your craft or your dessert, as you can move yourself or your subject as needed to get the right angle.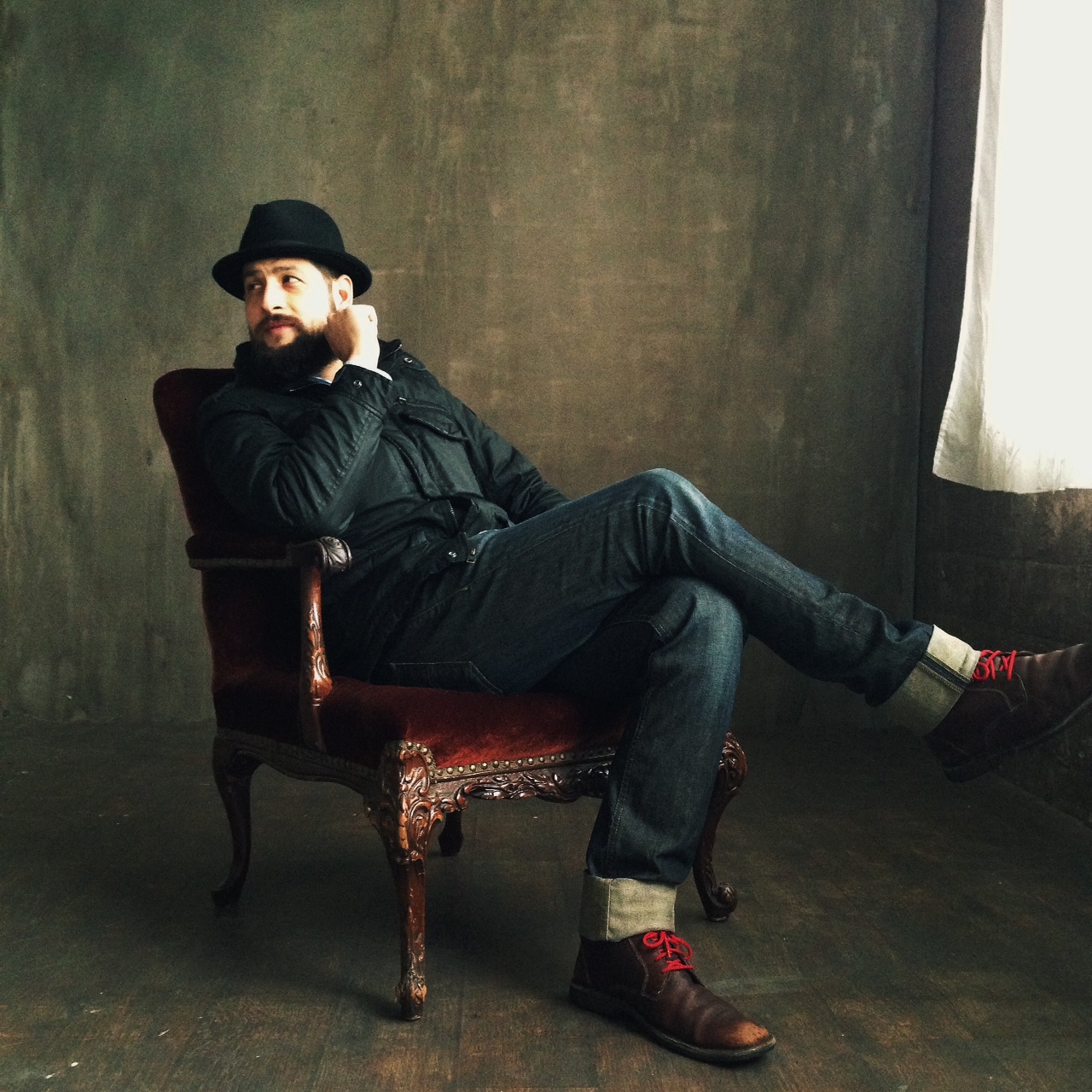 If you're taking a picture of a someone wearing a garment you've created, you can easily place your model in a good spot and move closer or farther to get the best shot
9. Don't shoot with the flash.
When it's really dark but I absolutely must have a photo, I ask a friend who also has an iPhone to light my subject instead of using the flash. The flash, I find, lights in all the wrong places, casting a green-blue hue to the image. Instead, download the app, JustLight, and use another iPhone (if possible) to bring the light in from the side and/or from a distance. You could also follow rule #2. Or, if you don't agree, go ahead and move on to rule #10!
10. Don't follow the rules.
So often my students want me to give them hard and fast rules. Photography, even iPhone photography, is an art, and the best art breaks the rules sometimes. These are my tips, but I give you full permission to break them whenever the need arises.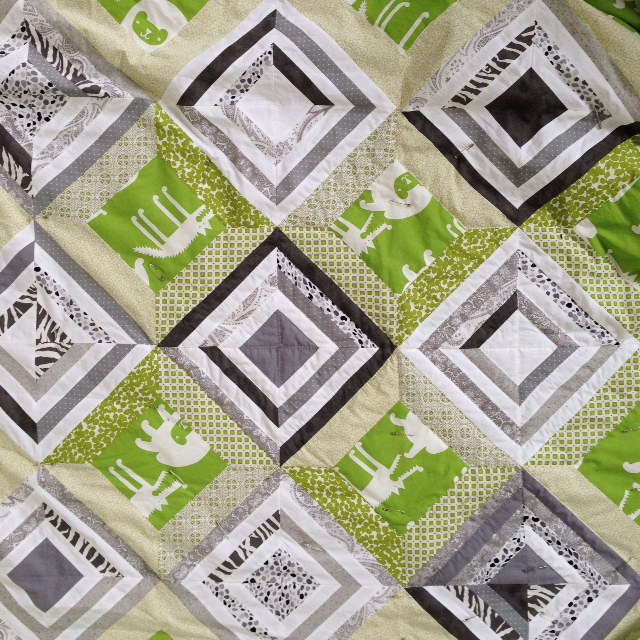 Improving your photography takes time and patience, no matter what equipment you're working with, so don't worry if your pictures don't come out great the first time! You'll be surprised at what stellar photos you can take with an iPhone. With a little practice, it is the perfect tool for capturing an image of your craft project or culinary creation that is as beautiful as the creation itself.
What's your favorite trick for shooting a pattern, project or recipe for Craftsy?