After years of use and abuse, and dining room table is prone to some scratches and scuffs. One way to cover up those flaws (or prevent them in the first place) is to top your kitchen table with a pretty tablecloth. Round, square or rectangle in shape, these tablecloth sewing patterns sew up great in linen fabric, quilting cottons, upcycled bed linens, or even practical felt.
Looking to sew a tablecloth? We've got you covered with these six delightful patterns & projects!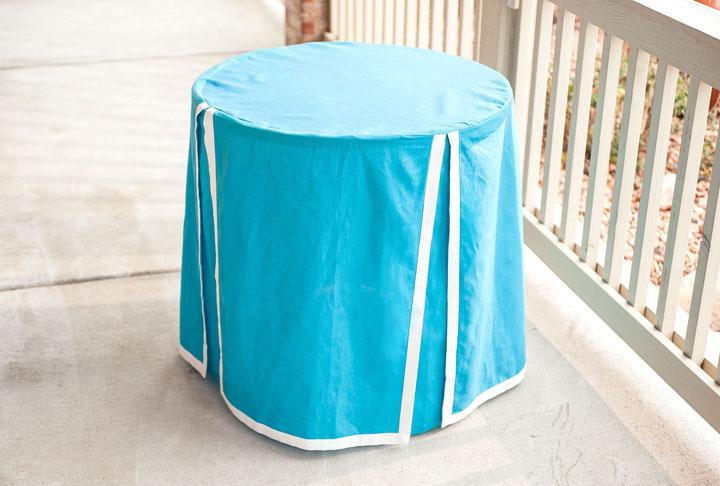 Photo via Craftsy instructor Linda Lee
Are you ready to get professional with your mitered corners? This party-ready Paneled Tablecloth would look at home at any wedding reception, with its crisp points and pretty pops of color. You can learn how to make this layered tablecloth pattern in Linda Lee's Craftsy course Classic Table Linens: Mastering Miters.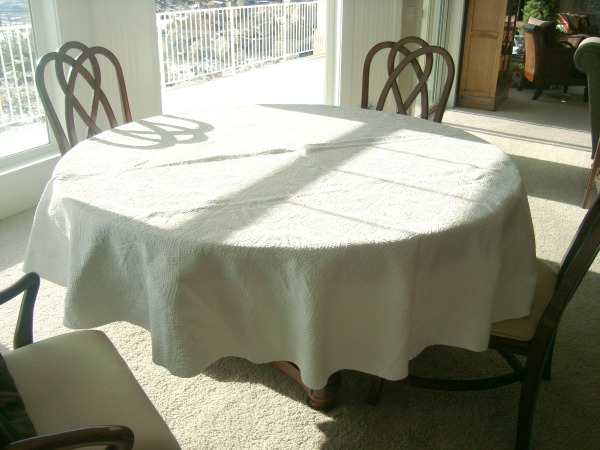 Photo via Patchwork Posse
Would you ever dream of cutting into granny's bedspread? In this Kitchen Tablecloth Tutorial, Becky shows you how she took a seldom-used, quilted bedspread and chopped it off into a round, oval-shaped table covering. You'll just need scissors, a sewing machine or serger and string. If you don't have a spare bedspread laying around, you can always check thrift stores or auctions for pretty linens to repurpose.
Get the Kitchen Tablecloth Tutorial here.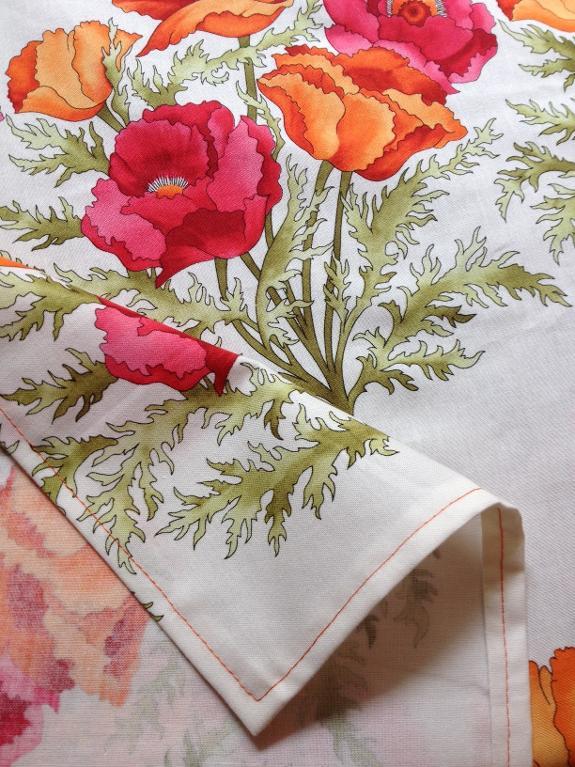 Photo via Craftsy member ericacornbread
With just a few simple steps, you can make a Modern Tablecloth like Craftsy member Erica. Though she didn't use a tablecloth pattern, she paired a print and a solid quilting cotton fabric to make a tablecloth with split personalities. the left side is floral and the right side is solid, giving it a modern look.
Sew together two squares to make a rectangle the size of your table, then press, fold under, and sew the edges twice to get a clean hem.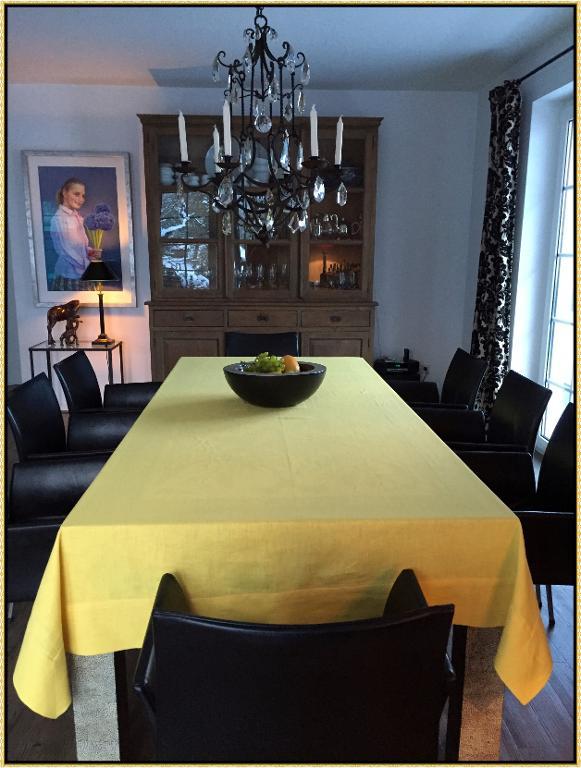 Photo via Craftsy member Heike 63
Nothing is classier than a luscious linen tablecloth. This Craftsy student made a Tablecloth with 12 Napkins as part of Linda Lee's miterered table linens course. After determining the length and width of your fabric (based on the desired length on each side), edges are pressed and hemmed at perfect points. The Coletterie has an introductory tutorial on mitered corners.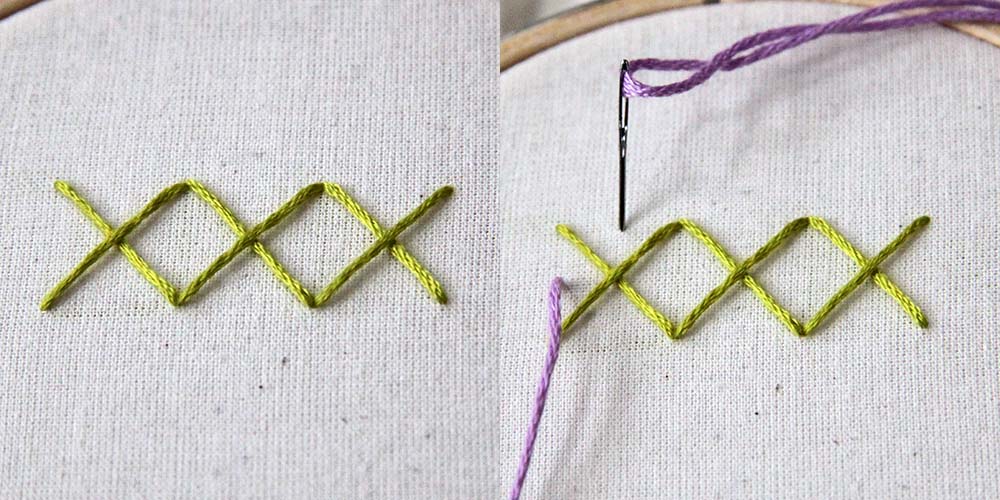 Photo via The Elegant Artist
Here's a fun idea! Make a coloring-safe tablecloth for the kids at your next family dinner with this easy tablecloth pattern and tutorial from Anne. This Coloring Book Fabric Tablecloth is the perfect answer to keep kids quiet and entertained. If you can't find this IKEA fabric for your project, she includes tips (in the comments section) for how to make your own coloring book fabric.
Get the Coloring Book Fabric Tablecloth tutorial here.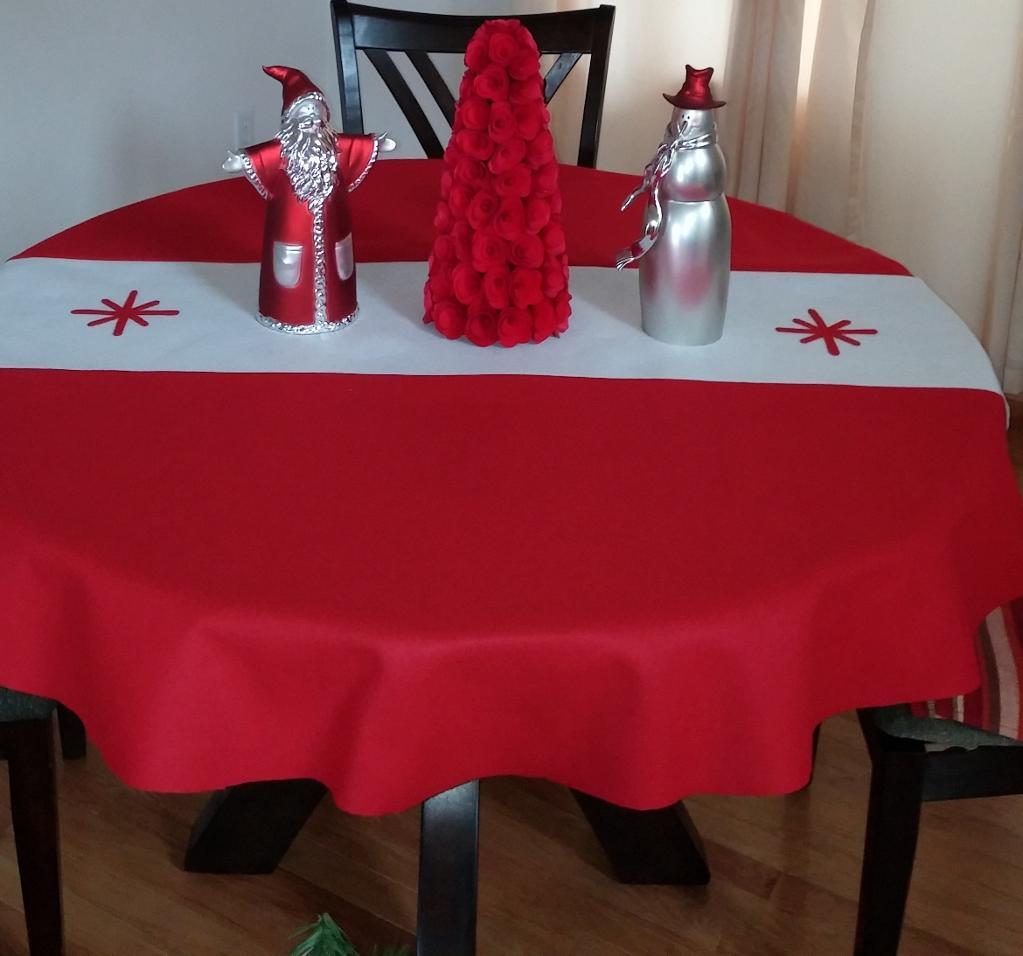 Photo via Craftsy member Ninas Crafts
Want a quick tablecloth that needs no hemming whatsoever? This fancy Felt Tablecloth is holiday-ready in a jiffy. Because felt fabric doesn't fray, there's no need to sew under the edges. Top a large felt circle with a simple table runner and some ornaments for a simply delightful table setting.
Which of these tablecloth sewing patterns is your favorite?