I'm in the market for a table saw. My current Ridgid R4512 hybrid is OK but I want to go to the next level of accuracy for my woodworking, so it's time to consider an upgrade.
Have you shopped for a table saw and felt overwhelmed at all the choices? Let's break down the main categories of table saws and think through other considerations to narrow down the choices into a few options.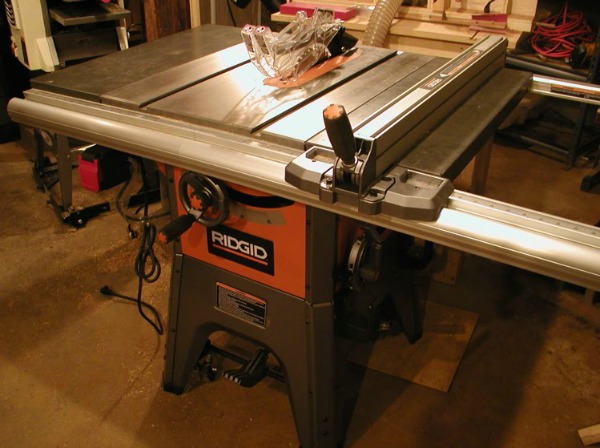 A table saw is a major purchase and will be the backbone of your workshop for years to come. Buying a table saw is sort of like buying a car. The saw has to do what you want it to do, be dependable, be affordable, last a long time and have all the necessary safety features. Here are a few things to consider when buying a table saw: categories of saws, needs vs. wants, space, safety and, finally, price. The photos below are all from members of the Lumberjocks woodworking forum.
Categories of saws
There are three main categories of table saws — cabinet saws, contractor saws and hybrid saws. Let's examine each one.
Cabinet saws
Cabinet saws are designed to be beasts, with more than adequate power, maximum durability, large size and weight. They usually have 3 horsepower motors or more. They have durable cast iron parts, a large table, a heavy-duty fence and a full cabinet that totally contains the motor. They often weigh 400 – 600 pounds, so they aren't intended to be portable. The weight is necessary to counteract the force of the strong motor and to minimize vibration.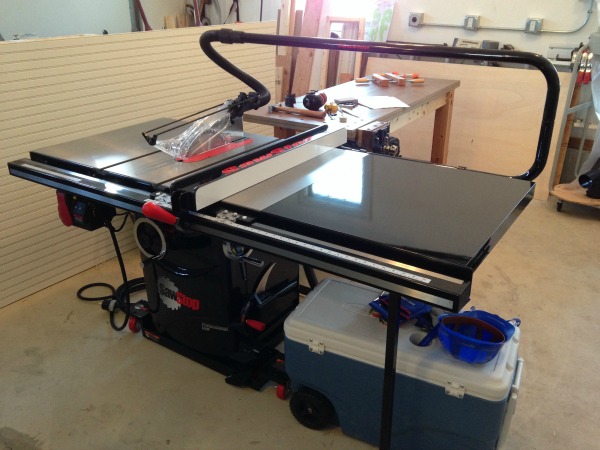 SawStop cabinet saw photo via Marshall Chapin
Contractor saws
Contractor saws are designed to be somewhat portable, so that a contractor could use one at a jobsite. These saws usually have a 1 3 – 4 horsepower motor, lighter weight construction for portability, a lighter duty fence and no cabinet. Contractor saws can be difficult to keep tuned if they are moved around, slung onto a truck and then dragged onto a construction site. They don't take up much room in the shop, so they are great if you have little real estate in your shop.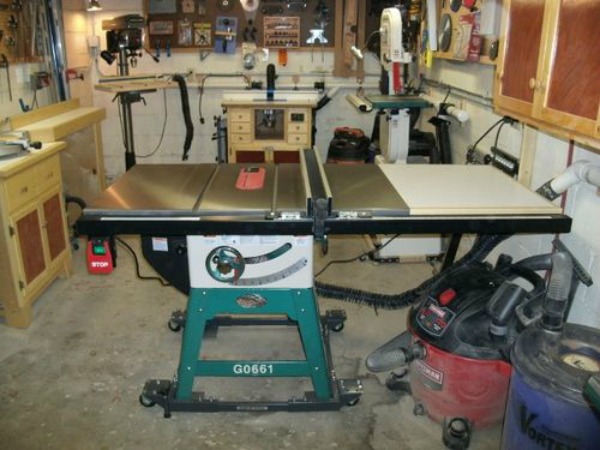 Grizzly contractor saw photo via Kenny Carmody
Hybrid saws
As the name implies, hybrid saws have features of both the cabinet saw and the contractor saw. They generally have the same power motor as contractor saws. They have a partial cabinet with the motor contained, which helps with dust collection and noise dampening. They can be tuned to be very accurate, yet they are lightweight and small enough to be moved around the shop.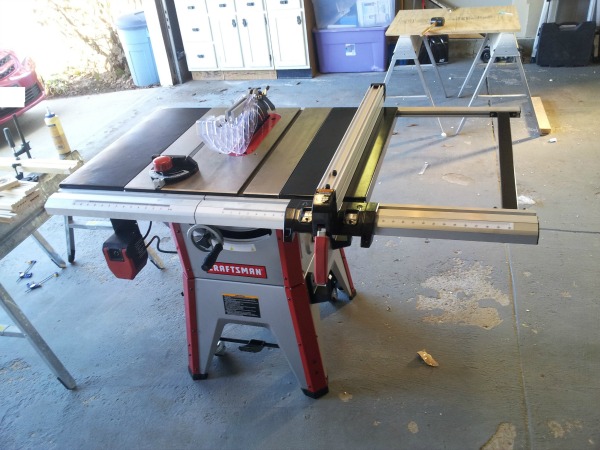 Craftsman hybrid saw photo via Steven Sussman
Needs vs. wants
The next task is determining what you need to do with the saw. Be honest with yourself about how you plan to use it. Do you need to break down large sheets of plywood to build cabinets? Do you build furniture with relatively thin boards? Think about what you plan to do with the saw 80 percent of the time. If that consists of ripping hardwood less than 1" thick and occasionally cutting joinery, then a 1.75 horsepower motor in a contractor or hybrid saw is plenty adequate. However, if you regularly need to rip thick maple, then you need an industrial strength saw of 3 horsepower or more. Don't make a purchase decision based on exceptions.
Shop space
If space is an issue in your shop (as it is in my basement shop), then some saws can be knocked off the list immediately because they just won't fit. Saws meant to break down plywood have a wide rip capacity, which means a long table to the right of the saw and a long fence rail to go with it. That operation also requires lots of space in front of the saw and behind it. Having a contractor or hybrid on wheels can be helpful when real estate is tight.
Safety considerations
Table saws are safer than ever, but they are still inherently dangerous. One important improvement is the addition of a riving knife to help prevent kickback. Serious injury is possible with kickback. In fact, lots of people maintain kickback is more of a threat than the blade. Most saws made in the last few years will have a riving knife. Be aware that if you buy a used saw a few years old, it may not have one.
If safety is your main consideration, look no further than SawStop. Every SawStop saw has flesh detection technology that stops a fully spinning table saw blade so quickly (I'm talking milliseconds) that the user escapes with barely a scratch. If you haven't seen the famous hotdog video, you really must check it out.
Price
The adage "you get what you pay for" certainly applies to table saws. High-end machines have perfectly flat tables, will run forever and cut with incredible accuracy, and you pay for that quality. On the lower end, contractor saws have less cast iron and lower quality parts but can work well if you tune them properly and use a high quality saw blade. Buying a used saw, like a used car, will cut down the price but cancels any warranty. Because saws are so heavy, weighing in a 300 – 600 pounds, shipping isn't cheap either.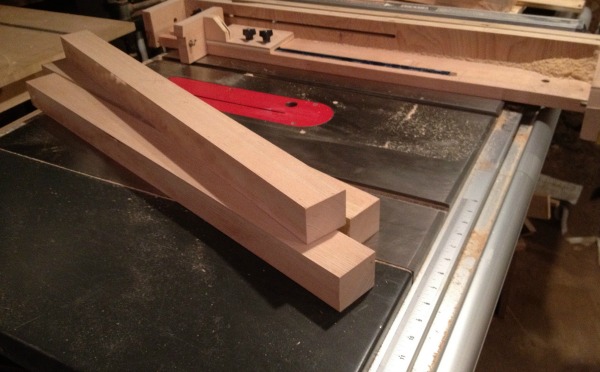 Shop around
A table saw is definitely an investment. Because of the expense involved and the importance to the quality and enjoyment of your woodworking, it is worth your time to shop around. Search for reviews from reliable publications, talk with fellow woodworkers and read discussions on forums.
Whether you choose a Buick or a Bugatti, buy the best saw you can afford.