T-shirt quilts have long been a popular method of preserving memories. Rather than stashing old or stained tees in a drawer or having them take up precious storage space in a box, why not transform them by keeping just the part that matters most? By consolidating your tee shirt graphics and logos into a quilt, you'll be able to feel good about keeping your old tees and displaying the memories they represent.
Here are three approaches to consider if you're looking for T-shirt quilt ideas: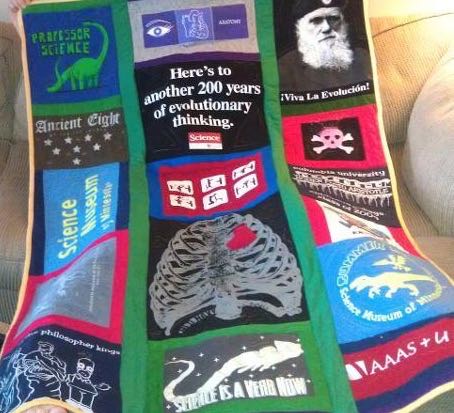 Scien-Ts quilt via Craftys member Prof Sepoc
Variations on a theme
While it's very popular to turn an entire T-shirt collection into a quilt, I find that the best T-shirt quilt ideas, the ones that really become a conversation piece, revolve around a single theme. Whether it's punk rock or a sports team or a hobby, thematic T-shirt quilts can help "tie" the whole concept together much better than a random assortment. (Obvious exceptions to this rule apply. Memorial T-shirt quilts are certainly one of them.)
Craftsy member Prof Sepoc constructed her Scient-Ts quilt (a quilt made entirely of geeky science T-shirts) for her daughter. The black-and-white structure of many of the tees, combined with the overall science theme, makes the quilt really work as a great gift. I've also seen similar concepts executed with college or band T-shirts. If you don't have enough tees to make a quilt or if you want to make the quilt as a surprise gift, consider scouring thrift shops, vintage stores and eBay for additional pieces.
Accentuate your tees
Can't get your tees to interlock the way you'd like? Don't feel like they have to be the only part of your quilt top! Solids make great sashings, as do coordinating prints. I really like the extra steps Craftsy member Karen McIlmoyle used to add some pop to her T-shirt quilt. Karen cut some extra blank squares from her leftover T-shirt materials to make colorful columns on her quilt. They really break up the quilt's thematic elements and give her a bit of freedom to add some of her own style to the quilt.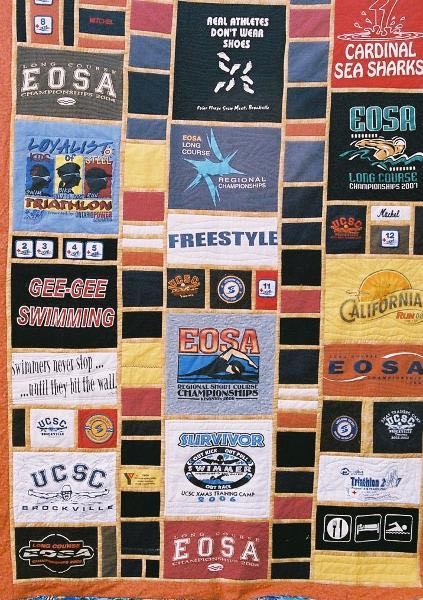 Swimming T-shirt quilt via Craftsy member Karen McIlmoyle
Don't forget about backing
For our tenth anniversary, I made a quilt for my husband that featured a pixelated portrait of Sparty, the mascot for the Michigan State Spartans. He had collected a variety of MSU T-shirts, some from as far back as the '80s, and I knew that I wanted to incorporate them somehow into the quilt.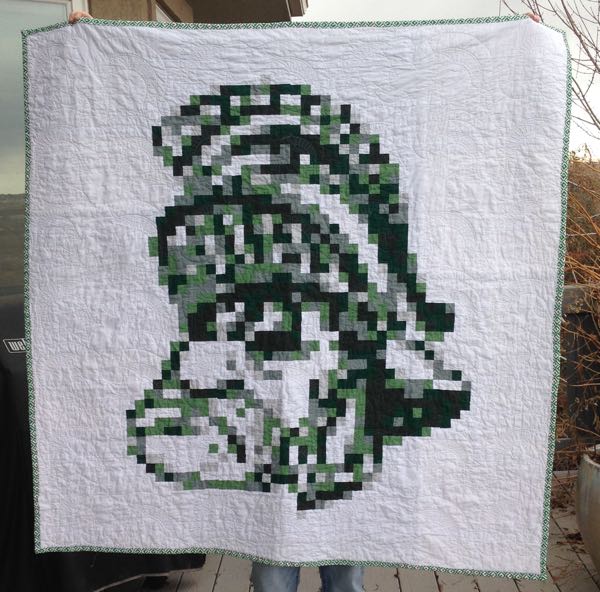 Sparty quilt by Bluprint blogger Lauren Lang. Photo via Right Sides Together
I hauled them up from their sad box in the basement and ended up piecing them around the Spartan "S" on the quilt back. After he got over the initial shock of having his tees decimated, my husband came to love how they are now a permanent fixture in his Spartan den. If you're looking for a way to include T-shirts in a design without having them dominate the entire quilt, backing can be a great way to go.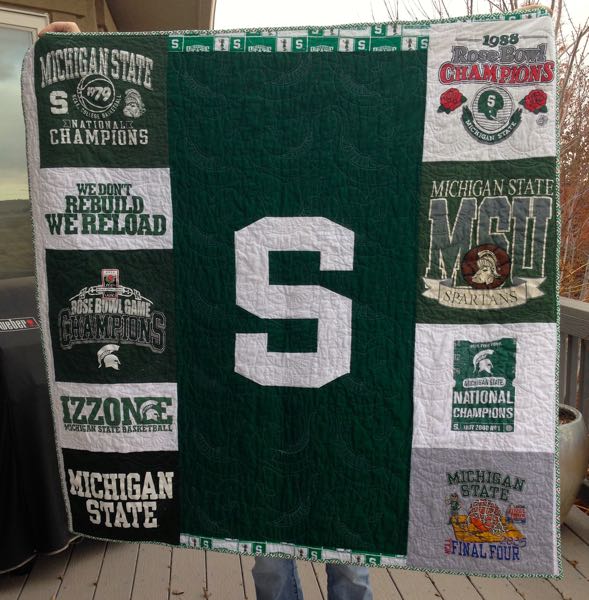 Photo via Right Sides Together
Finally…
If you've never made a T-shirt quilt before, definitely consult some tutorials on the correct way to make them. Because they're made of knit fabric, the tees require some sort of very lightweight interfacing or even fusible fleece to stabilize them before sewing. But with just a little bit of prep work (and a whole lot of tees), you can definitely give some of your treasured memories a second life in a more prominent place in your home!