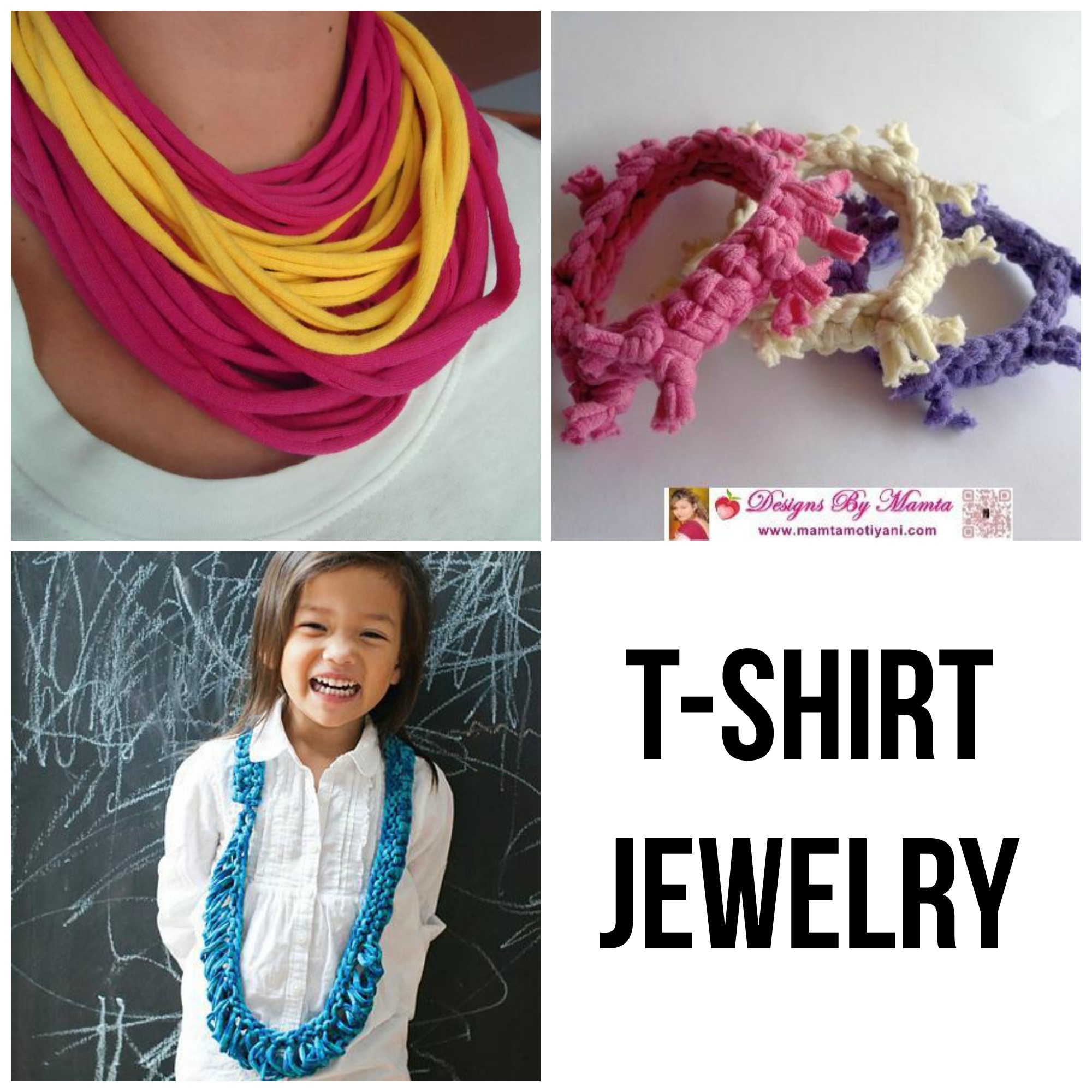 According to the EPA, the average person throws away 70 pounds of clothing per year. How much of that do you think is T-shirts?
When I purge my clothing, T-shirts are among the first to go simply because they wear out quickly. Donating these T-shirts seems pointless, as even a second-hand shopper isn't looking for clothing full of holes and stains. Instead of tossing these tees in the garbage, why not turn them into T-shirt jewelry?
T-shirt jewelry doesn't discriminate when it comes to the condition of your old clothes. Even a T-shirt that's full of holes can be cut into yarn that can be transformed into anything from a headband to a necklace or bracelet.
Next time you think about sending your old tees to the landfill, instead consider turning it into trendy T-shirt jewelry. Here are a few examples for how to transform your tees, no matter what your needlecraft skills.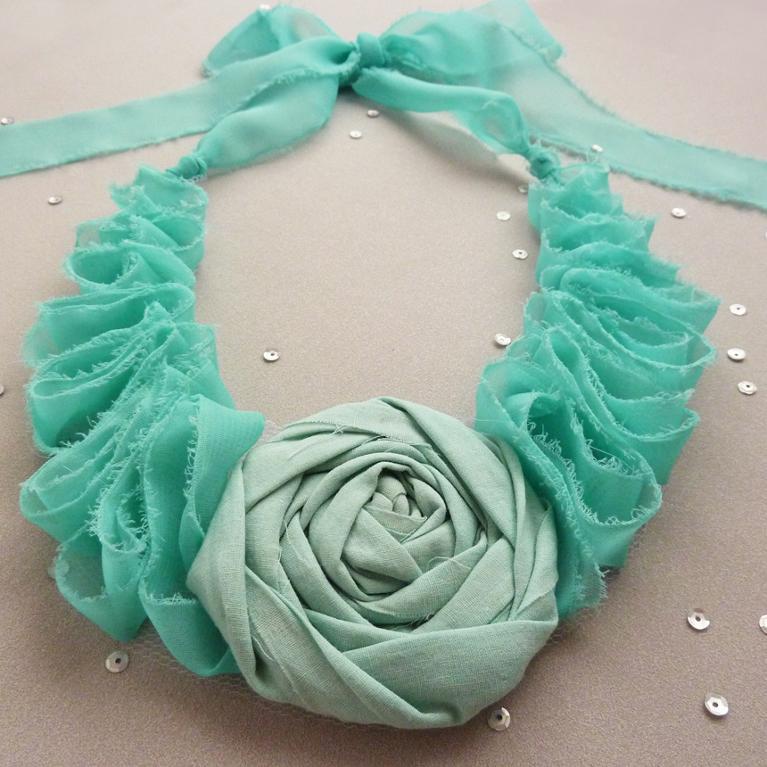 Photo via Bluprint member Soles
Sewing
When a sewing jewelry tutorial calls for cotton, why not substitute an old T-shirt? The Fabric Flower Necklace Tutorial pictured above uses cotton to create that pretty flower, but you could just as easily use old T-shirt fabric — especially if it's the right color.
You could also use T-shirts to create several of these rosettes, then sew them together to create a pretty necklace or bracelet. Don't have a lot of time? Create a rosette and glue it to a ring blank!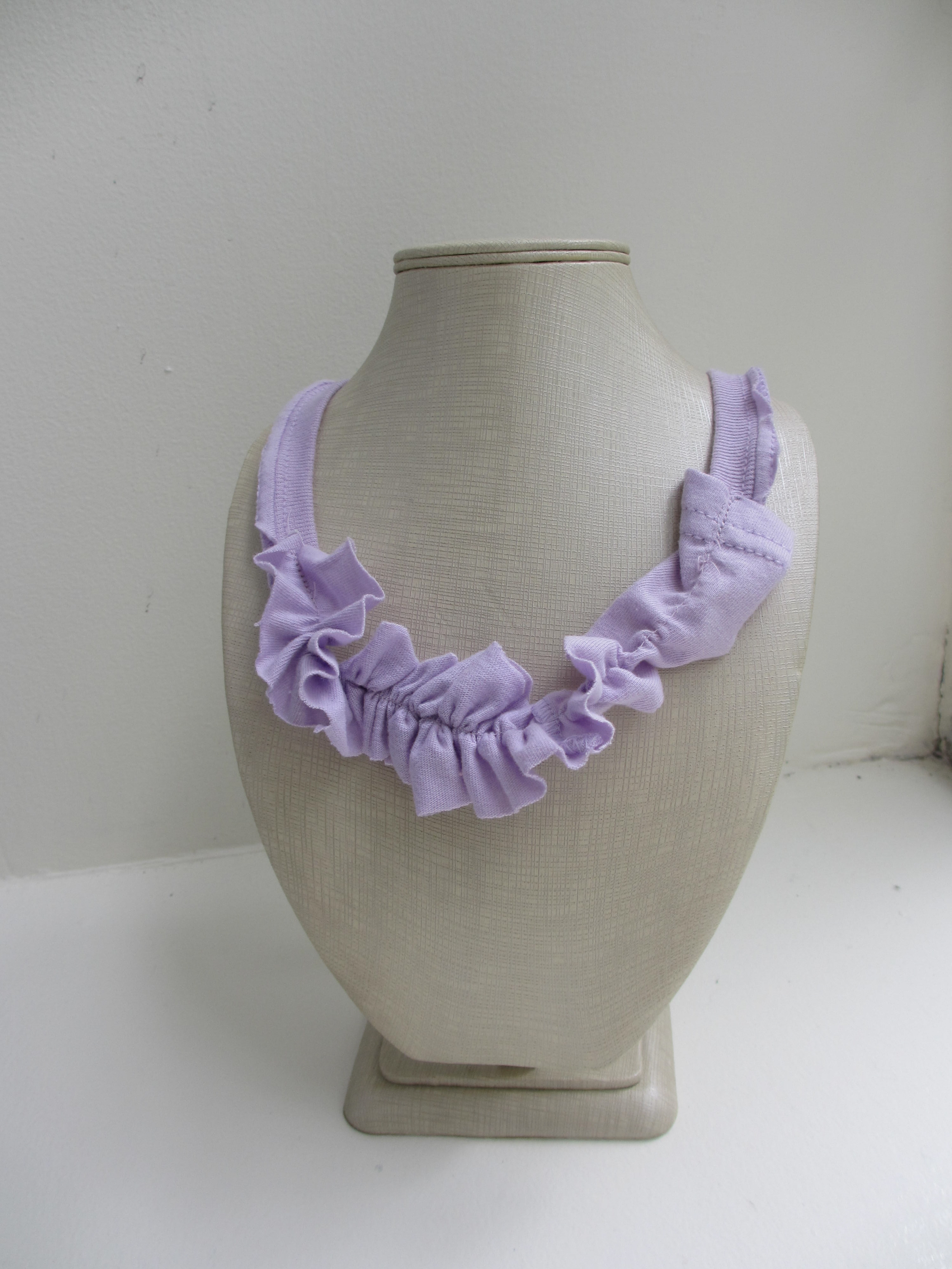 Photo via The Feisty Redhead
I sewed the Ruffle Tee Necklace pictured above in less than 5 minutes. First, I simply cut the neckline off of an old T-shirt for the base. Then I cut a long, rectangular piece and gathered it using a sewing machine to create the ruffle. Even if you don't have a sewing machine, you can still gather a ruffle by simple hand sewing along the center of the fabric, then pulling it to gather it. Sew it right onto the T-shirt neck and you're all finished!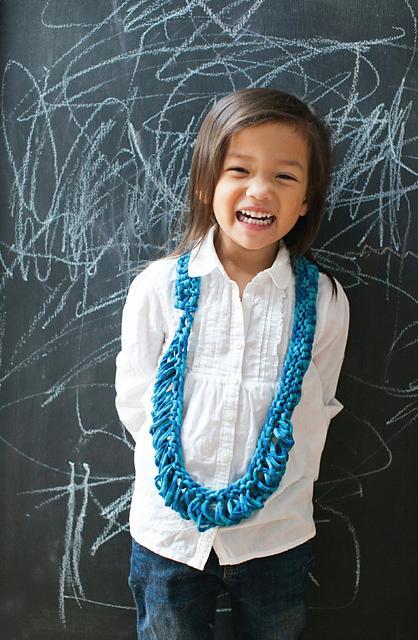 Photo via Bluprint member BeSweet
Knitting
Before you even begin to think about knitting with T-shirts, you'll want to make sure you know how to create T-shirt yarn. This handy T-shirt yarn tutorial will show you how.
Once you've created the yarn, let the knitting begin! Get inspiration from patterns like the FREE T-Shirt Lei pictured above. Since the yarn has a similar weight to a bulky or super-bulky yarn, you'll find that the project knits up in a flash.
When you get the hang of working with T-shirt yarn, start improvising! Even basic knits and purls can create gorgeous jewelry. Don't be afraid to include some shaping, too. T-shirts are perfect for chunky bib necklaces.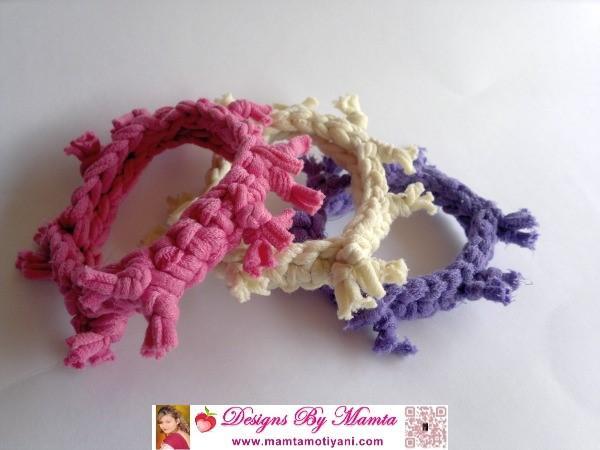 Photo via Bluprint member Mamta Motiyani
Crochet
Just like knit stitches, even the most basic of crochet stitches can create fun T-shirt jewelry. The best part is that the jewelry doesn't have to be perfect. This Crochet Shaggy Bangle Bracelet pattern uses basic crochet and leaves plenty of room for mistakes.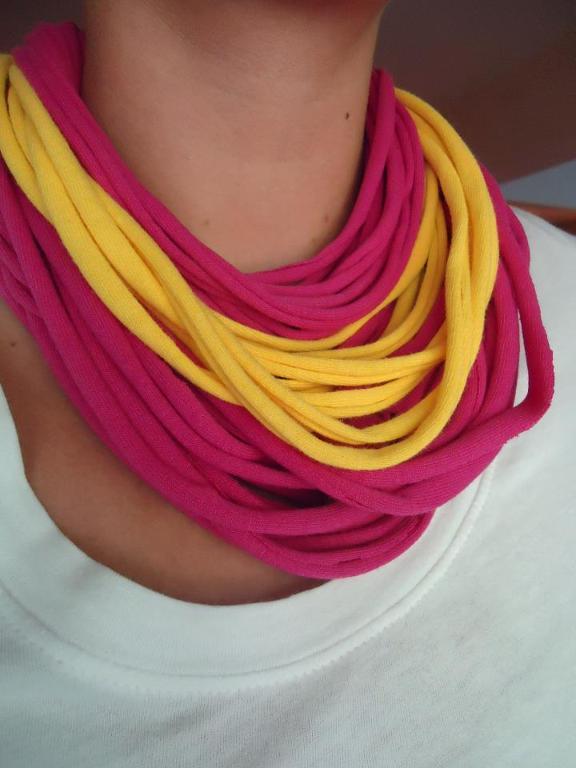 Photo via Bluprint member ShyMomma
Cutting
If you're not fond of wielding a crochet hook or knitting needle and your sewing skills are nonexistent, you can still create T-shirt jewelry! This Neon Recycled T-Shirt Necklace is just two men's T-shirts cut into T-shirt yarn. Sure, you could use a sewing needle to tie all the layers together, but you could also just tie a knot in it!
What types of T-shirt jewelry have you created? Have you used any techniques besides the ones listed here?
Free Guide! Make Wirework Wonders
Create beautiful jewelry when you conquer wirework basics with these tutorials.Download FREE Now »